Safe in the sun blog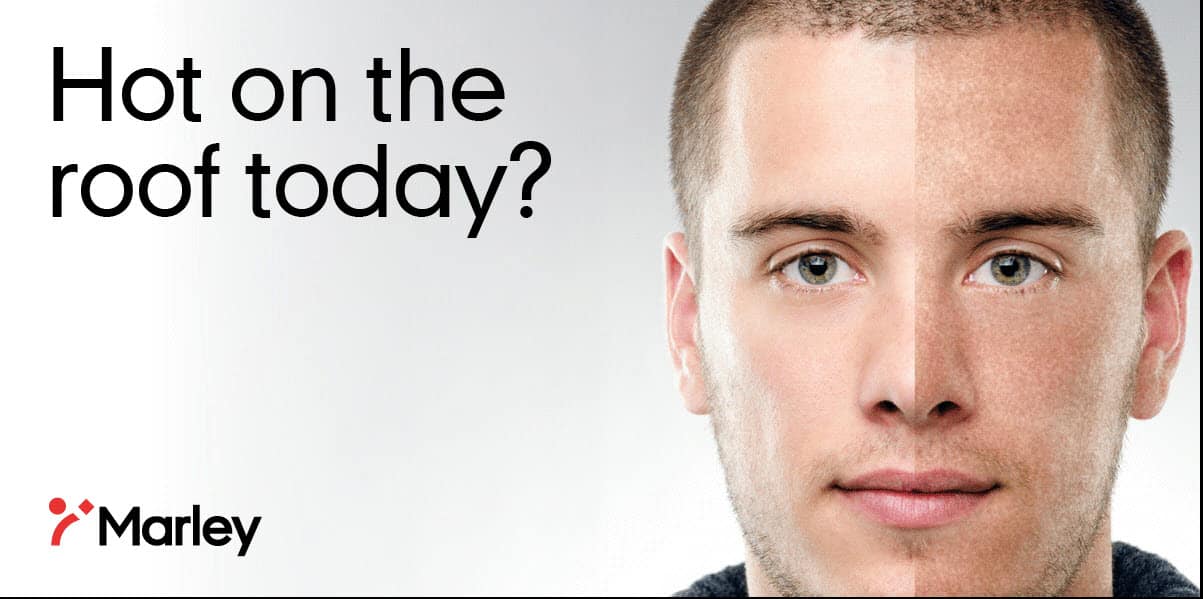 With memories of last year's long, hot summer still fresh in our minds, much of the nation is already eagerly waiting for this year's summer weather to arrive. Yet, while for many the summertime is a time to relax and unwind, it's important those who work outdoors take the necessary precautions to protect themselves from the dangers posed by prolonged sun damage.

The amount of time spent outside means outdoor workers, such as roofers, are at greater risk of skin damage from UV rays, including premature ageing and skin cancer. With this in mind, at Marley, once again we're launching our annual Safe in the Sun campaign, which this year is geared towards making sure outdoor workers understand the importance of protecting both their skin and eyes throughout the summer months.

Latest research has found that as well as being the cause of 83% of skin cancer cases, UV exposure is responsible for a staggering 80% of the visible signs of ageing on the face, such as wrinkles and fine lines. This, over many years, can also lead to pigmentation, reduced skin elasticity and a degradation of skin texture.

Our Safe in the Sun campaign has now been running for more than 15 years, over which time we've seen roofers take positive steps to help reduce the risk of sun damage to their skin. For example, we're increasingly seeing most main contractors, house builders and large roofing companies adopt sun safe procedures and many building companies also now require subcontractors to wear appropriate tops on site at all times.

Yet, when it comes to your face, it isn't only your skin that is at risk from sun damage. Did you know, the organ most susceptible to damage from sunlight is the eye? More than 99% of UV radiation is absorbed by the front of the eye, so it's important to make sure they are protected during the sunnier months. Increased exposure over long periods of time, can lead to visible ageing around the eye area, cataracts, skin cancer on the eye lids and even vision loss.

As part of this year's campaign, we've also spoken to Gary Walpole, safety, health and environment officer at the National Federation of Roofing Contractors to find out how outdoor workers can better protect their eyes from UV damage. Gary told us: "UV light is one of the many hazards that can damage your eyesight, so it is important to wear protection. A roofer, or other construction worker, wearing safety sunglasses will not only protect their eyes from harmful UV rays, they will also feel more comfortable when working in bright conditions as the glasses will reduce disruptive reflections (glass, light coloured roofing membranes etc). Safety sunglasses with UV 400 protection and the relevant British Standards kitemark or CE mark, can help vision be significantly safer and more pleasant in sunny and bright conditions."

Of course while sun safety glasses are important, there are also other ways outdoor worker can protect themselves from UV rays, which is why we've put together the following advice:

Sun safety on site
1. Don't leave exposed skin unprotected. Use sunscreen with an SPF of at least 25 and remember to reapply regularly throughout the day.
2. To reduce the amount of suncream needed, consider using long sleeved, lightweight, UV-protective PPE.
3. Wear a pair of safety sunglasses with UV protection. Look for a UV 400 rating and check they are certified in line with EN 166 (personal eye protection) and EN 172 (sun glare filters for industrial use).
4. As safety sunglasses will only cover part of your face, to prevent skin cancer and ageing, make sure you also apply sunscreen to the rest of your face.
5. Make sure you apply suncream, even when it is cloudy - up to 80% of dangerous UV rays can pass through a cloudy sky.