Non-slip decking for balconies and residential areas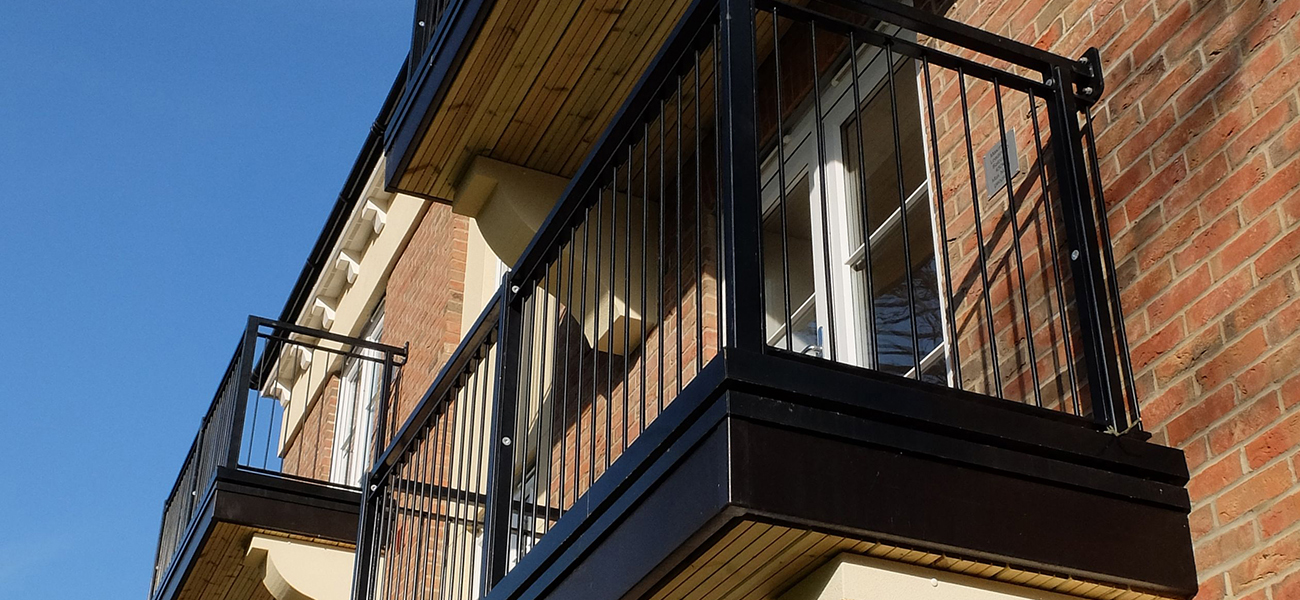 Specifying decking for residential balconies brings its own set of challenges. For the resident, an aesthetically pleasing outdoor space is the priority. For the specifier, issues such as safety, cleaning, maintenance and sustainability are the focus.

Antislip Plus® or Citideck® decking boards are particularly suitable for urban and residential areas and can meet this combination of requirements.
Embodied carbon
Timber decking has the lowest embodied carbon of any mainstream building material. Specifying from sustainably managed sources will enhance the environmental credentials of a project. Marley decking is manufactured from timber from FSC and PEFC accredited sources with full chain of custody. Read more about our sustainability credentials.
Durability
CitiDeck® decking is treated to Use Class 3 and strength graded C16. It provides complete peace of mind with a 25 year guarantee against rot and decay. C24 grading can be offered if required, to optimise joist spans and use a thinner board to maintain floor levels. The smooth boards also prevent food, dirt or litter becoming trapped, making it much easier to clean and removing any further slip risk from trapped debris.
Technical support
Marley works with developers and landscape architects to meet the objectives of complex commercial projects, as well as small but equally challenging projects. Technical support is provided throughout the lifecycle of a project, from specification to advice on correct installation. Our experienced technical support team are able to discuss your specific requirements and help you to find the best solution.
Decking for high specification housing developments
The Library Street housing development in South East London was designed to provide high specification living and outdoor space, but as affordable housing. The build, which was constrained by the budget requirements regulating affordable housing, set out "to remove the visual and design differentiation between public and private housing, and to use the process to start to evolve a new generation of residential architecture for North Southwark, an architecture that expresses itself in terms of an urban form which is contemporary, light, flexible, mixed tenure and contained within a mixed use environment."

Citideck® deck boards were chosen for all raised walkways and balconies, and the roof garden. They provide a safe, non-slip surface, whilst complementing the high design standards of the project.

The development of 6 town houses and 34 flats has a combination of private and shared outdoor space. Each apartment has either a terrace or balcony and the large roof garden offers spectacular views across London.

Planters and trees on the landscaped roof garden give the space a very different feel to the buildings around it in busy SE1. The inclusive space provides an inviting setting for residents to develop a sense of community.

The clean lines and natural appearance of the decking don't just make the roof space functional, but the decked balconies help the apartments flow from inside to out, making the most of the space available. The smooth deck boards are easier to clean as food and debris can't become trapped, making it more suitable for urban and domestic use than traditional grooved boards.
Sustainable decking for mixed use developments
The Wigmore Street development in London nestles between St. James Street and Duke Street in the buzzing West End. Designed as a mixed use development, the project combines retail space on the ground floor with office use, and the residential properties to the south of the development satisfy the planning requirements for Westminster.

The client needed to find a solution for the roof terraces and outdoor walkways, as the originally specified product was not available with FSC accreditation, required to meet their sustainability charter, whilst also meeting CPET and EUTR regulations.

Antislip Plus® Classic provided the solution to meet the aesthetic requirements and help ease of installation.

This decking is manufactured from slow-grown European softwood. It is treated with a brown pigment to give a darker appearance, similar to heat treated timber also known as 'Thermowood' or hard wood decking. This enabled the aesthetics of the decked area to be delivered but using a softwood product with FSC accreditation.

The Classic Range is available in a smooth or castellated board and helps achieve the visual appeal of a luxurious hardwood deck with all the benefits of softwood. Softwood is more affordable than hardwood and easier to work with and install, as no pre-drilling is required.

In addition to the brown treatment, the deck boards were cut to a smaller size of 2.4 metres, during production. This was to save time on site as the timber had to be taken to the upper floors via the internal staircase.
To find out more about Marley Decking solutions, contact your local specialist here.