Using timber decking on balconies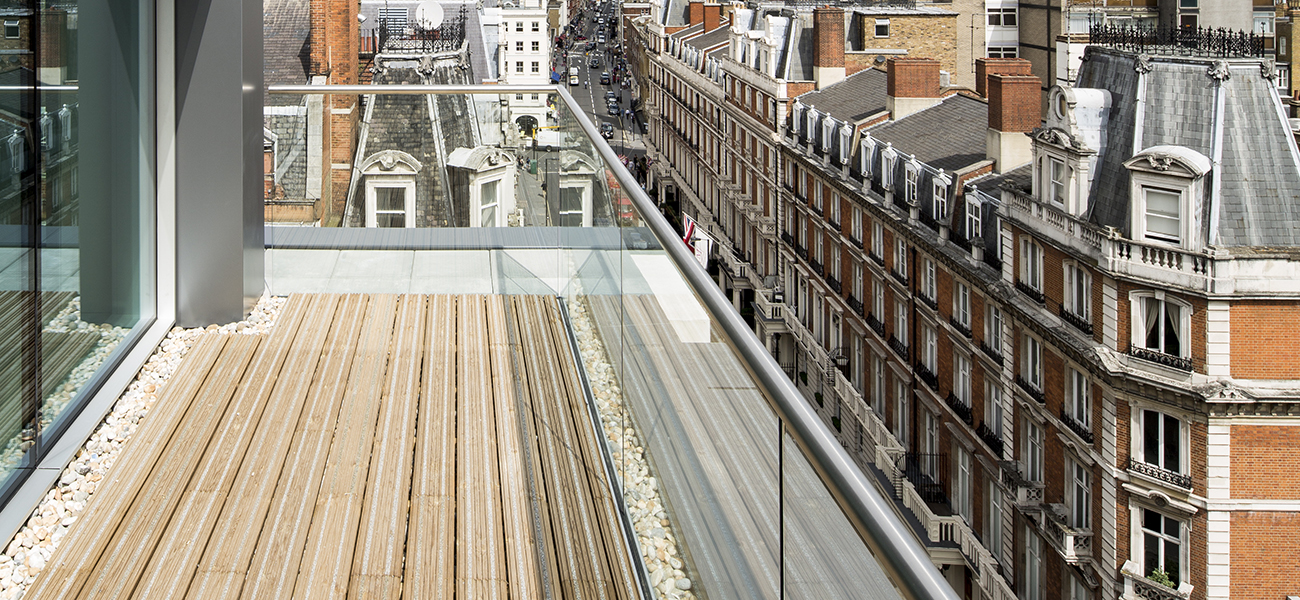 There is some confusion and concern about using timber decking on balconies and at Marley we have certainly seen an increase in the level of queries and enquiries relating to this subject from architects, developers and housing associations.
This is due to changes that were made to Building Regulations at the end of 2018 following the Hackitt review and subsequently prompted by an advice note issued by the Ministry of Housing, Communities and Local Government.
There has been a lot of information shared on social media which has created confusion and in this blog we will look at what the changes actually mean to specifiers and what Marley can offer as part of their technical support and decking product range.
What is the Hackett review and how did this impact Building Regulations?
The Government commissioned a review following the tragedy at Grenfell Tower. This Independent Review of Building Regulations and Fire Safety was led by Dame Judith Hackitt.
Its purpose was to make recommendations that will ensure there is a sufficiently robust regulatory system for the future and to provide further assurance to residents that the complete system is working to ensure the buildings they live in are safe and remain so. It examined building and safety and fire regulations and related compliance and enforcement, with a focus on high rise residential buildings.
The report highlighted that the current system of building regulations and fire safety is not fit for purpose and that a culture change is required to support the delivery of buildings that are safe, both now and in the future.
Following the report a proposal was made to ban the use of combustible material on residential buildings over 18m in height which was approved by Government and an amendment was made to the Building Regulations which was enforced from December 2018.
The amendments were made to Approved Document B (Fire safety) and 7 (Materials and workmanship). Only materials which achieve an A1 or A2 rated classification can be used. Further information and clarification on the changes can be found on the
WPA Guidance Note
which was issued in December 2018.
Why was an Advice Note issued by the Government?
The advice note was issued by the Ministry of Housing, Communities and Local Government. following a fire which unfortunately occurred at a six storey residential building in Barking in June 2019.
The six-storey building in De Pass Gardens featured timber balconies, balcony dividers and extensive balustrading, so much so that it resembled and has been referred to as, timber cladding. A statement issued by leading timber industry associations, the Timber Trade Federation (TTF) and the Wood Protection Association (WPA) following the fire confirmed that a lack of flame retardant treatment combined with multiple small cross sections of timber with plenty of air movement in their opinion created an unnecessary fire risk.
It emerged that the timber used on the project had a 'Euroclass D rating. Flame retardant pre-treatments are available which could have enhanced the timber to a much high rating to achieve Euroclass B and if that had been done, the timber would have performed very differently.
A copy of this statement can be seen by
clicking here
.
What about Buildings under 18m in height?
Current Building Regulation guidance does not stipulate a particular reaction to fire performance for decking used on balconies on buildings where the upper floor level is less than 18m in height.
In these circumstances a professional fire risk assessment which looks at the building design, use, materials and location is essential and should be carried out at project design stage. This has been a principle of the CDM Regulation for some years.
This assessment may demonstrate that the design and component specification may deem flame retardant treatment unnecessary in the circumstances. However the Confederation of Timber Industries recommends that all balcony components should be treated using a factory applied flame retardant to achieve a minimum of Euroclass B unless shown not to be necessary by the appropriate risk assessment.
What can Marley provide?
At Marley we can provide all of our softwood decking range including
CitiDeck
,
Antislip Plus Smooth
and Antislip Plus Castellated with an enhanced flame retardant treatment to achieve Euroclass B.
The product applied is Sentrin FRX which is a WPA Benchmark Approved flame retardant product. Sentrin FRX treated wood products have been tested to BS 13501-1, Fire Classification of construction products and building elements. BS 13501-1, Fire Classification of construction products and building elements.
The treatment is carried out under controlled factory conditions and the process is ISO 9001 accredited. A computer controlled treatment process ensures the correct retention of fire retardant is used to achieve the required classification. Sentrin FRX is an impregnated fire retardant and cannot be applied by hand, brush or spray.
This process provides a level of confidence in performance that may not be available with treatments applied on site or in uncontrolled conditions and because of this, the application of flame retardant products on the construction site, by brush or spray is not approved by the WPA as quality control is almost impossible to assure.
How can I find out more?
As a leading manufacturer and supplier of timber decking we would be pleased to assist with any queries you have on this subject and discuss any specific projects with you in more detail.
We can assist with NBS Specifications and also provide a RIBA Accredited CPD on Timber Decking which covers this subject in more detail together with guidance on timber choice, inclusivity, longevity, performance and safety – all important factors when choosing the right product for a project.