Marley SolarTile®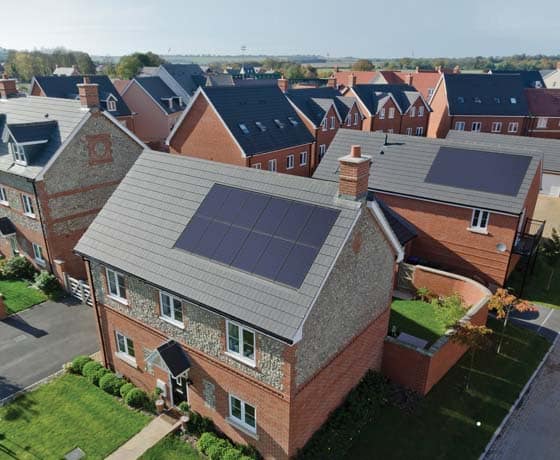 Roof integrated solar tiles
Marley SolarTile® is a roof-integrated solar panel solution, enhancing roof system specification with design flexibility, sleek aesthetics, industry leading wind and fire performance, all covered by the Marley 15-year full roof system warranty.

Roof-integrated solar panels are an ideal choice for both roof refurbishments and new-build projects, providing an uncluttered aesthetic with no visible brackets or racking, as well as easy maintenance. Thanks to the patented push-together design, installation is fast. The Marley SolarTile® can be fitted as part of a typical roofing project.

Install in a landscape or portrait orientation to easily create solar arrays of any shape and size, with 5mm panel spacing and hidden fixings, giving an amazing high-end aesthetic.

Two styles are available, providing a variety of looks and electrical outputs:
Monocrystalline-black - deep black colour, black frame, outputs of either 300 or 320Wp
Polycrystalline-black - dark colour, slightly blue, black frame, output of 270Wp
Panel performance
Marley SolarTile® is the only roof-integrated solar system accredited with the highest resistance to spread of flame and fire penetration in all European fire safety tests, achieving BRoof T1, T2, T3 and T4.

These solar PV tiles also provide excellent weather-tightness and wind resistance, without the need for extra roof batten support, adhesive flashing rolls or fireproofing materials. The certified wind resistance for Marley SolarTile® is more than four times higher than competitor products and suitable for even the most exposed locations.

Marley SolarTile® is compatible with the entire range of Marley roof coverings, including clay and concrete tiles and cedar shingles and shakes, and it is suitable for installation on low-pitch roofs.
Interested in the solar opportunity?

We've put together a short presentation to overview our new range and help you understand the benefits. If you're interested in solar opportunities, please get in touch with your Area Sales Manager.