What are the different Roof Shapes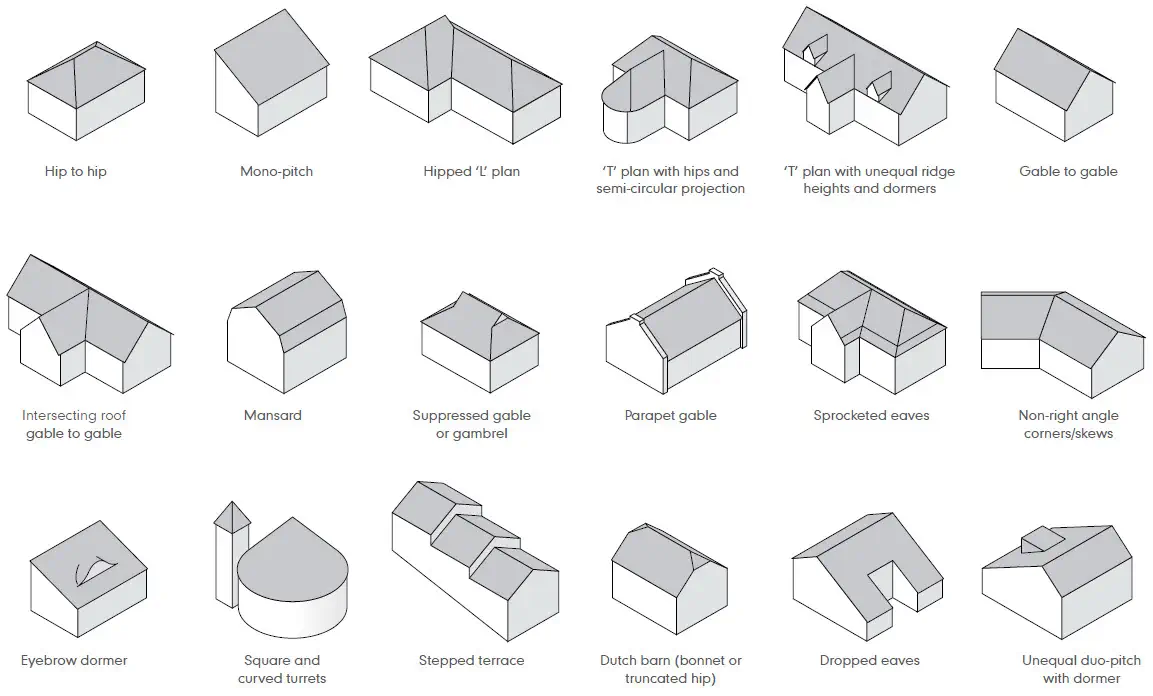 The pitched roof covered with modular tiles or slates offers the designer a vast choice of roof designs. Whatever the shape and function of the space beneath, it can be the design and detailing of the roof that has the greatest influence on the appearance and effect of the building as a whole. Some examples of roof shapes are shown above, but many more are possible!
The context of the roof
The physical and environmental context of a building will often establish a range of pre-conditions for the design of a pitched roof and its covering. Before consulting the Building Regulations, the specifier should consider the following factors:
ENVIRONMENTAL
General climate
Microclimate
Exposure
PERFORMANCE
Resistance to structural movement
Resistance to wind uplift
Fire resistance
Resistance to thermal movement
Resistance to driving rain
Acoustic insulation
Building ventilation
Roof ventilation
Condensation prevention
Impact resistance
Durability
Resistance to atmospheric pollution
Bird, rodent and insect resistance
Thermal insulation
AESTHETICS
Resistance to structural movement
Scale of building elements
Use of roof space
Roof pitch
Response to function
Scale of covering elements
Colour
Texture
Local (planning) requirements
Shape
The use of the roof as a 'solar collector' for PV modules can also influence its location and orientation.
Design criteria
The design of a pitched roof is dictated initially by the shape of the building, the span between the structural elements and the use to be made of the space enclosed by the roof. After structure and function have been taken into account, the design of the roof may be modified by other considerations, such as weathering and aesthetics.
A useful model to consider when designing the roof is covered by the 4 key criteria below:
STRUCTURE – WILL THE ROOF COLLAPSE OR BLOW AWAY?
Adequacy of support
Wind loads and attachment
Deflection calculations
Movement
WEATHERPROOFING – WILL THE ROOF LEAK?
Determine site exposure
Determine roof construction
Perimeter details
Rainwater goods
PERFORMANCE – WILL THE ROOF PERFORM?
Fire performance
Acoustic performance
Corrosion resistance
Durability and sustainability
HYGROTHERMAL – WILL THERE BE CONDENSATION OR EXCESSIVE HEAT LOSS?
Thermal calculations
Condensation risk analysis
Air leakage
Ventilation