Avoiding roof specification pitfalls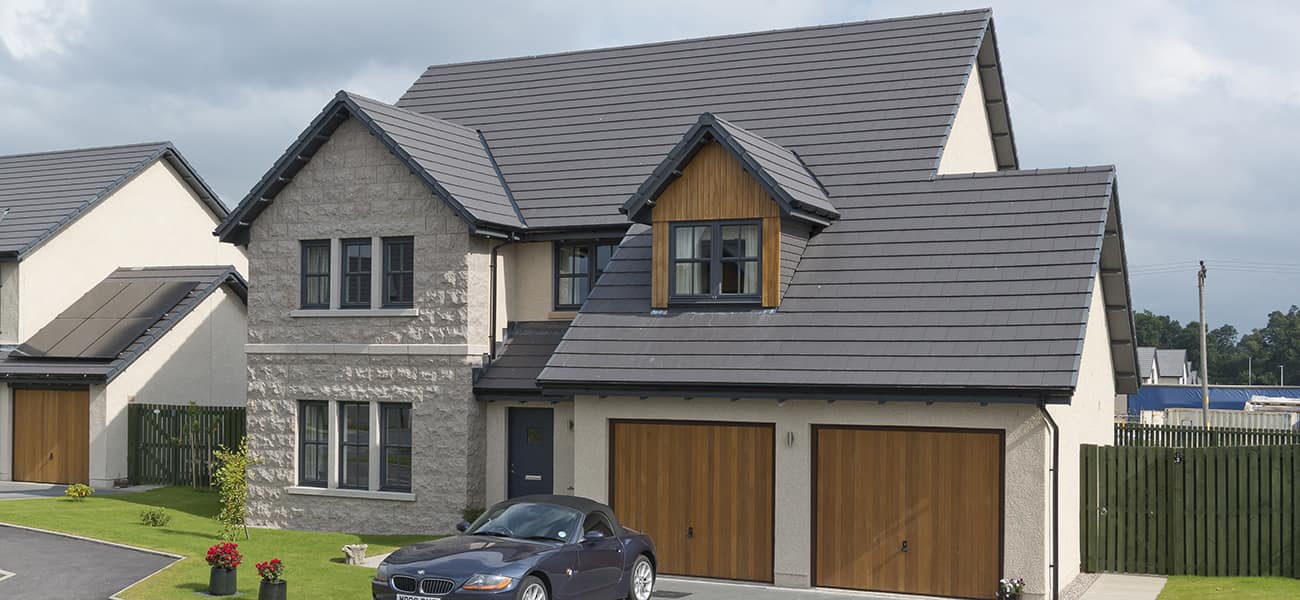 The quality and security of pitched roofing in housing has seen some huge improvements over the last decade - with the introduction of more stringent British Standards, masses of new product innovations and the development of single source roof systems.
However, with ongoing reforms to the building safety regulatory system and increasing focus on accountability in the housebuilding sector, more needs to be done to make sure that the BS 5534 compliant roofs that are being specified, end up on the finished property.
Our roofing experts often get called out to investigate issues with newly constructed pitched roofs. Some of the problems they see include condensation caused by lack of ventilation, leaks, non-compliance with British Standards, incompatible dry fix systems, insufficient fixings for the level of exposure, tiles being used below minimum pitch and health and safety risks from inferior battens.
Often these issues are caused because there has been a change in the specification between the design and construction phase, or because inferior or incompatible products have been used further down the supply chain.
This potential gap between design and actual built performance continues to be a concern and, to reduce risk, there needs to be a shift towards more robust roofing specifications, that consider the impact of the full roof system, not just the tiles. This means that little is left to chance, or value engineering, and housebuilders have more control over the quality and safety of the whole roof.
Here, we look at the most common roof specification pitfalls and how to avoid them:
Re-using specifications
It is quite common for roof specifications to be re-used, but we can't stress enough the importance of creating a new roof system specification for every project to avoid risks to liability, keep pace with product advancements and changes in standards. Specifiers can obtain a free NBS specification for the roof from Marley's website marley.co.uk/technical-services/specrite. This will ensure that correct, compatible materials are used on the project and that it complies with British Standards.
Not considering the minimum pitch of a roof tile
The minimum pitch, that a roof tile can be used at, can vary greatly depending on type of tile and the length of the rafters being used. This needs to be considered in the original specification, or it could lead to problems with weather tightness further down the line.
Allowing too much scope for product choice / substitution further down the supply chain
Specifying the roof covering but leaving the choice of dry fix systems and other components down to contractor choice, means housebuilders are losing control over some of the most important structural and weatherproofing parts of a roof. This could lead to value engineering, or the use of generic products that may not be compatible with the specified tiles.
The best way to avoid this is to specify a full pitched roof system from one manufacturer (ours includes choice of roof tiles or slates, battens, underlay, accessories, fixings, and optional solar PV), which reduces this risk and guarantees compatibility and compliance.
Specifying a generic roofing batten
This is one of the biggest areas of concern. All roof battens should meet BS 5534 grading criteria, which allows them to be used as a secure foothold during installation. Unfortunately, this isn't always the case and we have heard of numerous incidences where non-compliant battens have unintentionally been used and been identified by building control. This is not only a quality, but also a serious health and safety concern. The best way to avoid this is to specify a batten by name from a trusted manufacturer, such as JB Red, or a full roof system which includes BS 5534 compliant battens.
Over or under ventilating
Either having too little, or too much, ventilation is a common pitfall with roof specification. Inadequate ventilation, i.e., using a breathable underlay as the sole means of ventilation, can cause condensation. However, overventilation can add unnecessary cost.
To avoid this, always comply with BS 5250:2011+A1:2016 'Code of practice for control of condensation in buildings' and BS 9250:2007 'Code of practice for design of the air tightness of ceilings in pitched roofs'. Housebuilders can also get a full NBS specification from us, including ventilation, to ensure they have the right levels for each project.
Not including a fixing specification
Often a fixing specification is not included and is left to the contractor. However, this is one of the most important parts of a roof specification and shouldn't be left to chance. Some contractors will get a bespoke fixing specification from a manufacturer, but others may simply fix to the way they have always done. Not only does this mean the roof may not have enough fixings for the level of exposure, but it also makes it hard to compare prices if contractors are working to different fixing specifications.
By including a fixing specification, the housebuilder can reduce the risk of inadequate fixing and ensure they are comparing like with like on price. Specifiers can quickly obtain free fixings specifications via the tool on Marley's website www.marley.co.uk/specritetool.
Not talking to a manufacturer
Many issues that occur further down the line with pitched roofs, could have been avoided if the roofing manufacturer was involved earlier on in the design process. We have a team of technical roofing experts who can provide free specification support - from feasibility, sustainability, regulatory and design advice, through to NBS and fixing specifications to CAD drawings and BIM files.
With all elements of construction coming under tighter regulations, inevitably there will be more scrutiny on roofing specifications. One of the best ways for specifiers to reduce risk is to specify a full tested roof system, rather than individual components such as tiles or underlays. This helps to minimise product substitution, or use of inferior materials further down the line, and gives a clear line of accountability. Our roof system is one of the most comprehensive on the market, guaranteeing quality, compatibility, and compliance with British Standards, with a 15-year warranty for extra peace of mind.