How cavity barrier rolls protect against fire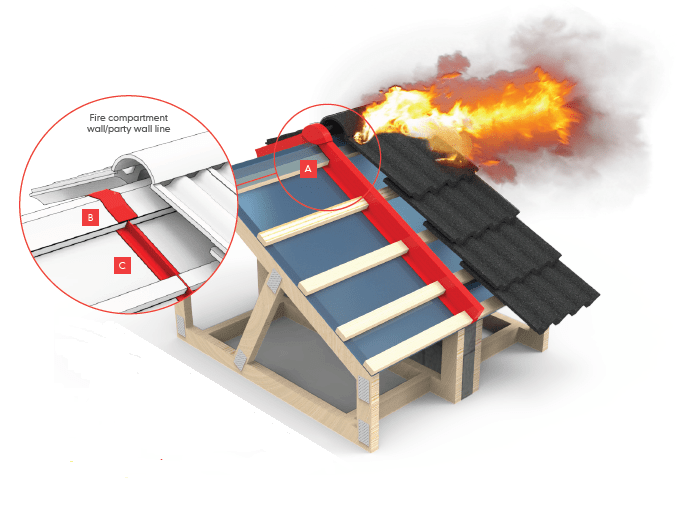 How do cavity barrier rolls protect against fire spread?
Cavity barrier rolls are products designed to stop or slow the spread of fire through vulnerable cavities (gaps) in timber or masonry constructions.
If a fire reaches a cavity barrier roll, the intumescent material expands, filling the cavity and preventing the spread of fire to adjacent parts of the building.
What are cavity fire barriers?
The term "cavity fire barrier" can describe a variety of products or systems designed to fill the cavities inside constructions such as walls, roofs and floors. Filling these cavities with non-combustible material compartmentalises the building and helps to slow or stop the spread of smoke and flames in a fire situation.
Cavity barriers may be used to create compartments within a single property, and they are also used to separate adjoining properties, such as in party walls, shared roofs and floors. Without fire barriers, fire can spread up to ten times more quickly, potentially resulting in more damage, injuries or even deaths.
What are the benefits of cavity barrier rolls?
Cavity fire barrier rolls are long strips of fire-resistant intumescent material sealed in a thin polyethylene (PE) sleeve. They are provided in a waterproof roll format that is easy to handle, transport and store.
Depending on the construction, cavity barrier rolls can replace traditional cavity barriers such as mineral wool sheets or cavity stop socks.

Cavity barrier rolls are also useful for improving compartmentation between adjacent roof spaces, such as in semi-detached homes, terraced housing or shared accommodation.
Cavity fire barrier rolls for shared roofs
Marley Roof Defence is a cavity fire barrier roll that is designed specifically for use in shared roofs. It creates a simple and effective cavity barrier between adjoined properties and is compatible with all types of roofing tile.
Roof Defence is installed on top of party walls or spandrel panels, under roof tiles and between the roof battens. As part of the complete Marley roofing system, Roof Defence is compatible with all types of roofing tile and specification is greatly simplified since everything you need for a roofing project can be provided from a single manufacturer.
Fire resistance: Up to 60 minutes.
Quick and easy to install: It is flexible, lightweight and requires no special tools.
Versatile: It is suitable for new construction and refurbishment projects and requires no maintenance after installation.
Technical support: If you have questions, our dedicated technical team is ready with support and assistance.
Peace of mind: Marley's 15-year guarantee covers the entire roofing system.