Solar adoption in 2023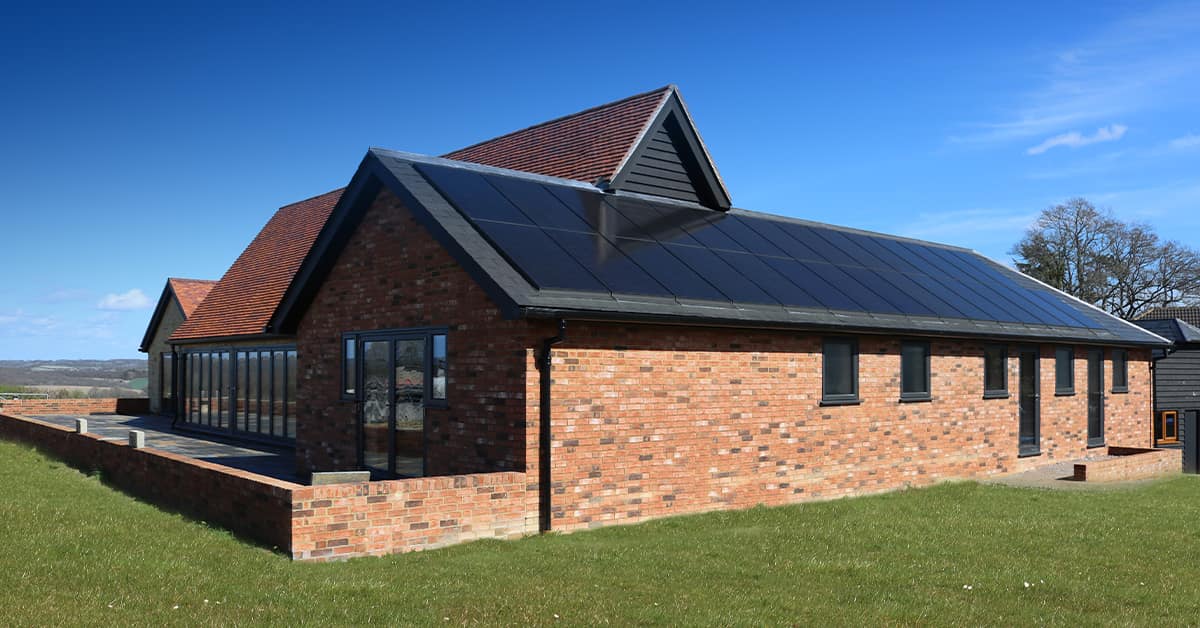 Renewable energy sources are not a trend or buzzword, they are here to stay. As the cost of living crisis continues, energy prices remain high, and the nation's net-zero carbon target nears, solar becomes an even more attractive energy solution.
How many solar installations are there in the UK?
From the newly updated figures from Department for Business, Energy and Industrial Strategy [1], Marley has analysed the latest solar photovoltaic deployment data to reveal the adoption of solar and record installation across the UK.

The new figures paint a picture of the uptake in solar for 2022, alongside the last ten years' of solar deployment data. Stuart Nicholson, Marley's Roof System Director comments on the findings: "Our solar roof tile orders increased significantly in 2022 compared to 2021 sales, and we have trained hundreds of installers to help future proof their business and to meet buyer demand this last year. So we knew it was going to be a record year for the industry, but to see the 4% Y-o-Y increase with 555 MW more installed in 2022 than 2021 [1], really highlights the uptake across the UK. If the same 4% growth is to apply in 2023, this would mean a total installed UK solar capacity of around 15 GW (14.91) by the end of this year!"
How much solar energy is the UK generating?
Since the feed-in-tariff was first introduced in 2010, solar instalment growth rates were exponential until 2016 when they steadied at around 11.8 GW capacity installed. But since then, installation figures [1] have increased by 39.7% from 2016-2022, bringing with it a cumulative solar capacity figure of 14.3 GW of solar to UK homes and commercial properties.
Solar photovoltaics deployment in the UK, up to 2022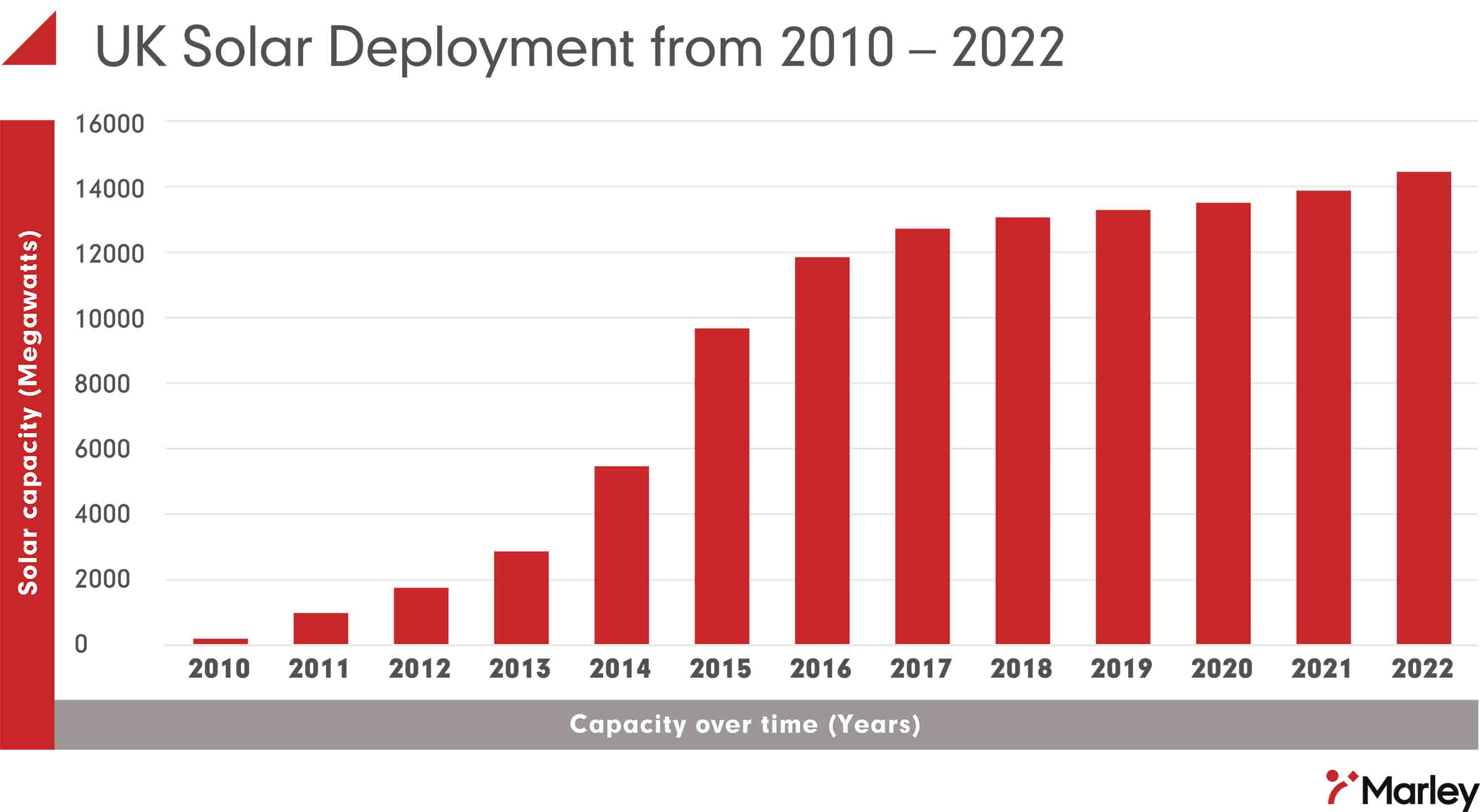 Source: Department for Business, Energy and Industrial Strategy [2010-2022] - https://www.data.gov.uk/dataset/c647e722-b691-47e9-a765-a22e24f05a04/solar-photovoltaics-deployment

What does solar capacity look like in the UK for 2023?
14.3 GW of installed solar capacity across the UK is a record end of year figure. That's enough energy…
To power 1.8 million homes across the UK for a full day, based on a typical 2-3 bedroom house with 2-3 people living there.
To power 49% of London's 3.7 million dwellings; enough power for half of the capital city for a full day.
To boil a kettle 75.3 million times, based on a 1.7 litre Russell Hobbs kettle, which is also the equivalent of 526,842,106 or around 527 million cups of tea or coffee, as each kettle provides around 7 cups of hot water on average.
To fully charge 130,00+ EVs. This is based on the Nissan Leaf's 100 KW motor).
To send an EV around the world's 24,900 mile circumference a whopping 759 times!
To run the entire Transport for London (TfL) network of trams, buses, overground and underground trains for 3.27 days or 78.5 hours, as the network uses a huge 1.6 TW of energy a year to run.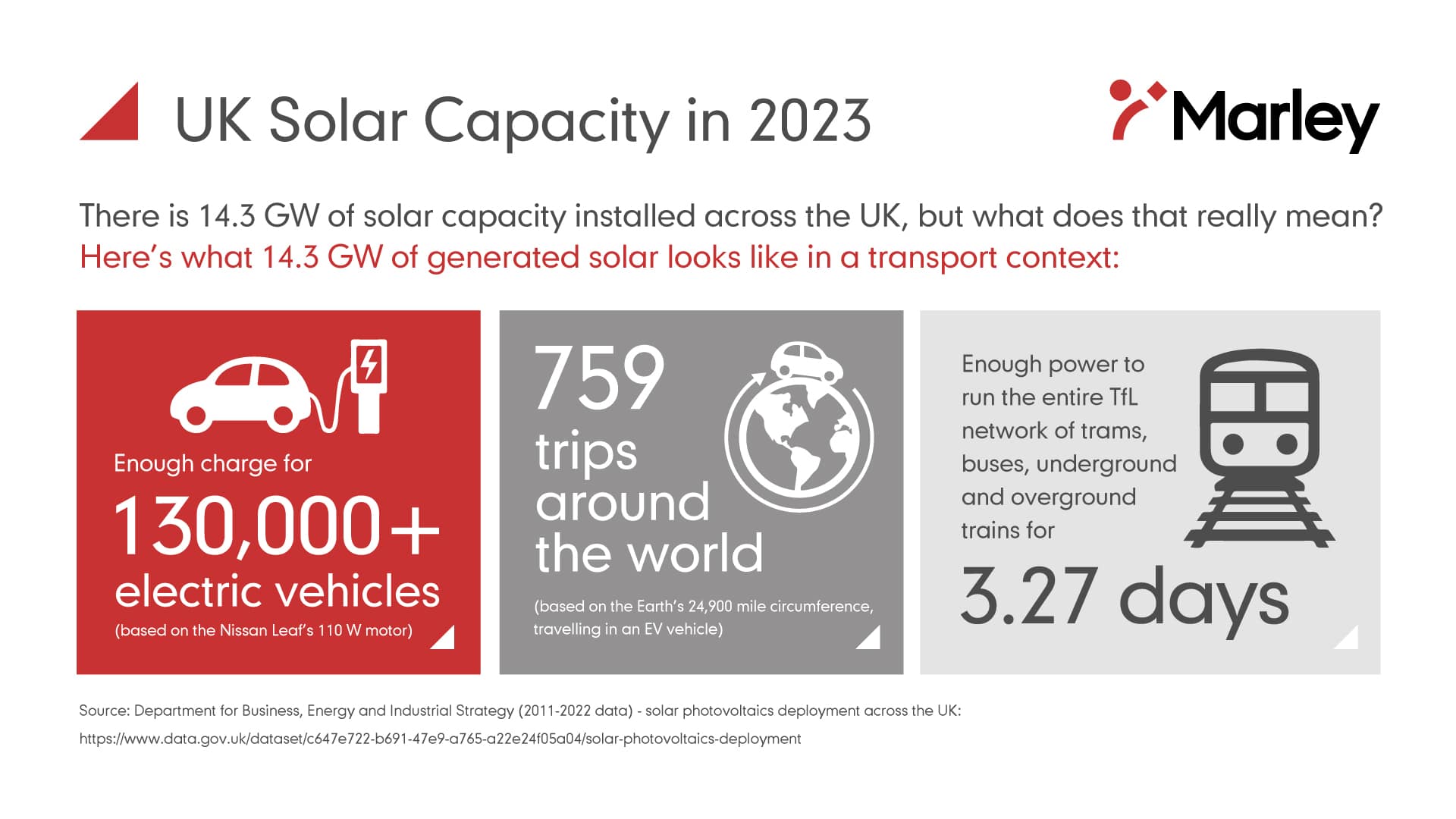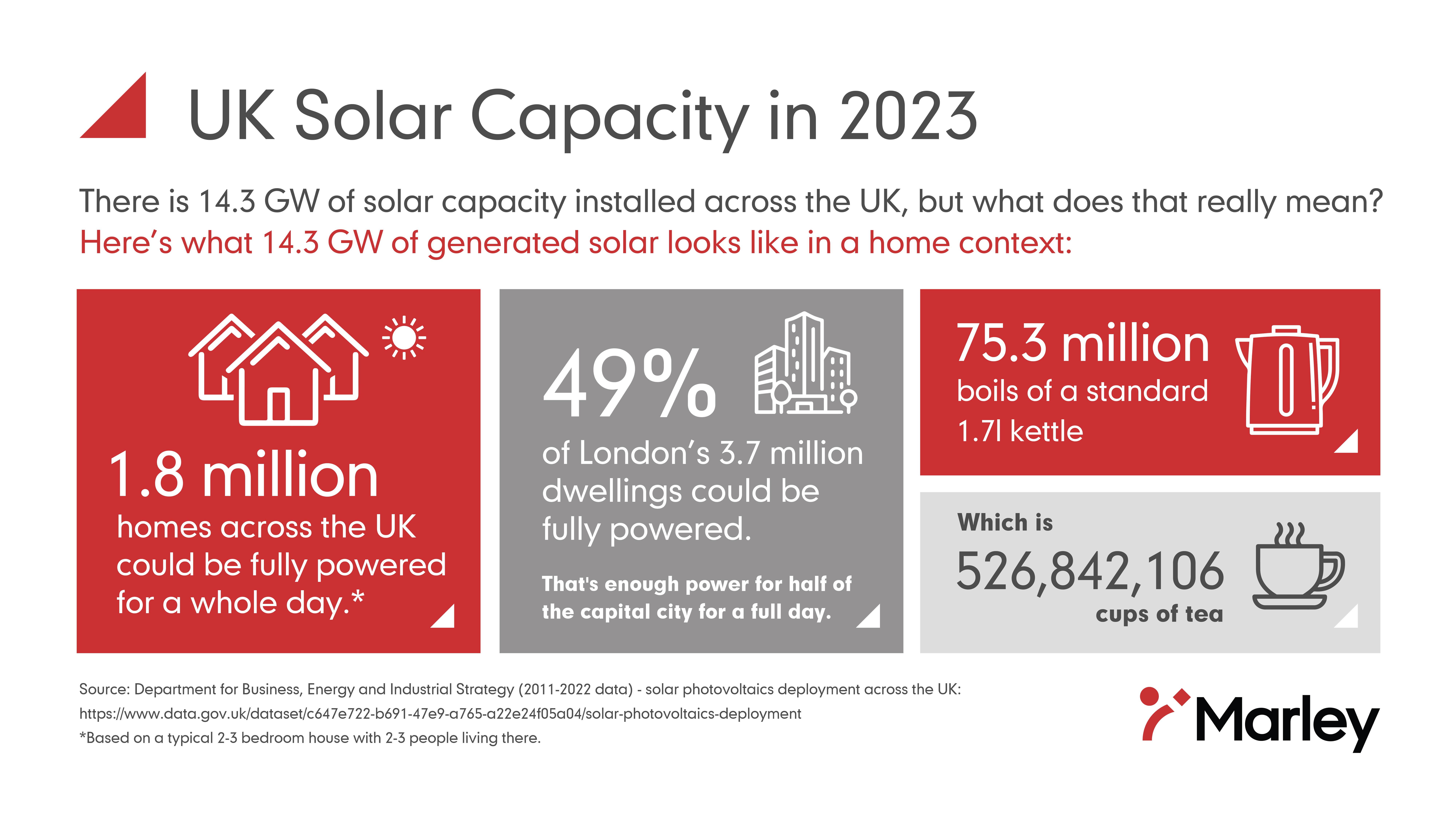 Maximising energy efficiency and how solar batteries can help
Without a solar battery though as a means to store energy, around half of the energy generated by solar tiles will go unused and wasted in the home, because people won't always be at the house to use it when it's generated.
Energy storage solutions are out there, but adoption of these in line with solar growth is needed heavily from 2023 and beyond to ensure solar is being used as efficiently as possible.
From our study of Google search data [2], we found a 47% increase in searches for "energy storage" in the last 12 months alone, showing a much greater demand than this time last year, and already amassing over 34k searches in the UK in this time period [2].
More information:

Statistic references
[1]https://www.data.gov.uk/dataset/c647e722-b691-47e9-a765-a22e24f05a04/solar-photovoltaics-deployment
[2] Google Search Data - October 2021 search volume was 49, compared to October 2022's search volume of 72.
[3] SEMrush keyword overview records 2.9k direct term searches per month for "energy storage".

Image references:
● 1 GW = 750,000 homes - https://www.cnet.com/home/energy-and-utilities/gigawatt-the-solar-energy-term-you-should-know-about
● Dwellings in England - https://www.statista.com/
● Energy consumption of a kettle - https://www.homebuilding.co.uk/
● Number of cups in one kettle - https://www.goodhousekeeping.com/
● Nissan Leaf specification - https://ev-database.org/uk/car/1106/Nissan-Leaf
● Earth circumference and distance - https://www.adventurism.tv/blog/
● TfL electricity and energy consumption - https://www.euronews.com