What is the BRE home quality mark?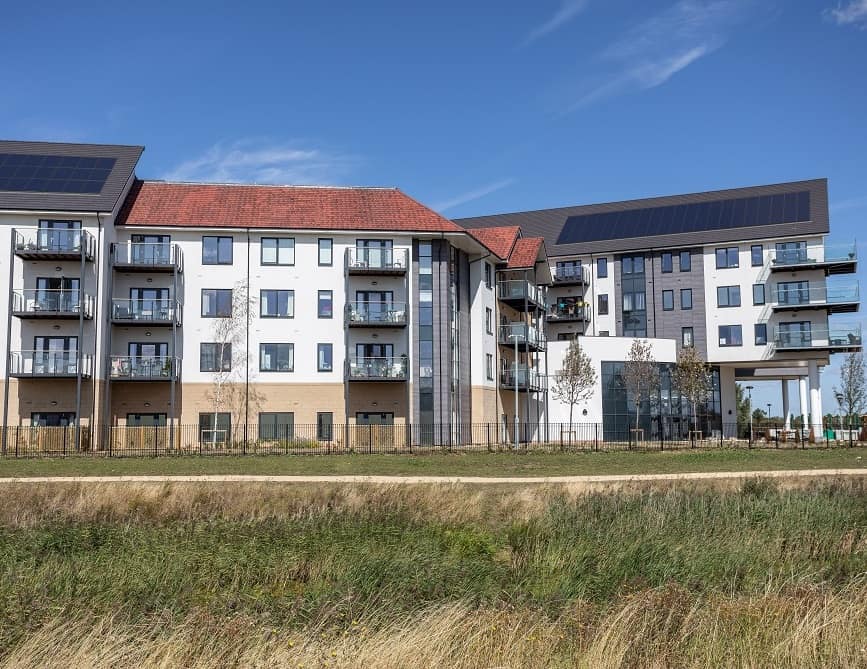 The Home Quality Mark (HQM) is a voluntary certification scheme for new homes. It was developed by the Building Research Establishment (BRE) to benefit consumers, as well as housebuilders, developers and housing providers.

The HQM uses a star rating to evaluate a property's design, construction and sustainability, based on the expectations and requirements of a homeowner or occupier. Scoring uses a similar methodology to BREEAM, but the certification has been adjusted to reflect the needs of new-build housing.

Through the Home Quality Mark programme, homes are independently assessed. To achieve the certification, dwellings must exceed the requirements of established minimum standards such as the Building Regulations.
How are homes assessed?
Home Quality Mark evaluations are carried out by independent assessors. There are two elements, a five-star rating system that provides a holistic appraisal of the property, along with a set of indicators that look at various aspects of the home's performance.

Star ratings
A one-star rating indicates that a home achieves more than the minimum standards, while a five-star rating indicates that a home provides outstanding performance in all areas and pushes the boundaries.

Performance indicators
There are three main indicators of performance, which are ranked on a five-point scale:
A score of one or two in these areas indicates that the home achieves better than the minimum standards, while ratings of three or more demonstrate that a home goes well above the minimum requirements and achieves very high standards.
Roof coverings and the BRE Home Quality Mark
All elements of a roof play a role in a Home's HQM assessment, including the roof structure, roof coverings, specialist roof systems, roof drainage, rooflights and other roof features.
Environmental impact: From raw materials to manufacturing, transport and installation, roofing materials can be assessed for their environmental impact. There's also the finished roof's thermal performance, weather resistance and long-term durability, which can all contribute to the home's overall carbon footprint.
Health and wellbeing: A roof's primary purpose is to protect the interior from external forces, such as weather, moisture and sound. A well-constructed roof contributes to the health and wellbeing of occupants through its thermal and acoustic performance, moisture control and ventilation.
Low running costs: The thermal performance of a roof plays an important role in keeping a property warm in the winter and preventing overheating in the summer. Additional systems, such as solar PV tiles can also reduce a dwelling's running costs.
Quality: The HQM is a sign that the quality of a home can be trusted. A high-quality roofing system can help to ensure that the finished result is durable, safe and reliable.
How does the HQM benefit consumers?
For home buyers and renters, the Home Quality Assessment provides important and impartial information about a new home's design, construction and running costs, helping you to make an informed choice when choosing a place to live.
How does the BRE's Home Quality Mark benefit developers and housing providers?
For housebuilders, developers, specifiers, social housing providers or private landlords, it can be difficult to persuade customers of the quality and benefits of a dwelling. A Home Quality Mark makes it easy for you to demonstrate both the quality of the home and the benefits that quality provides – such as low maintenance, reduced running costs and an ability to cope with the effects of climate change.
Marley roof systems: helping you achieve the Home Quality Mark
Whether you're constructing a new home or refurbishing an existing property, Marley's complete roof system includes everything you need to create a roof that exceeds the building standards and contributes to a high score on the BRE Home Quality Mark. Our product portfolio comprises JB Red battens and base layers, dry-fix roof tiles and accessories, fire-protection products and the Marley SolarTile.

To learn more about our range of products and how they can help you achieve the BRE Home Quality Mark, please get in touch with a member of our team to discuss your project in more detail.

Sources:
● https://bregroup.com/products/home-quality-mark/
● https://www.homequalitymark.com/discover/how-is-it-assessed/
● https://www.homequalitymark.com/discover/ratings-and-stars/