5 Key Points to Consider When Specifying Timber Decking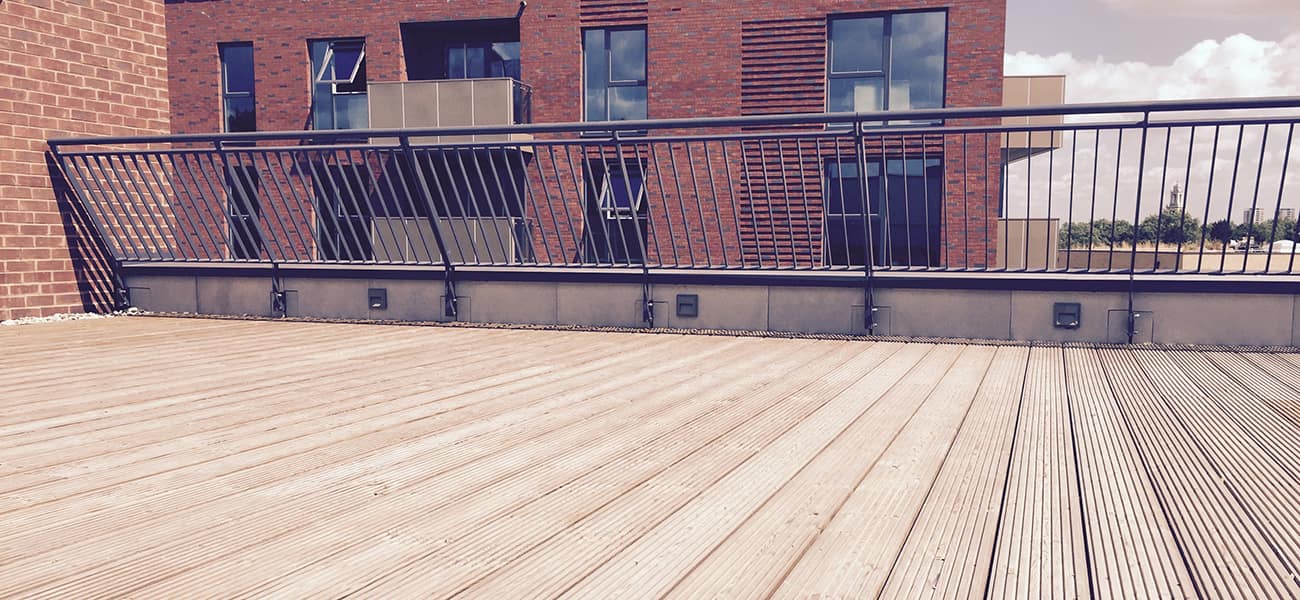 Every project has its own set of challenges: aesthetics, safety in high slip-risk areas, high levels of pedestrian traffic, sustainability, and maintenance.
1. Softens hard landscapes
The natural beauty of wood plays a complementary role in today's highly engineered construction world. The striking silhouettes of glass, concrete, and steel can be softened with the imaginative use of timber and help the site grow old gracefully.

Timber decking can transform a dull space into a warm, inviting, natural feeling environment. In projects with a timber façade or as part of the building envelope, timber decking can be used to make the space flow from inside to out. For a unique external environment, patterns and angles can replicate the building envelope, following slick lines or highlighting wide open spaces.

To assist in the journey through the landscape, smooth and grooved boards can be interwoven and used to highlight stairs, ramps or changes in level (which also helps to meet the requirements of approved document M).
2. Minimising Slip Risks
With public liability claims increasing, specifying cityscapes that consider accident prevention is high on the specification consideration. Boards can be tailored to suit requirements by selecting a grooved or smooth profile, two or three inserts, with either a natural white flint or grey bauxite insert. Specifying the right type of decking in high-slip risk areas is crucial for safety and performance.

Decking has been used in wetland areas, marinas, and boardwalks for high levels of slip resistance, longevity in corrosive environments, natural weathering, and ease of maintenance. Decking boards can be castellated (grooved) or smooth with either two or three anti-slip inserts depending on the project's requirements.
3. Accessibility in High Traffic Areas
Specifying decking in high-traffic areas such as attractions, theme parks, zoos and visitor centres often requires smooth non-slip decking, chosen for high levels of slip resistance, ease of maintenance, accessibility for wheelchair users and the visually impaired, and high levels of visitor traffic. When specifying timber decking for areas with high levels of foot traffic with consideration for pushchairs, wheelchairs or bikes smooth deck boards, the less abrasive grit provides a more even surface. For the visually impaired, grooved deck boards can be used in conjunction with smooth boards to indicate doorways, steps and ramp entrances. Smooth decking boards with a less abrasive aggregate than traditional boards are increasingly specified for applications where high pedestrian traffic is expected and resistance to wear is important.
4. Natural Material
Natural decking has the lowest embodied energy of any mainstream building material and is a managed material to deliver a more sustainable product. The ethos of grow, use, recycle, grow is a clear demonstration of the environmental benefits of using natural material. The more trees that are planted as a result of the product you specify, the more carbon will be absorbed and will enhance the environmental credentials of the project. In Northern Europe, where much of the quality redwood timber is sourced, the annual growth is more than the annual felling and growing trees absorb more carbon. Timber decking should also be procured with full chain of custody either with FSC or PEFC accreditation; this ensures a truly sustainable timber deck.

Carbon facts for timber:
Every 1m3 of timber absorbs 1 tonne of CO2.

Timber energy is CO2 neutral (only the CO2 absorbed is returned back to the atmosphere
There is little waste in manufacturing, as the by-products can be used for energy generation in biomass power plants, which can be used to generate power for the site or the grid.


5. Easy to Maintain Increasing Longevity
Timber decking should be suitably treated for its application (often to BS 8417:2011) to ensure the highest possible performance. Choosing the right product for the right application will provide a low-maintenance solution, from smooth easy-to-clean boards for leisure, retail, and office developments to superior anti-slip performance for outdoor pursuits, bridleways and footpaths. All decks will benefit from regular brushing with a good stiff broom on a regular basis.

Once a year we recommend you give your deck a thorough cleaning using a pressure spray or a purpose-made deck cleaning product, which has been formulated to remove grease and discolouration. This will remove surface algae, which might have made the deck more slippery. Decking should be treated to Use Class 3 for standard out-of-ground contact applications. For more severe applications, or freshwater or marine applications, Use Class 4 treatments are available.
To find out more about Marley Decking solutions, contact your local specialist here.