Best types of non-slip timber decking for different purposes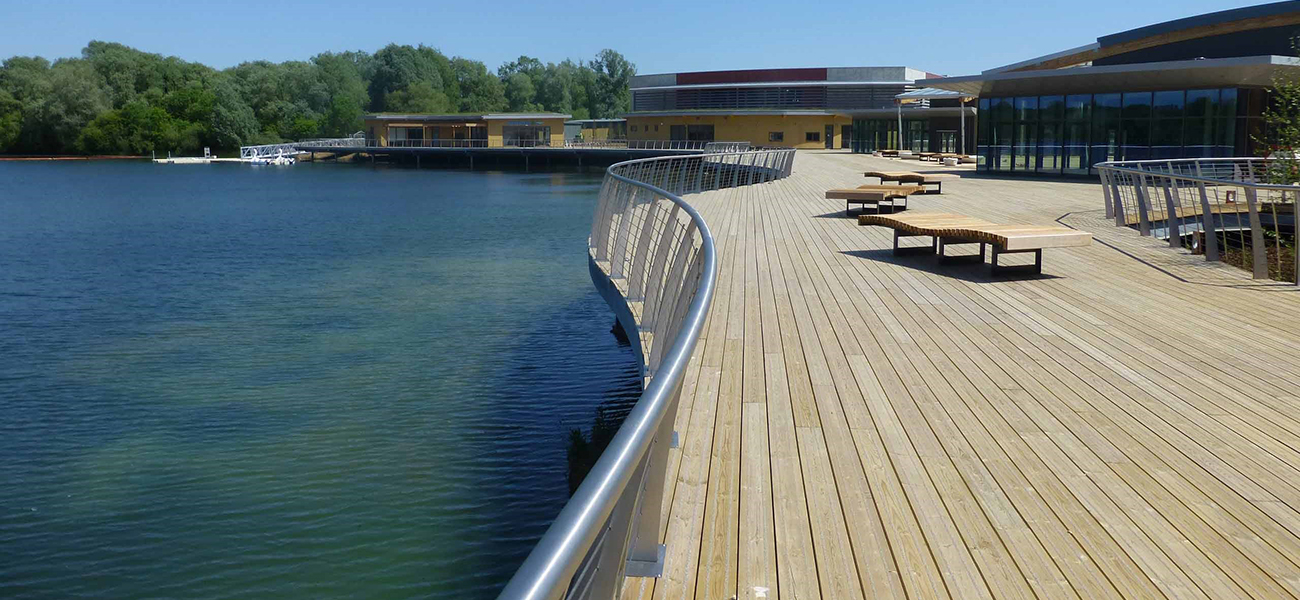 Non-slip decking comes in a huge range of types and styles, and it's important to choose the right product to ensure the finished project achieves the desired aesthetic and performance criteria. So how do you know what the best type of anti-slip decking is for each purpose? The key is to understand the options available and the benefits that each type of decking provides.
Materials
One of the main ways that various types of non-slip decking products differ from each other is in the materials that they are made of.

Timber is one of the most popular options for anti-slip decking, thanks to its timeless good looks, sustainability, cost-effectiveness and durability.
Appearance
The material used to make non-slip decking has a significant impact on the appearance of the finished project, especially when it comes to colour. Other factors that will also affect the overall look include the finish, the arrangement of the grooves and even the width and length of the boards.
It's also important to remember that the appearance of the decking is also determined by the way the boards are installed. By arranging the boards in the right way, you can visually elongate or shorten a space, create patterns (perfect for adding a bit of visual interest) or even differentiate areas.
Performance
As well as the look of the non-slip decking, the technical performance should also be considered to ensure the boards provide the optimal slip resistance and durability:
Loading - Decking should support both uniformly distributed and point loads, and the actual loading requirements depend on the specific application. Softwood deck boards are usually graded either C16 or C24. The latter is the more demanding grade, suitable for locations where higher loads or wider spans are required.
Deflection - This is related to loading and the grading of the boards; a deck board that has too much deflection could create a trip hazard. A maximum of 3mm deflection is generally considered optimum specification.
Use Class treatments - Defined by BS EN 335-1, the timber Use Class system determines how timber should be treated to ensure it can withstand environmental stresses, moisture, decay and insect attack. The right Use Class rating depends on where the decking is used. For example, Use Class 3 is suitable for locations where timber is above ground, while direct contact with water requires Use Class 4.


Marley non-slip timber decking
Here at Marley, we offer three non-slip decking options. Antislip Plus® is ideal for high-risk areas, while CitiDeck® is designed for use in areas where inclusivity is important - since its non-slip surface can easily accommodate wheelchairs and mobility aids, as well as buggies. There's also our Standard range, which is perfect for balconies, terraces, patios and other residential use.
Marley non-slip decking types for different applications:
| Decking Profile | High slip risk areas | Stairs and ramps | Conservation areas | Enhancing environmental credentials | High level of pedestrian traffic | Pram and wheelchair traffic | Patios and balconies |
| --- | --- | --- | --- | --- | --- | --- | --- |
| Antislip Plus | X | X | X | X | X | | |
| Citideck | X | X | | X | X | X | |
| Standard | | | | X | | | X |
All of our anti-slip decking boards have been designed to provide a durable surface for outdoor applications and to help minimise the risk of slipping, even in heavy wind and rain.

They are made from joinery-grade European redwood, and the timber is FSC and PEFC certified. The boards are available in a choice of C16 or C24 and can be treated to either Use Class 3 (MicroPro®) or Use Class 4 (Naturewood®) to suit the project requirements. Decking can be fire retardant treated if required. Antislip Plus and CitiDeck also incorporate aggregate inserts for extra slip resistance.

In addition, all of our non-slip decking offers easy maintenance, so you can rest assured the surface will retain its good looks and slip resistance for the long term.

Marley anti-slip decking: typical projects;