Creating Healthy Landscapes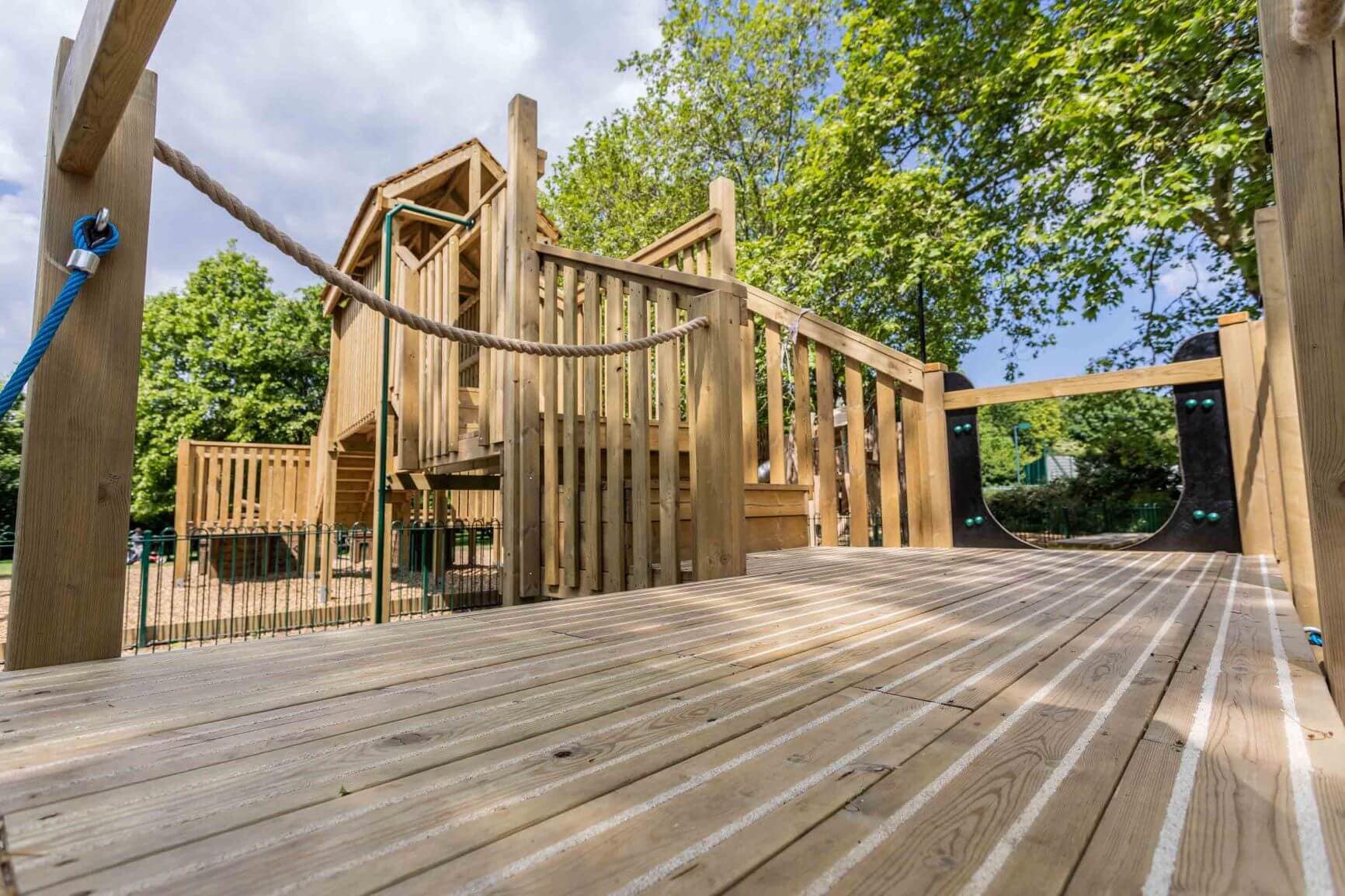 What is a healthy landscape?
The term healthy landscape describes a place which is designed to promote good health and well-being.

Creating a well-designed landscaped area can have a positive impact on people's physical and mental health, which is particularly important in the current climate, with the difficult choices and changes we have to make in our day to day lives.

The Landscape Institute has set out five principles which are essential to the creation of healthy places:
Healthy places improve air, water and soil quality, incorporating measures that help us to either adapt to climate change or mitigate its impact on us

Healthy places help overcome health inequalities and promote healthy lifestyles
Healthy places relax people, increase social interaction – and reduce anti-social behaviour, isolation and stress
Healthy places optimise opportunities for working, learning and development
Healthy places are restorative, uplifting and healing for both physical and mental health conditions
The quality of outdoor space has an impact on anyone using it. Whether it is a nature reserve, an outdoor play area or an urban development in a city; carefully planned landscaping has a role to play.
When choosing products to specify, consideration must be given to aesthetics, safety and accessibility and choosing the right products which are inclusive and safe ensures areas are usable by everyone, comfortably all year round.
The environmental impact of products must also be considered. Timber is without a doubt one of the most environmentally friendly building materials we can use. A natural material like timber creates a warm and comforting aesthetic helps to create an inviting space. It is an ideal product to use outdoors where beauty and nature are key.
Using timber decking allows versatility in design and helps to make use of spaces which may have previously been in inaccessible such as over water, rough terrain or marshland. Timber decking can be left to weather naturally over time to blend in beautifully with the rest of the landscape. It is important to use timber which is sourced sustainably from well-managed forests. In these forests which are PEFC or FSC Certified, trees are replanted regularly. Planting new trees has a positive impact on our environment as growing trees capture and store carbon – roughly one tonne of carbon is stored for every m3 of timber.
What is inclusive design?
Inclusive design is defined as the accessibility and usability of a product irrespective of any differences and without the need to specially adapt them.

Designing for inclusivity means considering a range of requirements. For decking, wheelchair users, people with restricted movement or impaired vision are most likely to be considered although this is not an exhaustive list of groups who should be designed for. The outdoor space should be comfortable for everyone using the deck including children, cyclists, pushchairs, etc.

Hard landscaping, including timber decking, promotes inclusivity by defining outdoor spaces and the way they are used. Creating appropriate circulation routes around a building, or between multiple buildings on a site is a critical function. It makes those spaces accessible to all users and allows closer contact with the environment and soft landscaped areas.
What to consider when specifying timber decking?
Traditional decking boards with a high level of grip can potentially create trip hazards, especially at the boundary with a different surface and where there is a transition in grip level. For the less able, that high level of grip continues to cause a problem across the deck.

Enhancing the deck boards with antislip inserts is the best option to achieve slip resistance. The HSE requires the slip resistance of a surface to be measured by a pendulum test value (PTV) and the minimum PTV for low slip potential is 36. A board can feature two or three strips depending on the level of resistance required. Using a less abrasive grit reduces any trip hazard while still achieving high levels of slip resistance.
Smooth or Grooved boards?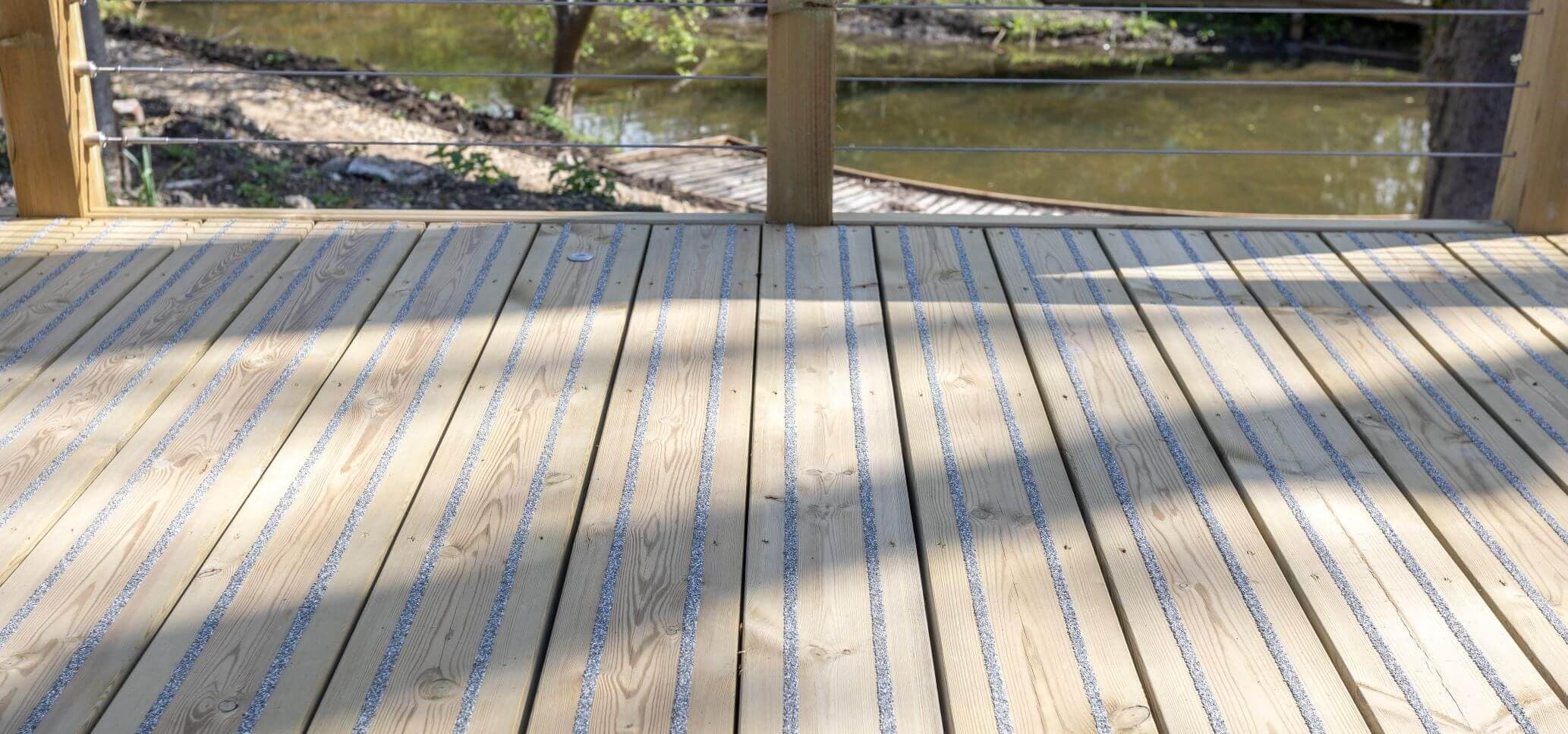 The castellated or grooved profile is almost unique to the UK, most other countries use a smooth or flat profile for decking.

A benefit of grooved boards is that can aid water runoff. However, this is only effective if they are fitted with a slight fall and in short lengths. The effectiveness of water runoff can be reduced if the boards are not maintained properly and dirt and debris are collected within the grooves of the board. If longer lengths are being used the grooves will hold water due to tension properties so therefore, a smooth profile would be the better choice.

The castellations in a traditional deck board can make the surface uneven and uncomfortable. Smooth deck boards provide a more even surface, to aid ease of travel across the deck area. This is particularly beneficial for wheelchair users, pushchairs, children and the less able providing a smoother, less bumpy surface to travel over. Deck boards with a smooth profile also provide greater walking comfort for urban footwear as grooved boards can be difficult to walk on.

Smooth decking is frequently specified for outdoor urban areas where people congregate, where food is served, or where hygiene is of high priority. Smooth boards prevent food, dirt or litter becoming trapped, making it much easier to clean and remove any further slip risk from trapped debris.
About Marley's timber decking range
Marley has a variety of options in their range of timber decking products, to suit all types of application. For more information on how our decking can help you build a healthy landscape, take a look at our product information, inspiration gallery and technical guidance below.

You can also get in touch with one of our technical specialists and we'll help your healthy landscape design come to life.