How BS5534 Can Raise Standards in Roofing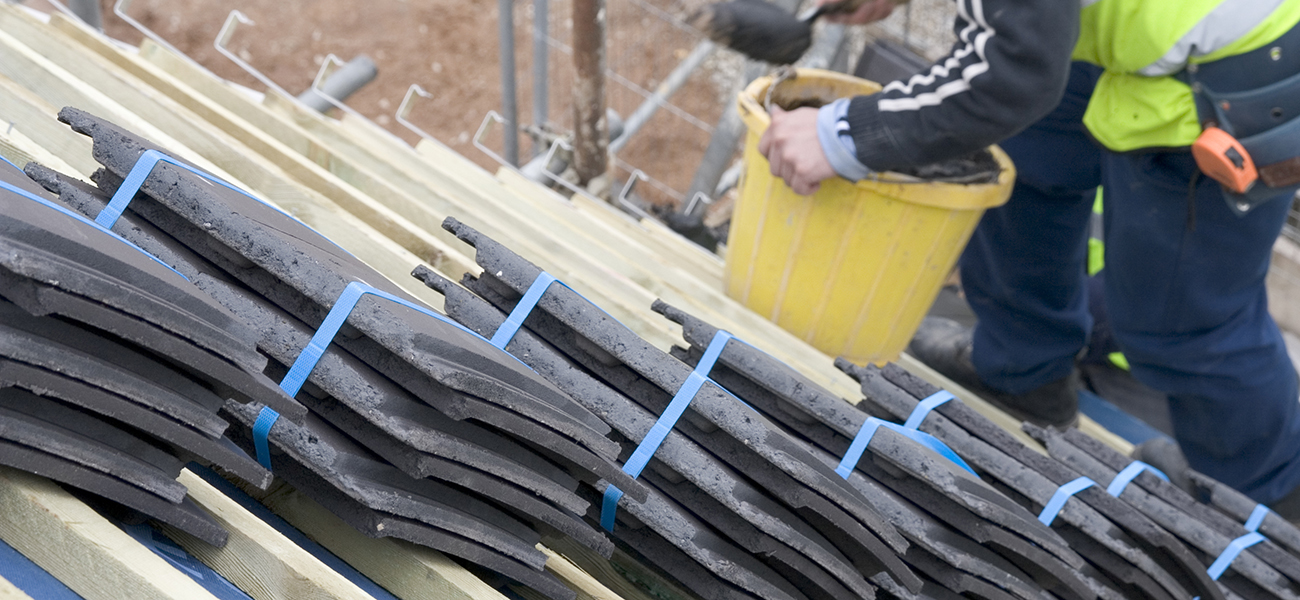 More needs to be done to ensure consistent use of BS 5534 across the roofing industry, so a campaign to get the standard included in the Approved Documents to the Building Regulations is good news for contractors, argues Phil Wallis, technical manager at Marley.
Mechanically fixing roof coverings and accessories, in line with BS 5534, can protect against strong winds and torrential rain. The damage caused by storm Doris in February 2017 is an important reminder of why a revised BS 5534 came into force in 2015. Homes and buildings were subjected to 95mph gusts, with some reports of roofs collapsing or being blown off. Extreme weather like this is becoming more common, and BS 5534 has been updated to reflect this, specifying more modern and secure fixing methods.
Why has BS 5534 been updated?
BS 5534:2014+A1:2015, the British Standard Code of practice for roof slating and tiling, sets out some important changes to the safe and secure fixing of roofs. It was introduced specifically to make pitched roofing more secure in the face of increasingly volatile weather and to bring the UK in line with Eurocodes. Fixing roofs according to the new standard minimises the risk of failure in high winds, and subsequent injury to people and damage to property.
Is BS 5534 in the Building Regulations Approved Documents?
Despite its contribution to roof security, BS 5534 is not yet included in the Approved Documents to the Building Regulations. In fact, the only reference to roofing is more than two and a half decades out of date. As it stands, a roof could meet Building Regulations but be significantly under-specified by modern standards, including the possibility of having incorrectly specified materials. This brings the added risk of outdated construction methods and more worryingly, insufficiently fixed roof coverings and accessories.
In fact, it is such a critical issue that the National Federation of Roofing Contractors (NFRC) is leading a cross-industry group of stakeholders to lobby Government to get BS 5534 included into the Approved Documents to the Building Regulations. This is something which Marley is supporting fully, alongside the other members of the British Standards committee responsible for BS 5534 and BS 8000-6, including the Roof Tile Association (RTA) and other influential industry representatives.
Kevin Taylor, head of technical services from the NFRC is leading the campaign and told us: "Because BS 5534 is not specifically referenced in the Approved Documents to the Building Regulations, this can cause challenges when it comes to both quality control and enforcement.
Currently only BS 8000-6: 1990 is referenced in Regulation 7 and Approved Document Part C. This means the only reference to roofing within the Approved Documents is effectively 27 years out of date and naturally much has changed in relation to workmanship since then, so it is vital this is updated.
We are working alongside our partners to strongly recommend it is included in Approved Document A. Until that time, we will be continuing to raise awareness of the importance of installing and fixing roof coverings to BS 5534."
Is BS 5534 compulsory for all roofers?
While members of the NFRC and of the Competent Roofer Scheme are required to fix to BS 5534 recommendations, this isn't the case for all roofers and general builders. In fact, Kevin Taylor of the NFRC estimates that as much as 80% of re-roofing work in the UK is not being done to the British Standard, putting roofers and property at risk. It also creates pricing challenges for those contractors who are competing against roofers not installing to the standard.
So, while work is underway to try to give more power to enforce the use of BS 5534, in the meantime, manufacturers and bodies like the NFRC, RTA, Local Authority Building Control (LABC) and the Building Control Alliance are encouraging all roofers to follow the British Standard.
We spoke to Phil Hammond, managing director of LABC, who explained: "We fully support the NFRC and its partners in the bid to improve the quality of roofing and workmanship in the UK. We are working with the Building Control Alliance and encouraging all building control surveyors to follow the best practice guidelines of BS 5534:2014+A1:2015 and we have technical guidance and brochures available to support them in doing this. Unfortunately, at the moment, BS 5534 is not referenced in the Approved Documents, so we have to devote extra time and resources to build awareness and explain the improvements. We support the industry and the NFRC in its campaign for this to be clarified in the Approved Documents."
Although BS 5534 is not mandatory yet, if roofing is not carried out to the standard and the work is challenged, it will need to be rectified (unless there are exceptional circumstances such as heritage work). In fact, the NFRC has seen situations where non-compliant roofs have had to be stripped and re-installed when homeowners have complained.
What are the benefits of including BS 5534 in the Approved Documents to the Building Regulations?
Consistency of work: ensuring that all roofing is carried out to an up-to-date, approved standard, that is easier for Building Control to enforce.
Reducing re-work costs: following BS 5534 reduces the risk of storm damage, meaning that contractors are less likely to have to go back to carry out repairs. It also helps to reduce claims against any warranties you may offer.
Protecting reputation and reducing liability: fixing to BS 5534 protects your reputation for quality workmanship and reduces risk.
Improving safety on site: working to BS 5534 reduces the risk of accidents arising from non-compliant materials, such as the use of incorrect roofing battens as a foothold.
Protecting homeowners and occupants by ensuring the roof is safe and fixed to modern high standards.
Creating a level playing field: if BS 5534 becomes a legal requirement, all contractors will be pricing against the same levels of fixing. It would be fairer for contractors to compete on a level playing field and consumers to compare consistent quotations.
Can dry fix systems protect roofs against extreme weather?
The forthcoming British Standard for dry fix roofing systems is one of various factors that will help to improve the security of pitched roofing against extreme weather. For some time, there have been inconsistencies in quality between different systems and the new standard will hopefully help raise standards across the industry. It's important to remember that just because something is dry fix, doesn't mean it's inherently durable . The overall quality of the components used in the system, coupled with correct installation, is vitally important.