How to build a lightweight roof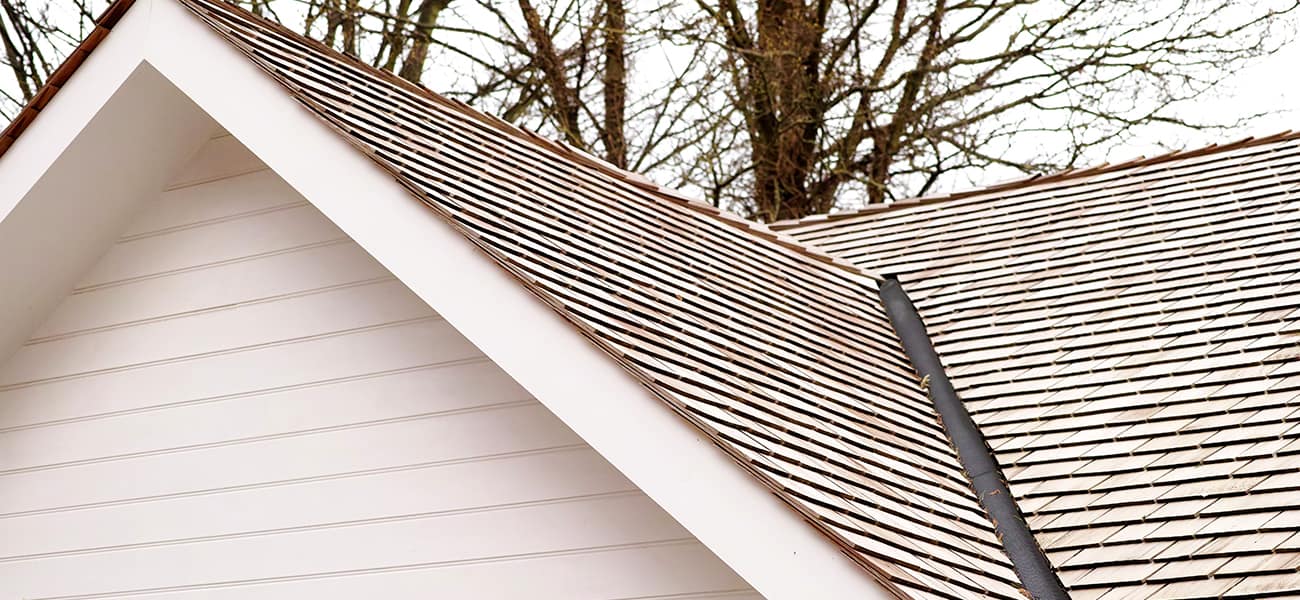 There are many ways to reduce the weight of a roof. These include opting for a timber-frame roof structure, to choosing lightweight roof covering materials. Whether you're looking to build a lightweight roof to reduce a property's environmental impact, or as part of a value-engineering programme, Marley can help you to create a high-quality and attractive result.
What are the benefits of a lightweight roof?
Lightweight buildings can offer a variety of sustainability, safety and cost benefits. This is because having a lightweight structure typically means using fewer building materials, without compromising on the quality of the structure. There are also reduced transport costs, since products are less bulky, and construction is safer for workers who don't have to carry and lift heavy items.

Lightweight construction can also reduce the amount of foundation required to support the structure, further resulting in cost and environmental savings on the project.
Modular timber frames for lightweight roofs
As developers and housebuilders feel continued pressure to build much-needed housing across the UK, modern methods of construction such as offsite construction and modular assembly can reduce costs, save time and also reduce the weight of the building structure.

Homes built using offsite methods, such as timber frame, can be built quickly, with less on-site labour. Modular assembly can cut the environmental impact of housebuilding by:
Using fewer raw materials
Minimising on-site waste
Reducing transport costs

A lightweight timber-frame roof also reduces the dependency on bricklayers – a trade that has been heavily hit by the skills shortage.
Lightweight roof coverings
Once the roof structure is completed, there are several options for covering the roof that will help to keep the overall weight of the roof to a minimum.
Lightweight roofing materials – It's safe to say that many roofing coverings, such as clay roof tiles, concrete roof tiles and natural stone slate, are heavy. They usually weigh in at around 55–70 kg per square metre. While these products are often the conventional choice, there are other options. For example, cedar shingles and shakes weigh around 6–8 kg per square metre. With one of the lowest carbon footprints of any building material, these beautiful and sustainable roofing products are incredibly lightweight, easy to install and can achieve an A+ BRE Green Guide rating.
Dry-fixing for lightweight roofs – Following the guidelines of BS 5534, dry fixing of roof coverings has become the industry standard. As opposed to the traditional mortar fixing, dry fixing uses mechanical methods (screws, clips and other fasteners) to secure roof tiles, ridges, valleys and other elements safely to the roof structure. While the main benefit of dry-fix is a safer, more durable and weather-resistant roof, the method also significantly reduces the weight of the structure.
Roof-integrated solar panels – Another option for reducing the weight of the roof is to add roof-integrated solar panels, such as the Marley SolarTile. These solar PV tiles are installed within the roof plane in place of roof tiles, thereby cutting the number of tiles needed, while also giving the home the benefit of solar electricity generation. As for weight savings, Marley SolarTile has a static loading of just 12.9 kg per square metre.
Lightweight roofing products from Marley
Marley offers a complete roofing system that includes everything needed from the battens up to build a safe, reliable and value-added roof. Our product range also includes a number of options to help minimise the weight, including our Western Red Cedar Shingles and Shakes, our dry-fix roofing products and the Marley SolarTile.
To find out more about any of our products, please download our product guide. Our team of roofing experts are also available to discuss your project in detail and help you to find a solution that meets your requirements, so please don't hesitate to get in touch.