How to install roofing battens - 4 simple steps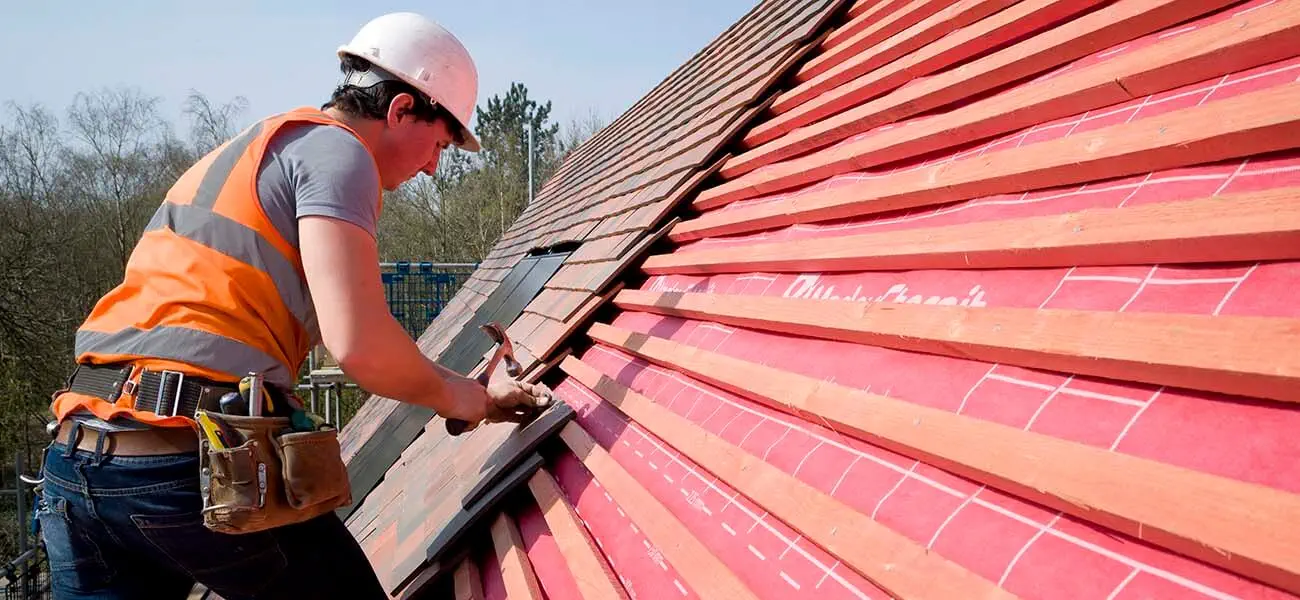 Whether you are building a new house or refurbishing an existing one, installing the roof battens is an important step. Battens may be hidden by the roof covering, but their purpose is to provide a reliable anchor that tiles or slates can be fixed securely to.

Battens also play a part in ensuring the rigidity, durability and weather tightness of the finished roof. BS 5534:2014 is the British Standard that sets out the requirements for roofing battens, and it covers everything from the type and size of timber required, to spacing and fixings.

So, how do you install roofing battens, while ensuring compliance with the comprehensive requirements of BS 5534? Here's our quick, four-step process to help you get started:
1. Start with the underlay
Roofing underlays provide insulation and an extra waterproof barrier to prevent ingress of any water that manages to get under the roof covering. Underlays come in a variety of options, with Type 1F bitumen felt being a traditional favourite. However, this can become brittle over time, and modern alternatives are typically superior since they weigh less and are more durable.
Roofing underlays provide insulation and an extra waterproof barrier to prevent ingress of any water that manages to get under the roof covering

Universal underlays from Marley are manufactured using the latest materials and processes. They meet the requirements of BS 5534, are compliant for UK wind zones 1-5 and are BBA certified. Two options are available, depending on your roofing requirements: vapour-permeable and non-breathable.
2. Choose your battens
Next, it is time to select the battens. JB Red Battens from Marley is a high-quality roofing batten that is pre-graded and meets the performance requirements of BS 5534.

These battens were developed in conjunction with the BRE and meet NHBC requirements for fully-graded roofing battens. They are made from FSC or PEFC-certified timber and manufactured to provide a consistent thickness of 25mm.

JB Red battens are suitable for all roofing applications and are ideal for situations in which the batten may also be used as a foothold. Our JB Red battens are testament to that, being the only UK machine factory graded roof batten with BBA certification. Produced only from high-grade, slow-grown and kiln-dried sideboards our JB Red Battens provide maximum strength and stability.
3. Check size and spacing of battens
Before installing the battens, be sure to check you have the size and gauge correct for the tile choice, as these can have a direct influence on the weather tightness of the roof, as well as the finished appearance.

According to BS 5534, the appropriate batten size will depend on the span of the rafters and the roof covering. For example, 25x50mm battens should be used for single-lap Modern roof tiles when laid on rafters with a maximum 600mm span.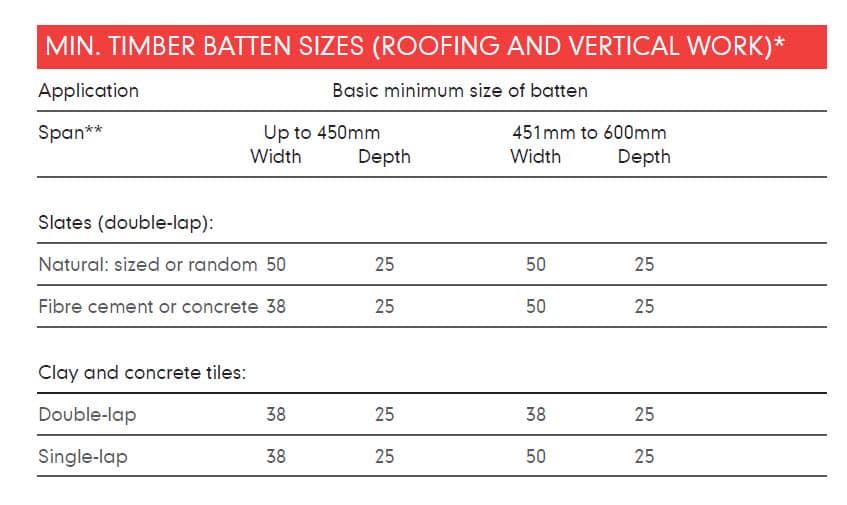 Here are some guidelines to bear in mind:
Battens should be fixed to rafters set at centres not more than 600mm apart.
They should span at least three rafters and be at least 1.2m long.
No more than one in four battens should be joined over one truss for gauges over 200mm.
For gauges less than 200mm there can be a maximum of three consecutive joins in any twelve coursing of battens.
Using a spread of lengths is a good way to achieve the above two requirements, as it results in staggered joints.
4. Fix the battens into place
When you're ready to secure the battens to the rafters, the first step is to ensure you're using the right nails. According to BS 5534, the nails used to fix battens to rafters should usually have a diameter of at least 3.35mm. The nails should provide a minimum of 40mm penetration into the rafter, so a nail length of 65mm is generally recommended.
Start at the lower edge of the roof, nailing the batten into place at the centre of the rafter. Joints should be directly over rafters, with the batten square cut, tightly butted and skewed nailed.

If a batten end is to be set in mortar, be sure an appropriate treatment has been applied or the non-cut end is set in the mortar; this is not required for dry-fix systems.

Once the roof battens are installed, it's time to start covering the roof. Here at Marley, we have a wide range of coverings to suit different sectors, pitches, geographical locations and aesthetic requirements. We also offer a variety of accessories for dry-fix application, ventilation and detailing.

Find out more about our comprehensive roofing system, and be sure to check out our collection of technical resources, which includes an estimator and information about our CPDs.