Maximising venue capacity using outdoor space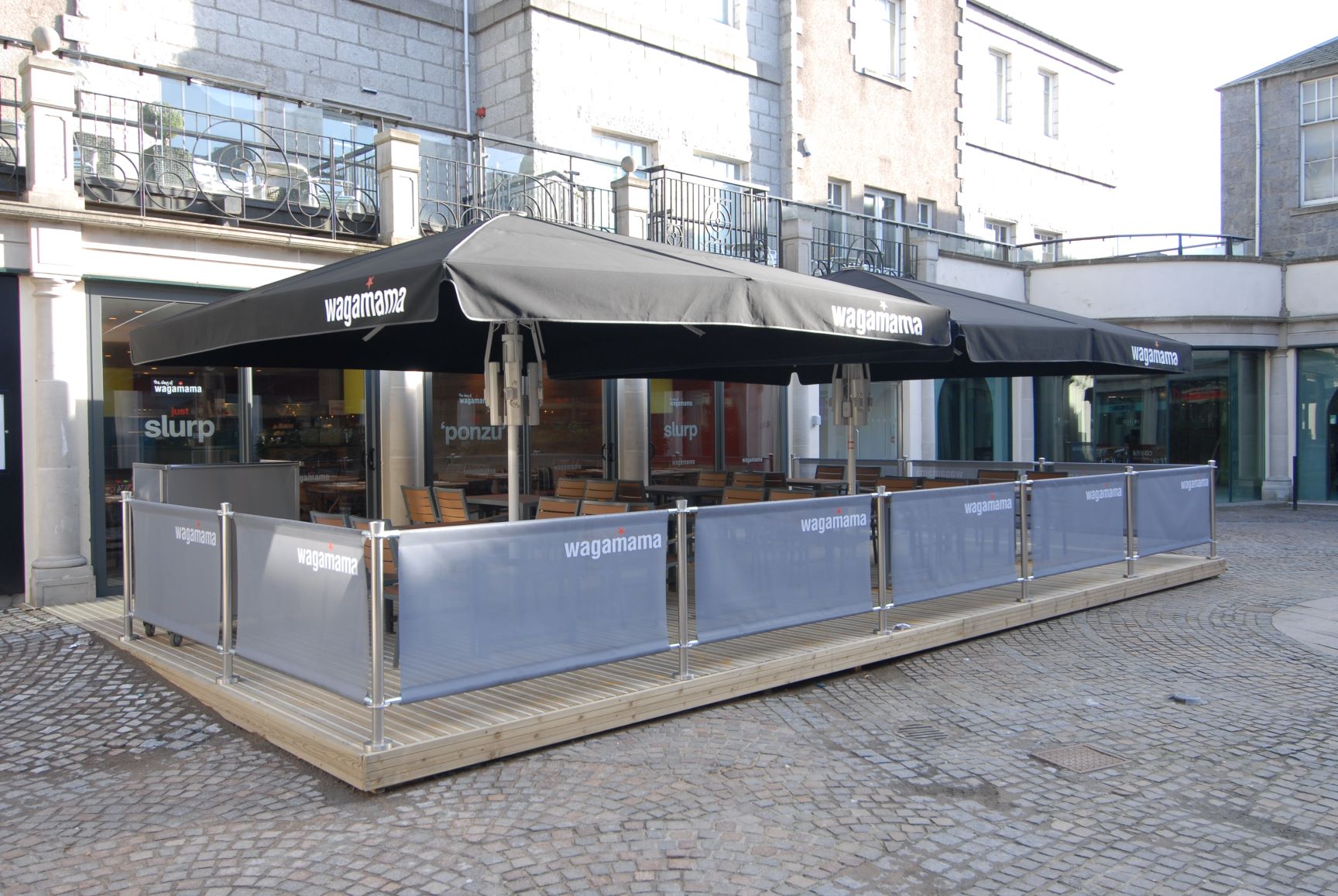 Working with social distancing guidelines
As Government guidance changes, allowing hospitality businesses to reopen and host larger groups of customers, there are still restrictions in place to safeguard and mitigate against the risk of transmission from COVID-19. With the duration of such measures unknown, it is difficult for any business to prepare for the permanency of changes required, particularly when being faced with a reduction in operating capacity.

Many operators are looking to see how they can safely offset these impacts, by maximising venue capacity utilising outdoor space, particularly restaurants, bars, pubs, and cafes. In this blog we look at some of the practical implications of these changes and how using a timber decking product, such as CitiDeck®, can provide a simple and effective solution.
Reduction in capacity
To allow for customers to reasonably follow social distancing guidelines of 2m or 1m with risk mitigation in place, there is a requirement to reconfigure space and seating arrangements, to allow for bubbles or clusters of individual groups. When limitations are placed on the inside the obvious alternative is to look outside.
Depending on the location and the type of business, this could be anything from a next-to-pavement seating area up to a large beer garden. Without having to completely revamp an area or take on a potentially costly re-landscaping project in a short space of time, consideration should be given to using a sustainable, low maintenance, timber decking material, which is relatively quick to install and provides a cost-effective solution. Using a timber deck has certain advantages such as flexibility, accessibility and health and safety, which we'll now touch on.
Segmenting traffic flows
Businesses need to be mindful of particular pinch-points and monitor the through-flow of people, to reduce congestion and contact between customers, particularly when queueing and using washroom facilities. Creating one-way flows has widely been adopted as a good way to prevent congestion, but it also has meant the use of new entrances that were previously used for staff or non-primary exit routes. Whether allowing access for wheelchairs or providing level walking space for those with different levels of ability, decking can provide a simple method of improving accessibility.
Building a timber deck that abuts doorways can overcome issues such as steps and uneven ground and can also be built as ramps to allow access to different levels within the outdoor space. Choosing a deck board, such as CitiDeck®, with a smooth profile, prevents customers in wheelchairs, those wearing heels or those with limited ability, getting caught in grooves and provides an easier surface to travel on.
Health and safety
When the sun shines, anything goes, but when it rains, some surfaces can be slippery and dangerous, leaving the outdoors closed off. However, clients don't have to succumb to the inclement British weather, choosing an anti-slip decking product, such as CitiDeck® or Anti-Slip Plus, consigns the 'slippery when wet' sign to the bin. CitiDeck® has been independently tested by the Health & Safety Laboratory in accordance with BS7976 and exceeds the minimum Pendulum Test Value (PTV) required to be categorised as low slip.
Venues will also be managing enhanced cleaning regimes to regularly disinfect surfaces. Choosing an easy to clean deck will save much needed time, particularly by selecting smooth profiles that won't collect dropped food, leaves and dirt. Marley decking products only require brushing with a stiff broom on a regular basis and an annual gentle pressure wash.
Looking good and feeling great
Making customers feel welcome and comfortable should also be an important consideration as social interactions begin to find a new normal. A well laid out venue, gives customers greater peace of mind that measures have been put in place for their safety and will encourage much needed custom. The outside of any venue has a role to play in representing the brand of the business and setting the ambiance for guests. By choosing a timber decking product, the natural beauty of timber can create a warm and welcoming environment, that works perfectly with both traditional and modern environments. Marley decking products naturally age overtime, turning from a golden yellow, to a beautiful light silver timber.
Keeping the customer at the forefront of mind, it's important to consider those minor irritations for outdoor dining and drinking that can be easily overcome. Once again choosing a smooth-faced deck board, helps to prevent wobbly tables, chairs getting caught in grooves and allows greater flexibility in layout to accommodate changes in social distancing guidelines.
A practical cost-effective approach
The Marley range of structural timber anti-slip decking products is the ideal choice for safe, high-performance commercial applications particularly in leisure, lifestyle, retail, and public sectors. We use sustainably sourced European Redwood timber due to its strength and stability. With a range of treatment options, and by following our guidance on care and maintenance, we provide strong, durable and hardwearing decking products with a long service life.
Take a look at the links below for further information on CitiDeck® and our timber decking range and fill out the form if you would like us to get in touch to discuss your requirements.