Non-slip timber decking for NHS hospitals and care homes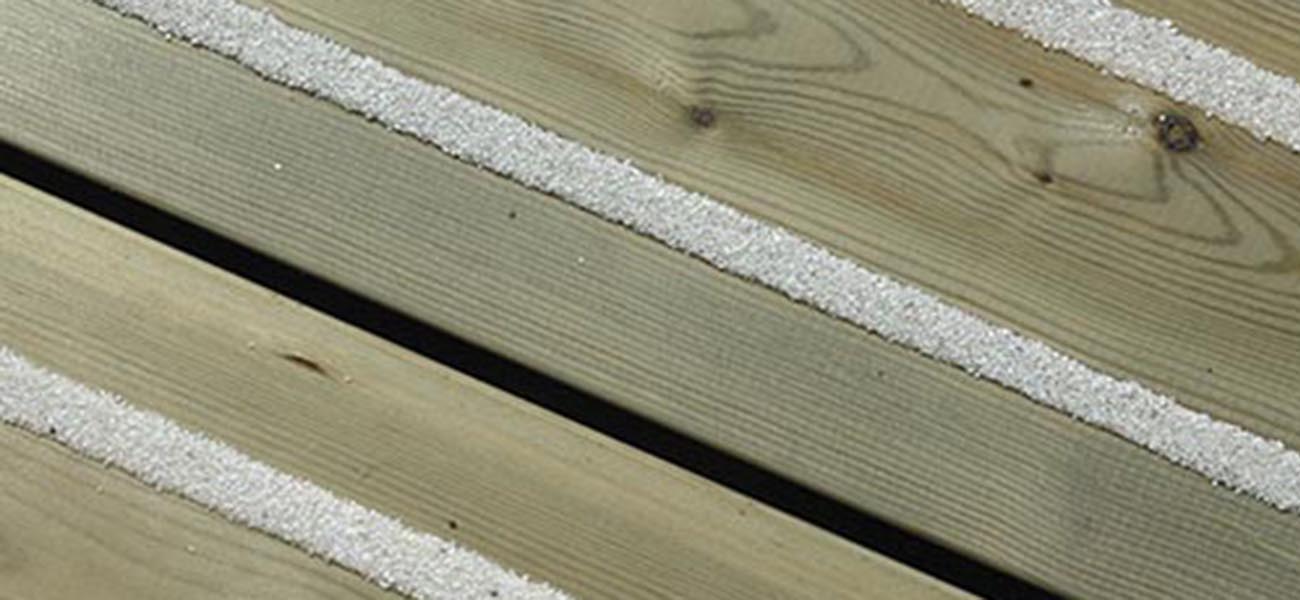 Decking for healthcare environments, such as NHS hospitals and care homes, should be slip resistant, minimise trip hazards and not create a barrier to access for wheelchairs and the less able.
The use of outside space, with access to fresh air and nature can have an uplifting effect on everyone from young children to the elderly. Designing external areas, especially with wheelchairs, day beds and the less able in mind, can prove difficult. Trip hazards, wheelchair users and accessibility for visually impaired are all important considerations in the specification of hard landscaping.
Smooth slip resistant decking for Part M requirements
To help meet the requirements of Part M of the Building Regulations, a smooth deck board should be chosen to give an easy, comfortable ride when accessing the decking with a wheelchair. The non-slip inserts should give a low potential for slip, but at the same time, not be so slip resistant to cause a trip or stumbling hazard for those who are less able, and may have difficulty picking up their feet.
Timber decking can provide an excellent solution when designing to, and interpreting Part M of the current building regulations.
Our CitiDeck® non-slip decking boards
were initially developed to meet the inclusivity requirements of the London Olympics. They were created after extensive testing and project development with the Principal Access Officer for the Olympic Delivery Authority (ODA), Margaret Hickesh, a specialist in inclusivity. She highlighted concerns with the use of traditional grooved / castellated decking with wheelchairs. These include the discomfort when riding over them in a wheelchair, and the difficulty of changing surface from tarmac for the less able and visually impaired.
CitiDeck® decking boards are smooth and feature non-slip inserts with a slightly less abrasive aggregate than our
Antislip Plus® board
, providing a smoother surface for wheelchair users. The boards also minimise the trip risk that a very abrasive, highly anti-slip aggregate may present to children or those with mobility difficulties.
Embodied energy of timber decking
Natural decking has the lowest embodied energy of any mainstream building material. Specifying managed materials enhances the environmental credentials of a project. As a managed material, all CitiDeck® and Anti-slip Plus® decking boards meet BS 7976 requirements with full
FSC and PEFC chain of custody.
Read more about our sustainability credentials here.
Technical support
Marley works with landscape architects and inclusivity officers to deliver complex commercial projects, as well as small but equally challenging projects. Technical support is provided throughout the lifecycle of the project, from the design and specification stage, to advice for contractors regarding installation. Every project has unique challenges and objectives, and our experienced technical support team can discuss your requirements and work with you to find the best solution.
Decking for hospital recreation and rehabilitation areas
The £1.8 million refurbishment of the neurological rehabilitation ward at Kendray Hospital was designed to help the rehabilitation and recovery of its patients. The refurbishment provides improved facilities designed to support patients. Facilities include the use of a gym for physiotherapy and a kitchen to simulate a home environment.
A part of the refurbishment is a closed courtyard to provide valuable outside space for patients. The courtyard has been decked using CitiDeck®, which provides a natural timber solution particularly suitable for wheelchair users and the less able. Initially specified as standard castellated deck board, the product was changed after main contractor Togel recommended CitiDeck® as an improved solution for this type of application.
CitiDeck offers a smooth surface for wheelchair users giving a more comfortable ride than traditional castellated deck boards. Their non-slip inserts are created from a finer, less abrasive aggregate that make them particularly suitable for areas used by children, the less able and wheelchair users – important factors in the specification of decking for hospitals.
Decking for care homes and hospices
CitiDeck® timber decking has been specified across a range of care homes and hospices including St Peter and St James in East Sussex and Keech Hospice Care in Bedfordshire.

St Peter and St James Hospice features a new 'wellbeing centre' that has been built to provide more space and support to patients. CitiDeck® was chosen by Operations Manager Caroline Harding after careful consideration and comparison with other alternatives.

Keech Hospice Care looks after adults from Luton & south Bedfordshire and children from Bedfordshire, Hertfordshire and Milton Keynes. CitiDeck® was chosen for part of the garden, a key area for the personal and social interaction of the children at the hospice. A safe, non-slip surface was required. CitiDeck®'s smooth boards with a fine anti-slip aggregate provide the ideal surface for this application, which is used by wheelchair users, children and the less able.

Mike Keel, Chief Executive from Keech Hospice Care commented:

'We're really pleased with the new decked area; the smooth anti-slip decking works well in this environment. Patients and families are able to enjoy the fabulous outdoor space which they can all access. The children love the area and it is easy for families to take them to this space. The families of the patients also love the new decking area. Loved ones and families are struggling with a very difficult time when they are at the hospice and being able to enjoy a fabulous area away from the wards is incredibly beneficial.'
To find out more about Marley Decking solutions, contact your local specialist here.