Solar PV FAQs for social housing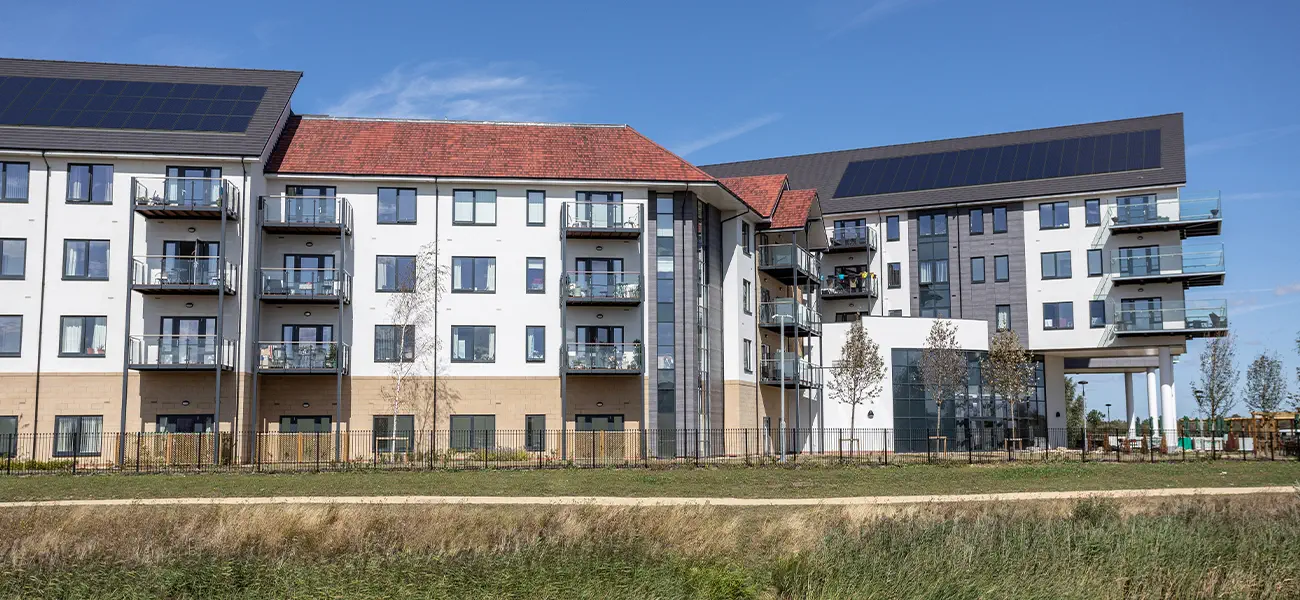 Your Solar PV questions answered...
With solar PV technology set to become a common feature on both new build and retrofit social housing projects, Stuart Nicholson, roof systems director at Marley, answers LA and HA questions.
In January, the Government set out the draft regulations for the 2025 Future Homes Standard, which will require all new homes to be highly energy efficient, with low carbon heating, and be zero carbon ready by 2025. To ensure the industry is prepared for this, new homes will be expected to produce 31% lower carbon emissions from 2021, as part of changes to Part L regulations.
Solar PV, combined with an efficient gas boiler, appears to be one of the most cost-effective ways of achieving this interim Part L carbon reduction target. Together with the inclusion of solar PV as an eligible measure in the Green Homes Grant scheme for local authorities, this means we are likely to see a big increase in the number of social housing developments installing
solar PV roof systems
over the next few years.
However, with so many different types of solar PV products on the market, how do specifiers decide which is the most effective type to use on their developments? Here, we answer some of the common questions that housing associations and local authorities ask about solar PV systems:
Are there any grants available for local authorities / housing associations installing solar PV?
As part of the Government's £2 billion Green Homes Grant, £500 million of funding is being allocated to local authorities to help improve the energy efficiency of homes of low-income households, through the Local Authority Delivery (LAD) scheme. Although it isn't yet included in the rest of the Green Homes Grant, the good news is that LAD specifically mentions solar PV as an eligible measure for funding under Phase 1B of the scheme. In addition, the minimum bid has been reduced from £500,000 to £250,000, making it accessible to more councils.
While social housing providers will not be able to submit a bid directly for the LAD scheme, they may be included under a local authority bid, provided that the registered social housing provider has a commercial agreement in place with the bidding local authority.
What different types of solar PV system are there?
When it comes to installing solar PV technology on a roof, there are three options to choose from: a traditional on-roof panel, or two different types of integrated PV system (one with a separate tray and one with an integrated tray).
The on-roof systems were the first generation of residential solar panels and consist of a set of panels attached to the rafters by a mount and sitting over the top of the
roof tiles
. These can stand out too much, so, more recently, integrated solar PV systems have been developed, which blend in seamlessly with roofscapes. These roof integrated panels are designed to be incorporated into the roof surface, acting as a MCS 012 approved building material and effectively replacing a section of your tiles. They fit in with the existing roof tiles to become part of the design.
There are two different versions of these integrated PV systems, one has a separate tray and the other has an integrated tray. The type you use will have a significant impact on installation (see question 4 for more information on this).
What are the advantages / disadvantages of each system?
There is a belief that on-roof systems generate more electricity. However, the difference is relatively small and is outweighed by some of the other disadvantages of an on-roof system, particularly because they can be quite bulky and can compromise on the aesthetics of a development. Other disadvantages are: the way they are attached can lead to water ingress and they nullify the roof tile manufacturer warranty; the extra weight can lead to unnecessary strain on the roof structure; walking on a completed roof to install them could lead to hairline cracks in the tiles and birds' fondness for nesting in the panels can also cause issues.
Even though modern roof panels are sleeker than ever before, they hold no comparison to the aesthetic of roof integrated PV, which acts as a seamless part of the roof design. This makes it easier for this type of system to pass difficult planning conditions and they have even been approved for use on heritage sites and conservation projects. As both tiles and PV are installed together, it means there is no modification to the roof tiles, securing the warranty. Our integrated Marley SolarTile® system is compatible with all of our
clay and concrete tiles
, so solar PV can easily be incorporated into any roof design.
On-roof systems are normally installed by a specialist PV contractor, whereas our integrated system can be installed by a roofing contractor, and signed off by an MCS accredited electrical contractor, which reduces the cost of having specialist solar installers.
How do I know which type of integrated system to choose? Does it matter if the tray is separate?
There is quite a significant difference between choosing an integrated PV system with a separate tray, or an integrated tray. Don't make a decision based on the initial cost alone, as a separate tray system can come with hidden costs when it comes to installation and performance.
The majority of integrated PV systems require a separate carrier system for the panel to sit into. These tend to be in the form of separate polypropylene trays, into which the PV panels are placed and fixed. The main disadvantage of this system is that it requires additional timbers to fix to and manufacturers also recommend counter battens are used. Fire retardant trays are available but often come at a higher cost.
The other option is a solar PV with integrated tray system, such as our new
Marley SolarTile®
. These systems sit directly onto the battens and, in some cases, are fixed to the rafters and the battens. This means wind resistance is significantly higher due to the direct fixings. As the aluminium tray is integrated into the panel, fire ratings are also often higher than the plastic tray systems. Although initial purchase price can be higher, when the prices are inclusive of extra timber and labour, alongside the extra cost for the fire-retardant tray, the integrated system can actually be more cost effective.
How much could it save us / tenants on fuel bills?
Well sized solar PV systems can provide 65 to 75% of a household's electricity usage and cut their carbon emissions by around 15% - a significant contribution to the 31% reduction required by the new Part L.
For more specific data to help, you can refer to the solar energy calculator on the Energy Saving Trust website (Solar Energy Calculator | Energy Saving Trust). This provides estimated savings on energy bills and the financial payments you could receive by installing solar panels.
The good news is that the cost of solar technology has reduced by about 80% since 2009 and the pay-back period is as little as 10 to 11 years. In addition solar panels can save tenants up to £260 a year on their energy bills.
What support is available?
Marley can now provide housing associations and local authorities with an integrated solar PV system, either on its own, or as part of a full pitched roof system, including battens, underlay, roof tiles, fixings and accessories which comes with a 15-year guarantee, higher than other solar systems on the market.
Our technical team can provide full roof system specifications, including solar PV, free of charge, or you can create one on our website (
www.marley.co.uk/technical-services/specrite
). We also have an online solar configurator, which will build an array of panels for you and calculate the energy output (
www.marley.co.uk/solarinstall
).
For more information visit
Marley SolarTile®
.