Specifying non-slip decking for roof gardens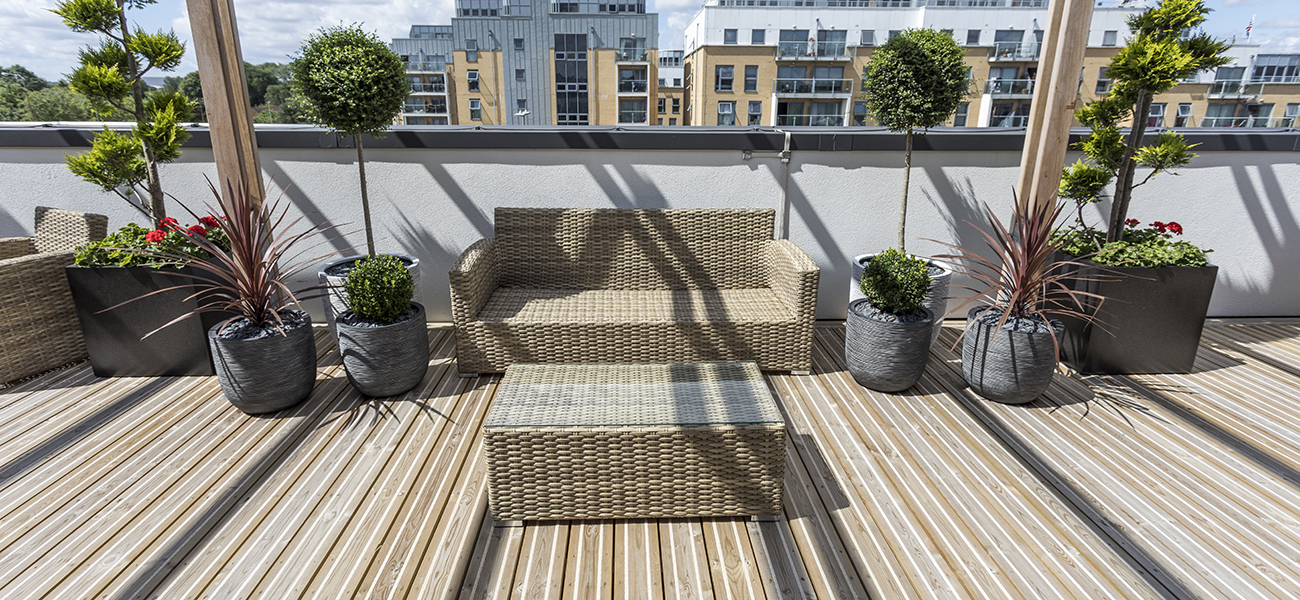 Specifying decking for roof gardens usually means there will be several competing requirements, including space restraints, slip risk, accessibility, aesthetics, maintenance and performance.
In residential applications, roof decking is a popular way to make economical use of space in increasingly tight urban environments. It is also used in raised walkways and balconies to provide inclusive shared spaces in apartments and student accommodation.
What should you look for in anti-slip roof decking
A smooth deck board and antislip inserts with a slightly less abrasive aggregate than standard antislip deck boards is a good choice. This specification mitigates the slip risk in urban roof deck environments where the surface can be wet and there tends to be high pedestrian traffic. Resistance to wear is important and in addition to this, smoother decking also provides a more comfortable surface for urban footwear, wheelchairs and pushchairs.
Smooth deck boards are easier to clean as food and debris can't become trapped, making it more suitable for urban and domestic use than traditional grooved boards. A fine aggregate used for the antislip inserts gives superior slip resistance without presenting a trip hazard for the less able or children.
Roof deck for London housing development
South East London's Library Street Development was designed to provide a high standard of affordable living and outdoor space, difficult to find in the Capital. The collection of 6 town houses and 34 flats has a combination of shared outdoor spaces and private balconies.
The shared space, a large roof garden with stunning views across London was designed to provide a sense of community for residents through an inviting and inclusive setting.
Citideck®, a smooth antislip deck board was chosen for all raised walkways and balconies, and the roof garden. The clean lines and natural appearance of the decking don't just make the roof space functional, the decked balconies help the apartments flow from inside to out, making the most of the space available. Planters and trees on the landscaped roof garden give the space a very different feel to the buildings around it in busy SE1.
The CitiDeck® boards used for the Library Street Development were supplied with full PEFC chain of custody, treated to Use Class 3 and strength graded C16.
Technical specification support for roof decking
Marley provides technical specification support for developers and landscape architects throughout the lifecycle of the project. As every project has different challenges and objectives, our experienced team can work with you to discuss your requirements and help you find the best solution.
Find out more about using CitiDeck® for your project.