Specifying solar roof tiles for social housing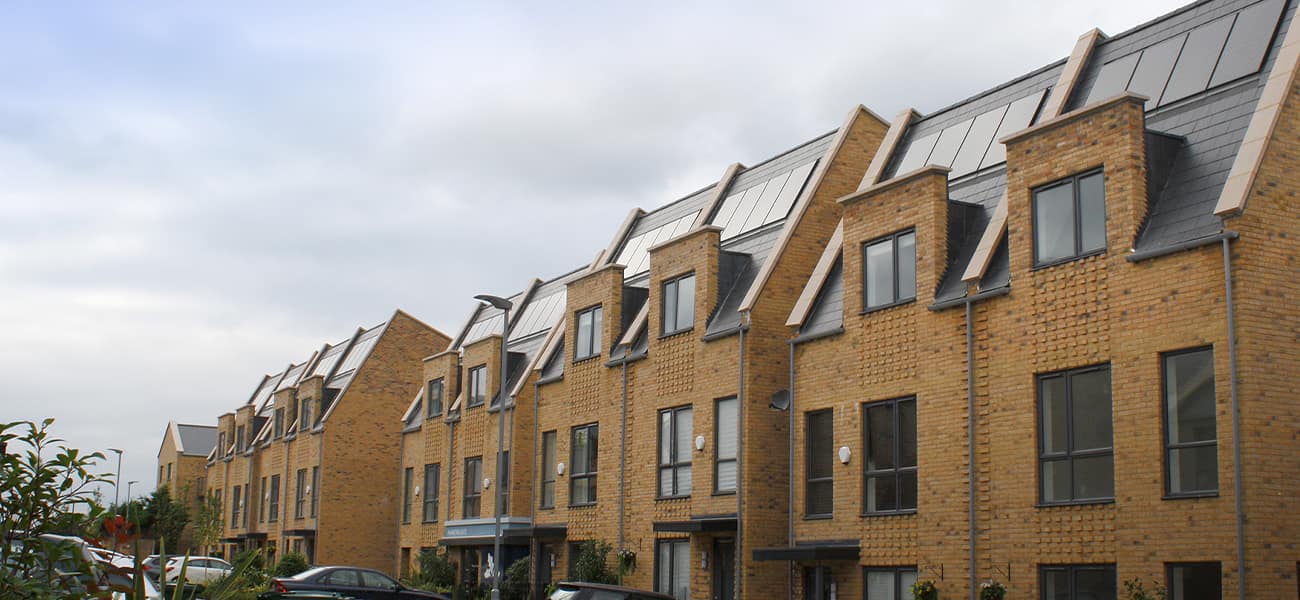 As local authorities and housing associations increasingly realise the benefits of renewable energy, solar tiles for social housing are being specified more often.

Official definitions of fuel poverty vary across the UK but, however you define it, it's a significant concern for the vulnerable individuals and families who often live in social housing. According to National Energy Action, the UK has one of the highest rates of 'excess winter mortality' in Europe with an average of 32,000 extra deaths in the December to March period. Nearly 10,000 of these deaths can be attributed to cold homes.

Finding ways to bring down energy costs not only helps the households that would otherwise have to choose between heating and eating. It also helps the environment, reducing reliance on traditional energy sources and contributing towards the government's goal to bring down greenhouse emissions to virtually zero by 2050.

Proposals to Part L and F of the Building Regulations are also in progress and are likely to require new-build homes to be future-proofed with low-carbon heating and world-leading levels of energy efficiency. It's expected that solar electricity generation will become standard on new-build homes, with the Future Homes Standard aiming to completely remove the need for fossil fuels for heating homes.

When specifying roof-integrated solar tiles for social housing, there are several details to consider. Getting these right will ensure the best solution in terms of performance, appearance and weather-tightness.
Roof-integrated solar tiles vs above-roof systems
Solar tiles for domestic roofs come in two main types. Above-roof arrays sit above the roof surface, while roof-integrated solar roof panels sit within the roof plane and act as the roof covering, directly replacing sections of the roof tiles.

There are several benefits to specifying in-plane solar roof panels for social housing, rather than above-roof systems. These include:
Improved appearance – Roof-integrated solar panels have a low profile and look like an intended part of the building, rather than an afterthought. In addition, the invisible fixings provide cleaner lines and a more streamlined aesthetic.
Fewer roof tiles - Since in-plane solar roof tiles act as a roof covering, there's no need to install roof coverings under them. This saves the time and expense of tiling the entire roof. It also keeps the overall weight of the roof down.
Easy maintenance - With roof-integrated solar panels, there are no visible fixings or gaps under the tiles, so there's nowhere for debris to accumulate on the roof. If roof maintenance or repairs need to be carried out, there's no need to disassemble an integrated solar system.

The Microgeneration Certification Scheme is another consideration when comparing in-roof and above-roof solar panels for social housing. Introduced in 2016, the MCS set out standards for solar installations in pitched roofs. Underpinning the scheme is a series of tests to assess the weather tightness, wind uplift resistance and fire performance of a pitched roof installation. These tests are designed to ensure that solar installations do not impair the overall safety performance of the roof.

On-roof solar installations do not need to be tested for weather tightness or external spread of flame according to the MCS, as long as the roof covering was not affected by the installation. In contrast, integrated solar roof panels must be tested for all three aspects, helping to ensure safety in all areas.
Solar energy output
The amount of energy produced by a solar PV system will depend on factors including how much daylight the tiles receive and the size of the solar array. When specifying solar tiles for social housing, also consider how much energy the future tenants will likely require.

All Marley SolarTile® panels measure 992x1640mm and provide outputs ranging from 270 to 320Wp, depending on the model chosen. Multiple panels can easily be combined to create arrays of any shape and size, and the spacing between tiles is minimal for the most economical use of roof space.
Roof system compatibility
Not all solar panels can be installed with all roofing materials, so make sure that the solar system specified will work with the chosen roof covering.

The Marley SolarTile® roof-integrated solar system is compatible with our complete range of roof coverings. This includes our clay and concrete tiles, as well as our Western Red Cedar shingles and shakes.

The system is also suitable for use with most other roof coverings, including those offered by our competitors and products made from other materials, such as natural slate.
Solar panel testing - wind loading and fire safety
Safety is of utmost concern when specifying solar tiles for social housing and two major considerations for roof-integrated PV are wind loading and fire safety. Marley SolarTile® has undergone extensive testing to ensure the highest ratings and peace of mind for both the local authority and tenants.

In terms of wind-load testing, Marley SolarTile® has a wind resistance more than four times higher than competitor products, making it suitable for those parts of the UK with extreme wind conditions. This is in part due to its flush roof installation - being fixed to the rafters and battens means there are no gaps for wind to pass through.

Marley SolarTile® also offers excellent fire performance. It has a Class A fire rating and is the only integrated solar roof system to have achieved the highest resistance to spread of flame and fire penetration in all European safety tests, meeting the requirements of BRoof T1, T2, T3 and T4.
Ease of installation
Simple installation will speed up project times and help keep costs down. One of the benefits of roof-integrated solar panels is that they sit in place of the roof covering - so there are fewer roof tiles to install.

Marley SolarTile® is designed for quick and easy installation and installation times of less than one hour per kWp can easily be achieved:
Push-fit connections make it simple to create a weather-tight and secure fixing
Components are simple to use
Unlike other solar systems on the market, there's no need for counter battens or additional undertrays
We also offer training for roofing contractors, giving them the skills and knowledge needed to quickly and effectively install solar tiles for social housing.
Solar guarantee
A robust product guarantee provides assurance to everyone involved in a housing project - from specifiers and installers to the housing associations, local authorities and their tenants.

Marley offers a 15-year roof system warranty that covers our entire range of roofing materials - more elements than any other manufacturer. This includes Marley SolarTile®, making it the only roof system guarantee on the market from a single manufacturer.
Solar tiles for refurbishment
If a roof requires repairs or refurbishment, it's an ideal time to add solar tiles. Marley SolarTile® is an excellent choice for this type of project, as installation simply involves the removing sections of old tiles and replacing them with new PV panels.

The solar roof system is provided as a complete kit, with all the required fixings. Since there's no need for additional supports or underlay, the existing roof structure will likely be able to support the solar installation without any additional construction.
Specifying Marley SolarTile® for social housing
The Marley SolarTile® complete roofing system includes everything you need to install solar tiles for social housing - including roofing battens, underlays, roof tiles and roof-integrated solar tiles. Our complete range of compatible products makes specification simple, and everything is backed by our 15-year warranty for additional peace of mind. To find out more, discuss your project or get specification advice,
please contact our technical team
.