Supply chain traceability - Why choose a single-source roof system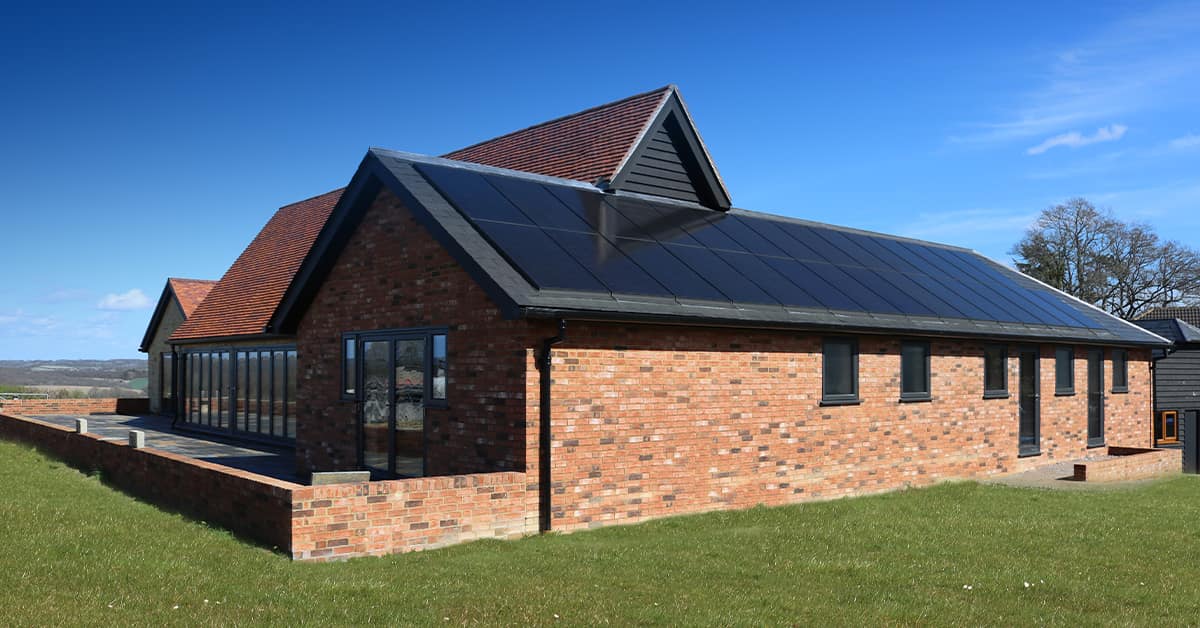 There's a lot to think about when specifying or building a roof. From the roof battens and the underlay to the roof tiles, dry-fix components, ventilation accessories and solar panels, how do you ensure that everything is compatible, sustainable and compliant with standards and building regulations? Opting for a single-source roof system can simplify specification and sourcing, giving you a traceable supply chain so you can rest assured that the result will be a weatherproofed, durable and attractive roof that will perform as designed and come with a system warranty.
What is a traceable supply chain, and how does it relate to roof systems?
Traceability in a supply chain refers to the ability to identify, track and trace a product – and the individual elements of a product – from raw materials to finished goods. Stuart Nicholson, director of roof systems at Marley, explains: "Traceability makes it easier to evaluate sustainability and provides reassurance that a product will provide adequate performance."

In addition, traceability can help to prevent the use of generic or counterfeit products that may not meet regulatory requirements, reassures buyers that products are made using sustainable or responsibly sourced materials and gives greater assurance that products were manufactured in safe and well-regulated working environments.

Because there are so many elements to a roof system, traceability can be difficult if products are sourced individually from different manufacturers or suppliers. "Opting for a single-source roof system can simplify the tasks of specification and purchasing products, as the supplier should have all the details and be able to provide it when required," Stuart says.
The benefits of a single-source roof system
Of course, traceability isn't the only benefit of a single-source roof system. For specifiers and architects, a single-source roof system helps to ensure compatibility and performance, as all the elements will have been tested to demonstrate they work together to create a weatherproofed roof that achieves compliance with regulations and standards, including structural integrity, wind resistance, waterproofing, ventilation, fire performance and thermal efficiency.

Stuart explains: "For example, using a complete roof system from a single manufacturer improves the accuracy of the wind uplift calculation, giving additional reassurance that the roof will perform as designed in high winds."

Opting for a single-source roof system gives specifiers an easier route to accessing support on design and technical calculations, as well as troubleshooting advice if something goes wrong.

The compatibility of a roof system also gives architects and specifiers more design flexibility, as they don't have to worry that a design will fall apart because one element is incompatible. "With Marley's complete roof system, all our products can be used together, including our entire range of clay and concrete roof tiles," Stuart says. "And our team is always available to provide advice and answer questions," he adds.

Compatibility is also a benefit for contractors and installers. A complete roof system from a single manufacturer makes it easier to source materials and helps to ensure installation goes smoothly.

There's also the benefit of improved product guarantees when you use a complete roof system. With a roof system where all the elements have been designed and tested to work together, the manufacturer can offer a longer and more detailed guarantee compared to a pick-and-mix specification from multiple manufacturers. Here at Marley, we offer a 15-year guarantee on our complete roof system.
Designing out risk when constructing roof systems
Although it is possible to select individual components from different manufacturers to produce a roof that appears to meet project requirements and achieve compliance, there is much less risk and a higher level of assurance when designing with a complete roof system.

When selecting individual components, there's also an increased chance that value engineering using generic – and possibly substandard – products could occur. Using a complete roof system from a single supplier helps to mitigate these risks.

For example, if a generic batten is used and it doesn't meet the requirements of BS 5534, the structural integrity of the roof could be compromised. Similarly, an inadequate roof underlay could cause condensation problems within the roof.

Re-using specifications from previous projects is relatively common practice; however, with regulations changing often, and wind speeds likely to vary from project to project, it is important that a new pitched roof specification be created every time.

If you're working with a roofing system, the supplier should be able to provide free design and specification support to help ensure the finished roof meets requirements. Be sure that the specification includes a bespoke fixing specification to avoid contractors using generic specifications that may not be suitable for every system.
Marley's single-source roof system
As a leading supplier of roofing materials, Marley's complete roof system includes everything needed to specify and build a roof that achieves regulatory compliance, project preferences and aesthetic requirements. All the elements come from the same source and are designed, selected and tested to ensure they work together perfectly.

To find out more about how the Marley roof system can help you to specify and build high-quality and reliable roofs, download our white paper: Design, risk and liability – Designing out risk in pitched roofing. Alternatively, contact one of our experts who will support in any way we can on your next project.