Timber decking for schools and education facilities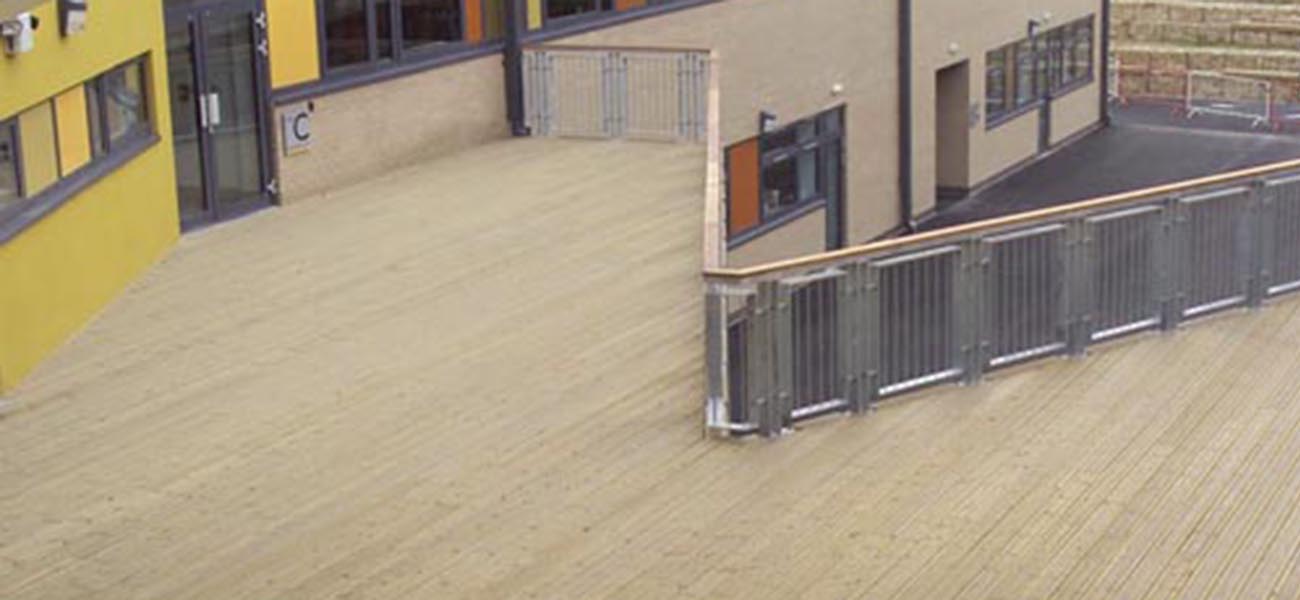 Decking specified for schools and playgrounds needs to be aesthetically pleasing, easy to clean and not present a hazard to playing children.
Timber decking
is a very popular hard landscaping material for outside space at schools and educational facilities – landscape architects and contractors choose decking for large, complex projects as well as small but equally challenging projects. In either case, the product must meet the demands of a high-traffic area.
For education applications, we recommend
CitiDeck®
non-slip decking board over traditional grooved timber decking. These are smooth with a less abrasive aggregate than our
Antislip Plus®
boards, giving an easier walking surface for children in play areas or schools. Rougher surfaces can may present a marked change in grip which can be unexpected for children, creating a trip risk.
Safety is important in education environments, and
the correct specification of decking can reduce slip risk
. Although CitiDeck® has a smoother antislip aggregate than Antislip Plus®, it still exceeds the HSL guidelines for slip resistance.
The smoother surface also minimises the amount of litter or dirt becoming trapped, making it easier to clean and maintain.
Coloured anti-slip inserts can also be effectively used to brighten play areas and recreational spaces, 'zoning' areas and making the external environment more appealing for young children.
Embodied energy of timber decking
The embodied energy of timber decking is the lowest of any mainstream building material. Specifying from sustainably managed sources will enhance the environmental credentials of a project. Read more about our sustainability credentials.
Technical support
Technical support is provided by Marley throughout the lifecycle of the project, from specification with the client or landscape architect, to advice for the contractor on correct installation. As every project has different challenges and objectives, our experienced technical support team can work with you to discuss your requirements and help you find the best solution.
Non-slip, rot-resistant decking for school play area
The smooth timber deck boards with non-slip inserts were chosen for Riverside Primary school in Nottingham.
800 linear metres of decking were used for a covered outside play and educational area. The new decking was required to be non-slip, resistant to rot and fungus and suitable for use in school and playground installations.
To meet these requirements, architect Atkins specified CitiDeck® smooth profile redwood decking with low abrasion anti-slip inserts in white.
The new decked area also incorporated a sand pit with access panels created within the decking.
Non-slip decking for messy school play area
At St John's the Evangelist R.C School in Bolton, the decking was used directly outside the classroom area to incorporate the outdoors into the school activities.

The area is used for wet and messy learning activities – for this reason, slip resistance was the most important consideration. The school wanted a smooth deck board which is easier to move equipment around on, with non-slip provision.

Paul Boyle, consultant on the project comments 'Both a composite solution and CitiDeck® were considered but the school felt that the composite was not slip resistant enough. CitiDeck was chosen and the school is very happy with the results.'
To find out more about Marley Decking solutions, contact your local specialist here.