Top six inclusivity considerations for decking specification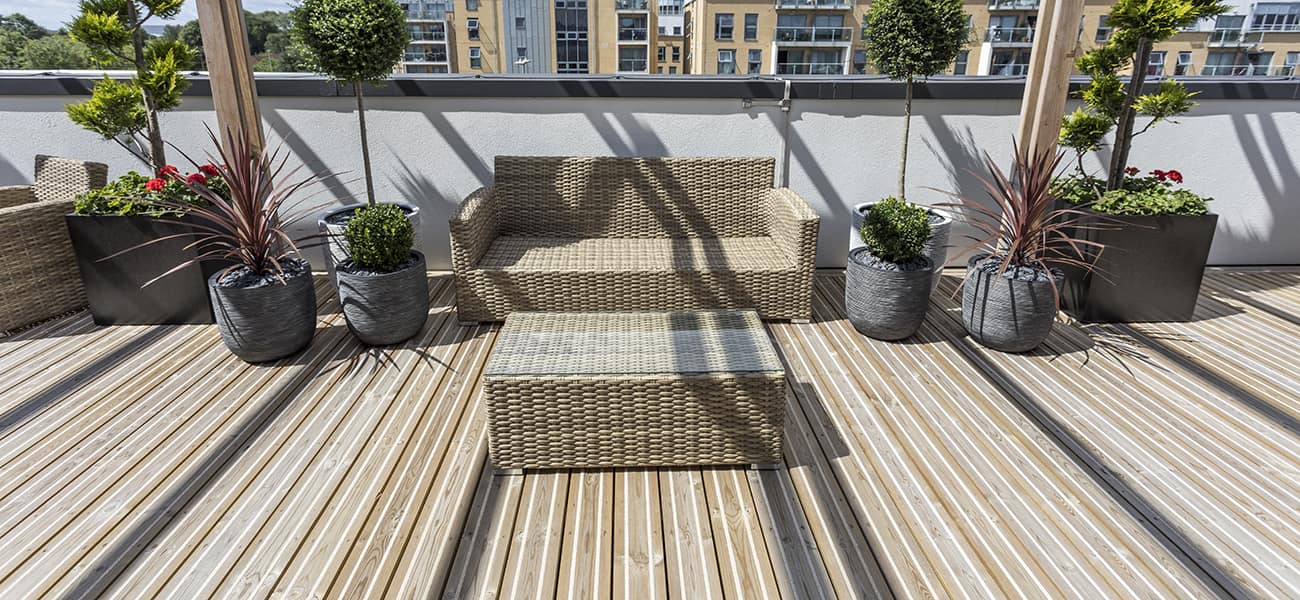 Hard landscaping - including
timber decking
- promotes inclusivity by defining outdoor spaces and the way they're used. It makes those spaces accessible to all building users, and allows closer contact with the environment and soft landscaped areas. Creating appropriate circulation routes around a building, or between multiple buildings on a site is also a critical function.
This blog post looks at six areas to think about when specifying decking to ensure areas of commercial decking are designed to be as inclusive as possible.
1. Who will use the space?
Designing for inclusivity means taking a range of requirements into account. For decking, wheelchair users, ambulant disabled, and people with impaired sight are most likely to need to be considered, though this is not an exhaustive list of groups who should be designed for.
2. Building regulations
One of the first points of reference when planning outdoor spaces and circulation routes is the guidance in national building regulations relating to access. Provisions apply whether designing a new building or extending/altering an existing building.
Following the guidance in Approved Document M for England or Wales helps to achieve compliance with Building Regulations. Section 4 of the Building Standards technical handbook in Scotland, and Technical Booklet R in Northern Ireland, also deal with access.
Safety is also a part of national building regulations. Approved Document K in England details guidance for stairs and ramps; the requirement only applies to external stairs and ramps at a building's entrance. If not at an entrance, then only the requirements for access apply.
For other UK countries, guidance on safety can be found in Approved Document K in Wales, Section 4 in Scotland, and Technical Booklet H in Northern Ireland.
As ever with national regulations in different countries, the general aims are normally broadly similar, but the way in which they are achieved can vary slightly. Alternative solutions to those given in the guidance are permissible, and the more complex the project, the more consultation with the local authority is recommended.

3. Other legislation
BS 8300 is the code of practice for designing buildings and approaches to meet the needs of disabled people. Approved Document M is based on the guidance in this standard, though there are some differences.
The Equality Act 2010 also needs to be considered when designing and specifying outdoor spaces and areas of decking. The Act is broader in scope than national building regulations, so meeting regulatory requirements does not automatically mean compliance with the Equality Act.
4. Achieving the right level of slip resistance
Traditional decking boards with a high level of grip can actually create trip hazards, especially at the boundary with a different surface where there's a transition in grip level. For the less able, that high level of grip continues to cause a problem across the deck.
Slip resistance in commercial decking is best achieved through the use of abrasive strips. A board can feature two or three strips depending on the level of resistance required, three being suited to high risk areas. Making the inserts with a less abrasive grit reduces any trip hazard while still achieving good levels of slip resistance.
5. Smooth or grooved deck boards
Grooved deck boards are practically unique to the UK. Elsewhere, a smooth profile is used almost universally. The theory is that boards with a grooved, or castellated, profile were developed for the UK climate, based on the idea that they would provide better grip.
That idea has not proved to be accurate in practice. In fact, there is little to choose between smooth and grooved boards. One potential advantage of a grooved profile is improved water run-off, but that requires the deck to be laid at a fall, and the improved drainage is only evidenced over short lengths.
6. Ease of access across the deck
Where smooth profile boards really come into their own is creating an even deck that welcomes a greater variety of traffic.
Smooth boards are more comfortable for wheelchair users, cyclists, and anybody with a pushchair. They're also easier to walk on with heeled shoes, and this versatility makes them particularly well-suited to busy public areas.
Grooved boards can be put to good use acting as a contrasting design feature to aid the visually impaired, providing a tactile warning at steps, the start and end of ramps, and to indicate doorways. Other applications include defining the edges of walkways to indicate the line of travel, and breaking up large spaces by providing reference points for anybody disoriented by an open area.
About Marley timber decking products
Marley have a variety of options in their range of timber decking products, to suit all types of application. The Classic range is a pigmented softwood that gives the appearance of hardwood with all the installation benefits of softwood, and is available in both
CitiDeck
and
Antislip Plus
profiles.
Standard deck boards
are ideal for balconies, or for matching in with areas of CitiDeck or Antislip Plus boards where high slip resistance values are not as critical. They can be supplied in either smooth or grooved profiles.