Treatment Specification but is it Use Class 3 or 4?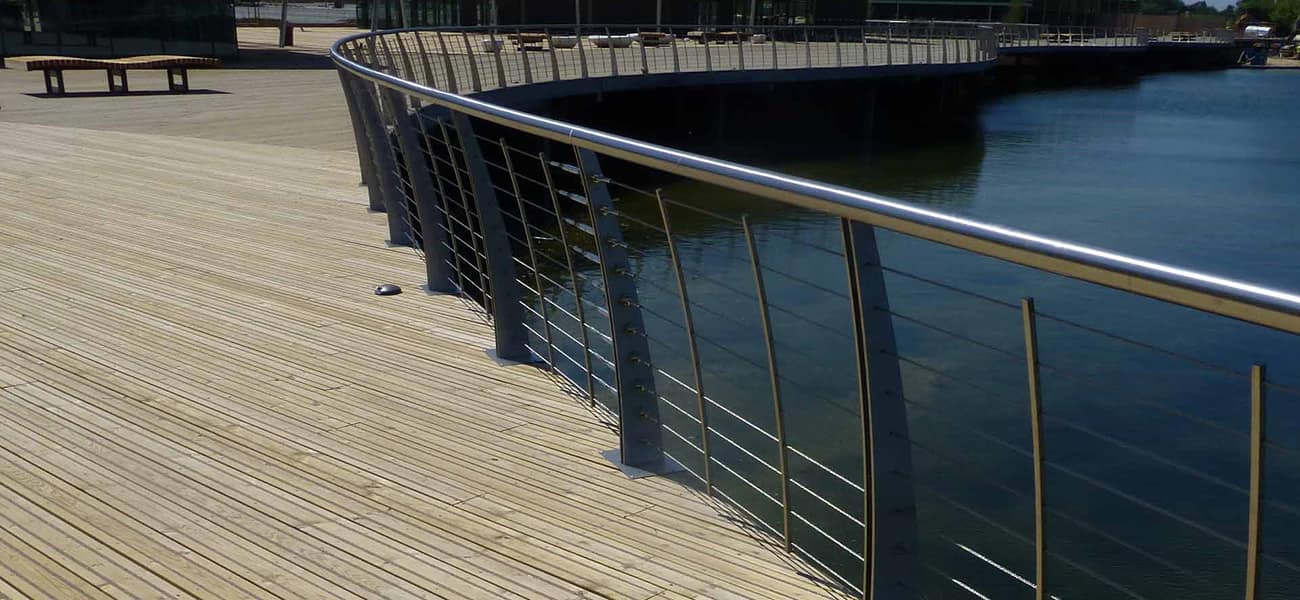 The durability of softwood timber can be improved with application of a wood preservative treatment.Not all treated timber is the same and the level of preservative protection could vary which can affect the end use of the timber and its longevity in certain environments.
The standards set out within BS 8417 for the preservation of wood determine the level of preservative, penetration and retention tailored to the end use of the timber which is referred to as a Use Class.
Use Class 3 is generally what softwood timber decking is treated to, this is for external use, not in contact with the ground or fresh water. For softwood timber which is to be used in a more challenging environment such as in ground contact or fresh water, Use Class 4 should always be specified.
Please see below Use Class table which provides further guidance: -
| Interior - Use Class 2 | Above ground or DPC, covered | Internal Construction Timbers within the building envelope, Tiling batten, framing and roof timbers, internal joists, sole plates |
| --- | --- | --- |
| Exterior - Use Class 3 (u) | Above the ground (uncoated) | External Construction Timbers, Deck boards, Fence rails and boards, cladding (including battens) and fascia's |
| Exterior - Use Class 4 | Ground or freshwater contact (and exterior structural support) | Fencing, fence posts, agricultural timbers, retaining walls, playground equipment, decking posts, joists and sub structures |
In addition to the Use Class of treatment, timber is also treated to a desired service life. Within BS EN 599-1 recommendations for penetration and retention are provided to achieve a desired service life of 15, 30 and 60 years.
This desired service life does depend on a number of factors including the quality of treater and treatment, design and installation, maintenance regime and the conditions the timber is exposed to. Therefore, this timescale is not a guarantee of performance but an indication of the expectation against which the recommendations for treatment are drawn up, assuming good design and normal conditions of use.
When specifying and purchasing timber it is essential you clarify the treatment Use Class that is required, and that the treatment process complies with the standards set out within BS 8417.
At Marley we pressure treat all our softwood timber decking on site at our factory in Gainsborough using a water-based preservative treatment. The timber is loaded into a treatment vessel and undergoes a vacuum pressure impregnation process enabling the preservative treatment to be forced into the timber cells. This process extends the durability of the product, protecting it from rot, fungi and insect attack providing it with a longer life.
All of our decking is treated using Naturewood to achieve Use Class 3 as standard and complies with BS 8417, this is to a desired service life of 30 years. We are also able to offer timber treated to Use Class 4 if required.
Once treated the timber decking does not require re-treating with preservative, however, when cross cutting, notching or boring treated timber products during installation, an end coat preservative should always be applied to maintain the integrity of the protection. We can supply this with our decking and is available in 1 litre tins.
At Marley we can assist you with the design and specification of timber products including the correct Use Class and how to care for your decking to ensure you get the optimum life from your outdoor deck. These important points are also included within our RIBA accredited CPD on Timber Decking and How to Maximise Space the Sustainable Way.
As part of their mass awareness campaign across the UK to promote the importance of specifying and using treated timber correctly, the Timber Trade Federation and The Wood Protection Association have created a series of technical documents and resources which are available to download from their website - Resources for Preservative Treated Wood | WPA (thewpa.org.uk).
To find out more about Marley Decking solutions, contact your local specialist here.