What are the benefits of integrated solar roof tiles?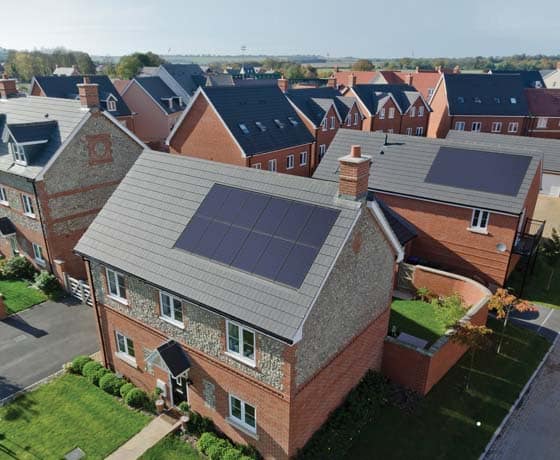 With the sustainability and economic benefits of solar PV tiles being recognised more and more, the specification of this renewable technology is becoming increasingly commonplace - and solar panel designs are evolving. In-roof solar panels - photovoltaic tiles that sit within the plane of the roof system - have been developed as an alternative to the more traditional on-roof systems. There are many benefits to specifying integrated solar roof tiles, including:
Cost savings
Quick installation
Improved aesthetics
Enhanced safety performance
Low maintenance requirements
Whether it is a roof for new-build social housing, or a roof refurbishment for an existing home, specifying integrated solar tiles can reduce costs and speed up build times. It can also make a property more attractive to buyers and ensure long-term cost and energy savings.


The advantages of roof-integrated solar tiles
For homeowners, occupants and tenants, solar panels can bring a host of advantages, such as increasing household self-sufficiency and reducing energy bills. But the benefits of integrated solar roof tiles aren't limited to the residents - there are also advantages for specifiers.

When specifying a solar system, efficiency and capacity for generating electricity are key. Other specification considerations include the installation process, appearance, safety performance and maintenance. In all of these areas, roof-integrated solar panels, which are designed to act as part of the roof covering, are superior to the more traditional on-roof systems that are mounted above the roof.
Cohesive design - Integrated solar tiles are more visually appealing than on-roof systems. They look like a planned part of the structure, rather than having been tacked on as an afterthought. Since they sit flush with the roof surface, they also create a more streamlined appearance.
Increased safety - Roof-integrated solar tiles outperform on-roof systems in terms of wind-resistance, helping to ensure the finished system meets all relevant building requirements. Since in-roof solar tiles are fixed to rafters and battens, there are no gaps for wind to get underneath and so they are extremely secure.
Minimal maintenance - With no visible fixings or spaces under roof-integrated solar panels, there is nowhere for debris to build up on the roof, so specifiers can rest assured the finished roof should look great and last for many years. There is also no need to disassemble a roof-integrated system if roof maintenance or repairs need to be carried out.
Suitable for refurbishment projects - Since there is no need to alter the underlying roof structure, in-roof solar systems can be specified for existing roofs. The procedure for adding them is easy: remove sections of old roof tiles and install the photovoltaic tiles in their place.
Faster and cheaper installation - Many roof-integrated solar systems are designed for quick fitting, with push-fit tiles and a modular format that allows for any number of tiles in a variety of configurations. And because roof-integrated solar panels act as a roof covering, fewer roof tiles are required, speeding up installation times and reducing costs.
Specifying integrated solar tiles
To complement the range of Marley roofing products, we now offer Marley SolarTile®. This roof-integrated solar system is compatible with all of our roofing tiles, giving specifiers a single, simple source for roofing supplies.

Marley SolarTile® panels measure 992x1640mm and three styles are available, providing a choice of appearances and solar outputs ranging from 270 to 320Wp, so it's easy to find something to suit your project's specific requirements.

As well as the various advantages mentioned above, specifying Marley SolarTile® offers several additional benefits over integrated solar tiles from other manufacturers. These include:
Fire performance - Marley SolarTile® has a Class A fire rating. It is also the only roof-integrated solar system to have achieved the highest resistance to spread of flame and fire penetration in all European safety tests, meeting the requirements of BRoof T1, T2, T3 and T4.
Even easier installation - Unlike other solar tiles on the market, Marley SolarTile® requires no counter battens or undertrays. It has also been designed to use the minimum number of components. Push-fit tiles are provided in kit form with colour-coded steps to simplify fixing, and installation times of less than one hour per kWp can easily be achieved, helping to keep the project on schedule and within budget.
Training for contractors - We carry out comprehensive installation training for roofing contractors, ensuring the finished roof delivers all the benefits of integrated solar tiles.
Guarantee - Marley SolarTile® is supplied with a market-leading 15-year guarantee, providing peace of mind to specifiers and end-users.
To find out more about the benefits of Marley SolarTile® integrated solar tiles, discuss your next solar installation project or get specification support, contact us today.