What Should You Look for When Sourcing Clay Plain Tiles?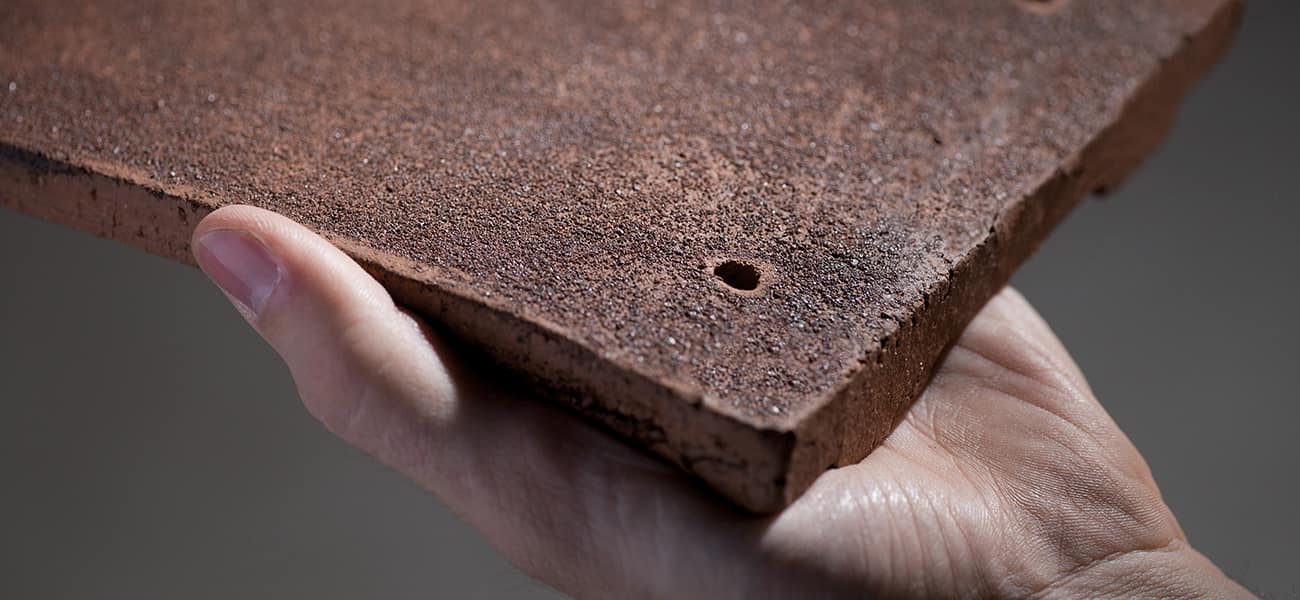 There are many clay plain tiles in the market - here is a guide to the properties and features to look for when sourcing, to ensure your building will perform reliably and look its best for many years to come.
Best type of clay for roof tiles
Look for tiles manufactured from Etruria Marl, a particular type of clay that is known for its quality, and is generally accepted as the finest for strength and durability.
Red when extracted, it turns a deep blue when fired, giving the distinctive colour common to the Staffordshire and Midlands area where it has traditionally been used.
Durability of clay roof tiles
Etruria Marl clays give a very durable tile that will perform over many years. They can have a life expectancy of 60 years, which has been derived by independent testing by BRE.
BS EN 1304: 2013, the British Standard for clay roof tiles and fittings, requires tiles to have a minimum flexural (or transverse) strength of 600N. Marley tiles are manufactured to 780N.
Environmental performance of clay tiles
For responsibly sourced materials, look for products that have been assessed to the BES 6001 Framework Standard, operated by BRE. An 'Excellent rating gives the maximum amount of credits towards BREEAM accreditation'.
The BRE Green Guide is another trustworthy source for products that create minimal impact on the environment. Look for products with the highest A+ rating, which is calculated based on life cycle assessments (LCA), using the BRE's environmental profiles methodology.
We manufacture our own products in the UK to keep embodied carbon down.
A manufacturer with ISO 14001 accreditation gives you the confidence that responsible environmental practices are followed throughout the organisation, not only in the production of the products themselves.
Accessories that allow flexibility in roof design
If you are planning an unusual shape or configuration, such as a hipped, L-plan or T-plan roof, look for a product with a good range of fittings and accessories. These ensure that the detailing will give the required performance.
Clay plain tiles can be hand cut on site meaning they can lend themselves to a variety of curved roof structures such as Quintain House, which used 60,000 Marley Acme Double Camber clay plain tiles – all of which had to be hand cut to produce an elegant, seamless and curving finish.
We design and manufacture our own range of accessories, including decorative extras such as finials.
Our roofing specification design details guide can help, with 50 pages of diagrams showing various typical eaves, verges, hips, valleys and ridges.
Our ranges of compatible ventilation and dry fix systems are also available, to meet the latest Building Regulations and NHBC Technical Standards, including the recent changes to BS 5534:2015+A1:2015.
Choosing clay tile colours
Look for colours that blend with the existing vernacular where your project is to be built. For heritage refurbishments, refer to local planning guidelines, which may make specific restrictions regarding roof colour and material.
We produce our own unique range of colours. Hawkins clay plain tiles, for example, include several colours that have been specifically designed for use throughout the Midlands, to match the prevailing roof colours for the region such as Staffordshire Mixture, Staffordshire Blue and Blue Smooth.
For more information, read our post on where coloured clay tiles are used.
Selecting a clay tile finish
For an authentic appearance without a premium price, look for a machine-made finish, such as Acme Single Camber or Hawkins plain tiles.
For projects that require a more textured appearance, look for handcrafted tiles. These are machine-manufactured until just before firing, at which point a hand finish is applied. The resulting rustic, textured surface gives each tile some unique features as can be expected with aged, weathered tiles. Look for our Ashdowne handcrafted tiles or Hawkins plain tiles in Fired Sienna.
For heritage restoration projects or where an authentic appearance is paramount, look for fully handcrafted tiles. The Canterbury handmade tiles range is made with a reclaimed look, but with the strength and advantages of modern tile manufacturing techniques.
Help selecting your roof tiles
Marley's product selector follows these three main criteria to help you narrow down the product selection process. More information can also be found in Marley's Clay Plain Tiles Guide. Alternatively contact your local Marley specialist.