What to consider when specifying non-slip decking for accessible high-traffic stairs and ramps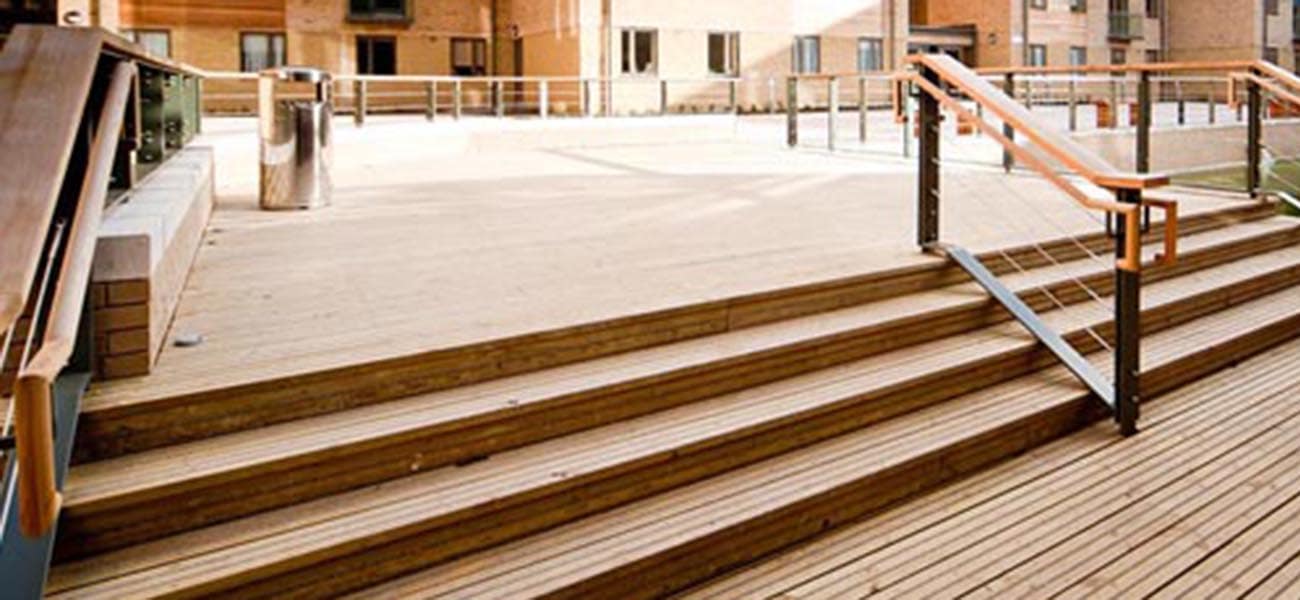 When specifying decking in high-traffic public areas such as stairs and ramps, certain criteria should be addressed to ensure the space is accessible for all users.

There can be concerns that the castellations of traditional anti-slip decking could make the surface uneven and uncomfortable for wheelchair users. The high level of grip provided could make the change in surface difficult for some pedestrians, in particular the less able. Whilst these features provide exceptional performance and superior slip resistance on boardwalks, bridleways and footpaths in rural areas, they would not help meet inclusivity targets for urban environments.

Therefore a careful balance is required to provide an accessible, slip resistant decking area that also ensures ease of use and comfort for wheelchair users, the visually impaired and other visitors. Ease of maintenance is also an important requirement for high-traffic public areas.

In this post we take a look at some of the commonly asked questions relating to decking, and how using a smooth non-slip board can provide both a comfortable and practical solution to high pedestrian traffic areas.
Is smooth decking profile better for accessibility?
Deck boards with a smooth profile provide a more even surface that is easier to travel across, particularly for wheelchair users, pushchairs, children and the less able. Deck boards with a smooth profile are also easier to walk on and more comfortable for those walking in high heels, compared to grooved decking boards. Using anti slip inserts can minimise the risk of accidents.
What sort of antislip inserts are best for accessible decking?
When specifying antislip inserts for castellated deck boards, a less abrasive grit is recommended over a standard anti-slip insert. A less abrasive insert provides good anti-slip performance but with less resistance, giving a surface that is easier to walk on for children and the less able. It is also beneficial where high pedestrian traffic is expected.
Is smooth decking easier to clean and maintain?
Smooth decking is frequently specified for outdoor urban areas where people congregate, food is served or hygiene is of high priority. Smooth boards prevent food, dirt or litter becoming trapped, making it much easier to clean and removing any further slip risk from trapped debris.
Where are coloured anti-slip decking inserts used?
Coloured anti slip inserts can be used for aesthetic purposes such as decking for schools or hospitals or to help with accessibility. For the visually impaired, coloured inserts or wider anti-slip strips can be used in a similar way to a tactile pavement, to indicate stairs or changes in level such as doorways, steps and ramp entrances.
Is timber decking sustainable?
Natural decking has the lowest embodied energy of any mainstream building material and is a managed material, resulting in a more sustainable product. When specified, it enhances the environmental credentials of a project. Marley's decking boards meet BS 7976 with full FSC and PEFC chain of custody. CitiDeck, was created after extensive testing and project development with the Principal Access Officer for the Olympic Delivery Authority (ODA), Margaret Hickesh. It was developed the benefits of AntiSlip Plus deck boards, but designed for improved performance in urban environments.
You can read more about using CitiDeck
here
.