What to Consider When Specifying Timber Decking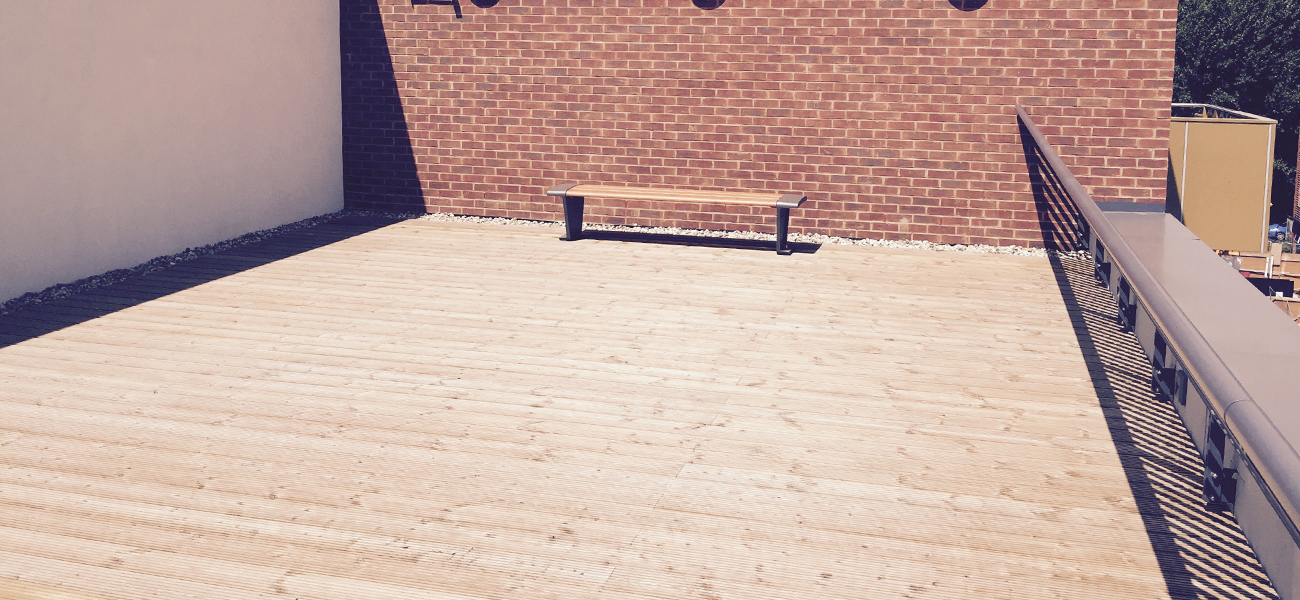 According to the UK's Timber Trade Federation, timber is 'one of the most flexible, structurally strong and aesthetic materials available and sits at the centre of the built environment and has the lowest embodied carbon of any commercially available building material'.
As timber decking is a natural, flexible, attractive and long-lasting construction product, it is gaining real traction in the UK specification market.
But, what should be considered when specifying timber decking?
Firstly, there are different types of timber decking:
Softwood comes in varieties: the 'Sitka spruce' is the most commonly used in construction, while 'European redwood' is the timber of choice for decking products - due to its appearance, strength and ability to absorb preservative treatments to increase durability.
Hardwood comes from trees such as oak, cherry and teak. It accounts for about 10% of timber used in the UK and is mainly specified for high-quality joinery projects. Hardwood is resistant to decay and wood-rotting fungi, making it resilient and ideal for areas where salt water is present.
Modified timber involves the cell structure being modified via heat or chemical treatment, improving durability, stability and resistance to decay. Modified timbers cannot be structurally graded so care is needed when specifying for certain areas such as balconies.
Composite decking imitates timber decking and is made by mixing wood fibres and polyurethane, or by coating wood fibres with a polymer. The decking boards are easy to fix using deck clips and are available in a variety of colours.


Secondly, it's important to consider legislation:
Part M of the Building Regulations & the Disability Discrimination Act (DDA) - timber decking can play a role in delivering inclusivity for a construction project.
Eurocode 5 is the suite of standards relating to timber structures.
BS EN 350-1 - used to classify timber into five groups according to the natural durability of the wood to decay. Class 1 is deemed the most durable.
Preservative treatments applied to softwoods are regulated by BS 8417. The relevant classifications applied to decking are Use Class 3 and Use Class 4. Any posts or joists should be subject Use Class 4, otherwise the substructure will be at risk of rotting.
BS 4978, BS EN 14081-1 and BS5756 oversee the grading of timber boards and joists used on timber decking.


Thirdly, considering how to maintain the appearance of timber decking is important.
Timber decking can weather depending on its sun exposure. Oils and stains can protect it but require maintenance. Safety is also crucial.
Things to consider include:
Timber decks, without any additional anti-slip features, can quickly become slippery, and a real hazard – a product that meets HSL's anti-slip testing guidelines should be considered.
Citideck and Antislip Plus have been independently tested by the Health and Safety Executive and have a low potential for slip.
Timber decking can also be fire-treated to reduce the spread of flame. Fire-retardant treatment must be used to meet Building Regulations if the decking forms part of a fire escape. Fire treatments must meet the BS EN 13501-1 standard.
You can find more help and guidance with our extensive guides and resources here, or alternatively contact our technical team to discuss your need.