Guide to specifying roofing battens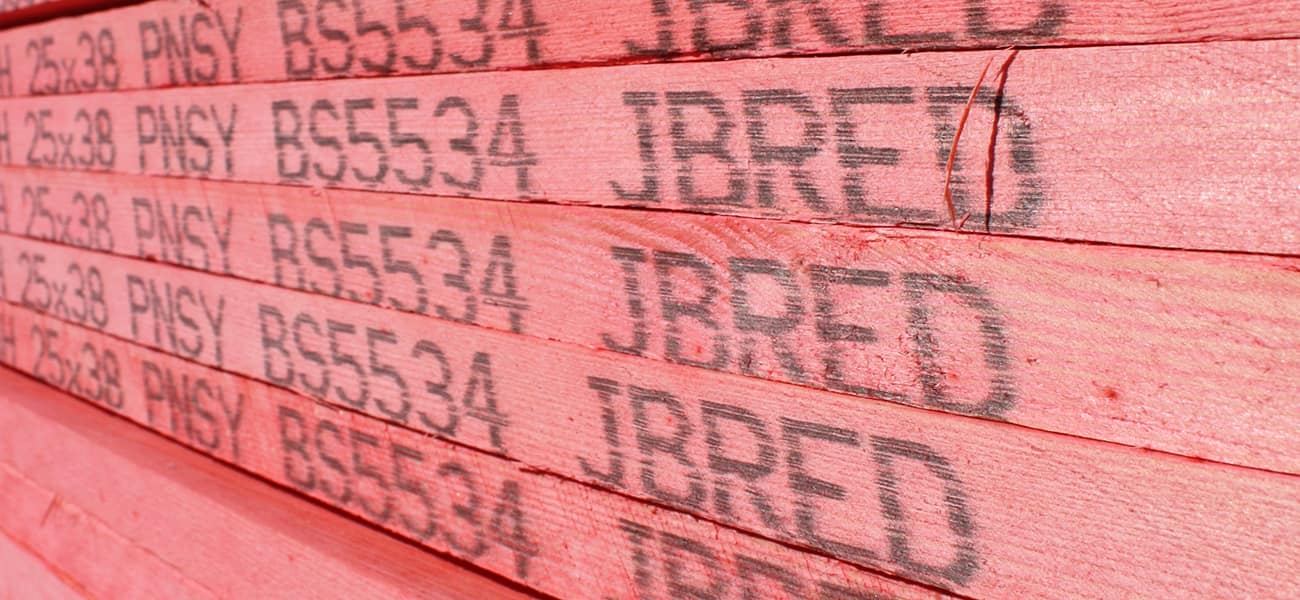 A guide to specifying the right roofing battens
Roofing battens perform several important functions in a roof structure. They provide a surface for fixing roof tiles and carry the weight of those roofing tiles. They also help to support imposed loads caused by snow and wind, during construction, and they may even provide a foothold during installation, although we would only recommend doing this where the batten is directly over a rafter.

With so much relying on the roofing battens, specifying the correct product is essential - and failure to comply with the relevant standards could impact the overall life expectancy of the roof. This guide has been written to help you understand the requirements and recognise the differences between products.

BS 5534 and grading of roofing battens
BS 5534, the code of practice for slating and tiling for pitched roofs and vertical cladding, sets out recommendations for roofing battens, covering everything from grading requirements to wood species, wood treatments and marking.
Emphasis is often placed on the grading of roof battens. While products must be pre-graded to BS 5534 to be called roofing battens, choosing a quality roof batten goes beyond just looking for a grading stamp.
Jenni Forrest, quality manager for Marley's JB Red roofing battens, explains: "If you have two battens from different manufacturers, both graded to BS 5534, many people would assume that they are the same."

Like any other roofing product, however, there can be significant variations in quality and performance - because the British Standard is the minimum requirement. A product that exceeds the standard, such as JB Red, will provide improved performance, increased durability and better longevity. Jenni continues: "It is surprising how many differences there can be between similar-looking roofing battens - from the way they are graded, through to the type of timber they are made from and the preservatives they are treated with."

What to look for when choosing roof battens
To help make it easier to choose between the vast range of roofing battens on the market, we've put together a handy checklist of things to look out for:
Grading stamp - Only battens that have been pre- or factory-graded to BS 5534 are considered to be compliant roofing battens. Make sure there is an indelible stamp on the batten saying BS 5534 and never risk using one if it hasn't. If you have any doubts at all, check with the manufacturer. Another additional quality assurance is third-party certification. JB Red is third-party certified by the British Board of Agrément, and this is also included on the stamp.
Batten colour - The issue of what roofing batten colours mean has caused some confusion. While the distinctive red colour of our JB Red Battens does give peace of mind that you are using a BS 5534-compliant batten, this is not necessarily the case for all coloured battens on the market. Please don't assume that just because it is coloured, a batten conforms to the standard. It must also have the correct stamps and supporting documentation.
Timber – The type of timber used for a roofing batten is significant. The species of tree from which the wood has come from should be stamped on the batten. Here at Marley, we only use slow-grown imported redwood or whitewood for our JB Red Battens. Redwood is stamped on the battens as PNSY (Pinus Sylvestris), and whitewood is stamped as WPCA (Picea Abies). All of our battens are cut from kiln-dried sideboards as they are less likely to distort.
Drying process – Timber that is too wet is prone to mould growth and rot. However, it must be dried in a controlled way to prevent defects such as warping and splitting. Check that battens you buy are kiln-dried as this helps to stabilise the timber.
Grading process – Roofing battens must be pre-graded before they get to site. This can be done visually or by a machine. We believe that mechanical grading, using camera- and laser-scanning technology, produces the most accurate and consistently graded roofing battens. Our JB Red roofing battens are put through a state-of-the-art laser grading machine called Goldeneye. It scans the battens in intricate detail, to the exact millimetre, to deliver a high level of accuracy, consistency and ultimately, quality assurance.
Quality checks – Ask what quality checks the battens go through. Our timber is quality checked at every stage of the process. Raw materials are checked for conformity to our buying specification, and they are also checked before they go through the Goldeneye scanner to ensure no deterioration has taken place. An operator is present during the scan to check for compliance, and the battens are rechecked when the scan is complete. Pieces are also pulled from the production process every hour to undergo a full quality check for compliance with BS 5534.
Treatment – Roofing battens should be preservative treated to Use Class 2 in accordance with BS 8417. Different manufacturers use their own types of preservative treatment and may offer different guarantees as a result. JB Red Battens use a patented preservative called MicroPro. It has a unique red pigment and carries a 60-year lifetime guarantee against insect attack and wood-rotting fungi (when applied correctly in accordance with the requirements of Usage Class 2).
Sustainable sourcing – Make sure that the timber battens you are buying are sustainably sourced. Look for FSC or PEFC certification.
What size roofing batten do I need?
The right size roofing batten will depend on a number of factors, including the type of roofing material, and the span of the roofing supports. To find out more, read our guide to selecting timber batten sizes. If you'd like to learn more about the requirements of BS 5534 and how to specify the best graded battens for your needs, please contact us. You can also contact us to discuss your project in more detail.
Choose the right roofing batten
Specifying the right roofing battens is a fundamental part of constructing the base layers of a secure, weathertight roof with the necessary load-bearing capacity.