How to Fit Roof Tiles: Concrete vs Natural Slate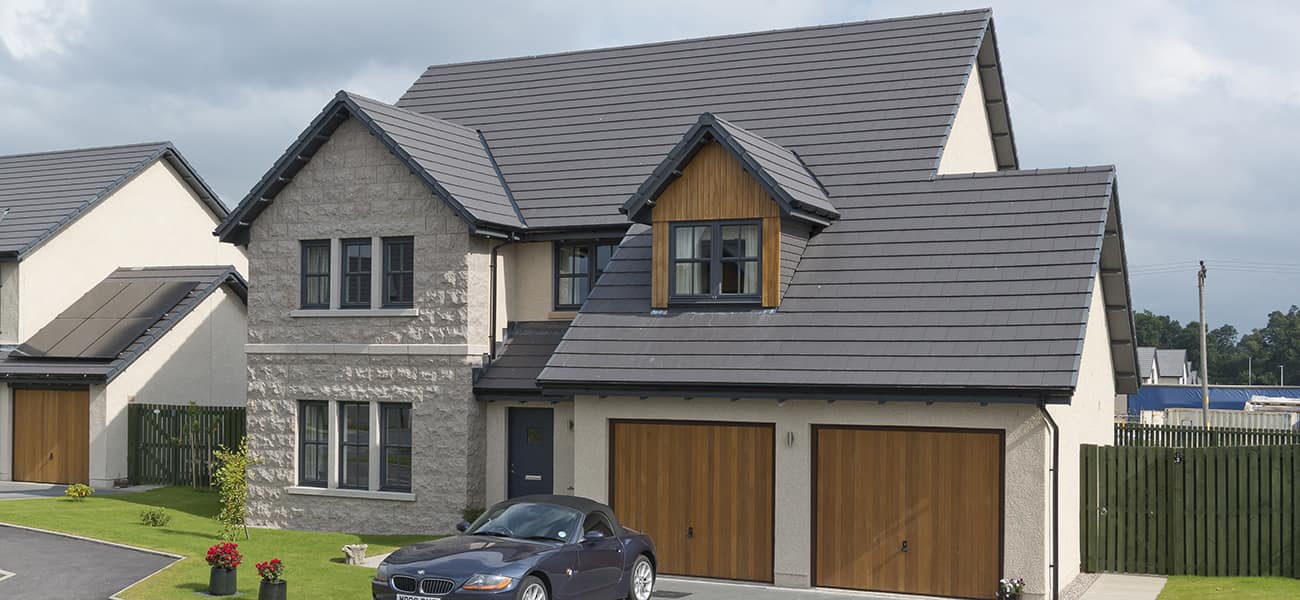 Both concrete and natural slate roofing tiles offer a variety of practical and aesthetic benefits. They are durable, have long lifespans and provide an attractive finish to both traditional and modern buildings.
Marley's range of Edgemere
concrete roofing tiles
is designed to provide a modern alternative to traditional natural slate. An interlocking tile, the Edgemere tile has a similar appearance to slate, with a thin profile, dark grey appearance and your choice of
riven
or
smooth finish
.
While Edgemere tiles may look similar to natural slate, the tiles are concrete and made in a factory, so they have a consistent and predictable shape and size. This means they are faster and easier to install, helping roofing contractors increase their efficiency on site and also making them a more cost-effective product.
Planning the tile pattern
Like most natural slate roofing products, Edgemere concrete roofing tiles are designed to be laid in a
broken bond pattern
. This staggers the interlocks and aids the performance of the tiles since the configuration allows water to drain into the interlock on one tile and disperse onto the flat surface of the tile below.
Since both natural slate and
Edgemere concrete tiles
are typically installed broken bond pattern, using Edgemere gives you a similar appearance, but with the cost and practical benefits of a factory-produced roof tile.
Completing the tiling
When it comes to fixing concrete roof tiles, the
correct method of fixing
depends on the product, as well as the project's environment and location, the roof design, and the building height.
Large format, single-lap concrete tiles such as Edgemere are required to be a minimal once mechanically fixed in-line with BS5534. This is achieved by nailing or clipping or a combination of both dependant on the specifics for the design and location of the property. The tiles are supplied with pre-drilled holes for ease of installation for the contractor.
For eaves, verges, hips, and ridges, Marley offers a range of solutions to help make the installation process simple, while ensuring the finished roof is secure and weatherproof. Options compatible with Edgemere concrete slates include the
Universal Eaves Ventilation system
, the
Edgemere dry verge system
, the
Continuous dry verge system
, the
Universal HipFast system
and the
Universal RidgeFast system
.
Technical support
If you have any questions or difficulties with the installation of Edgemere concrete roof tiles, please contact our technical enquiry team. We also offer a variety of
specification tools
to help you choose the right products for your project.