The assurance of a Marley full roof system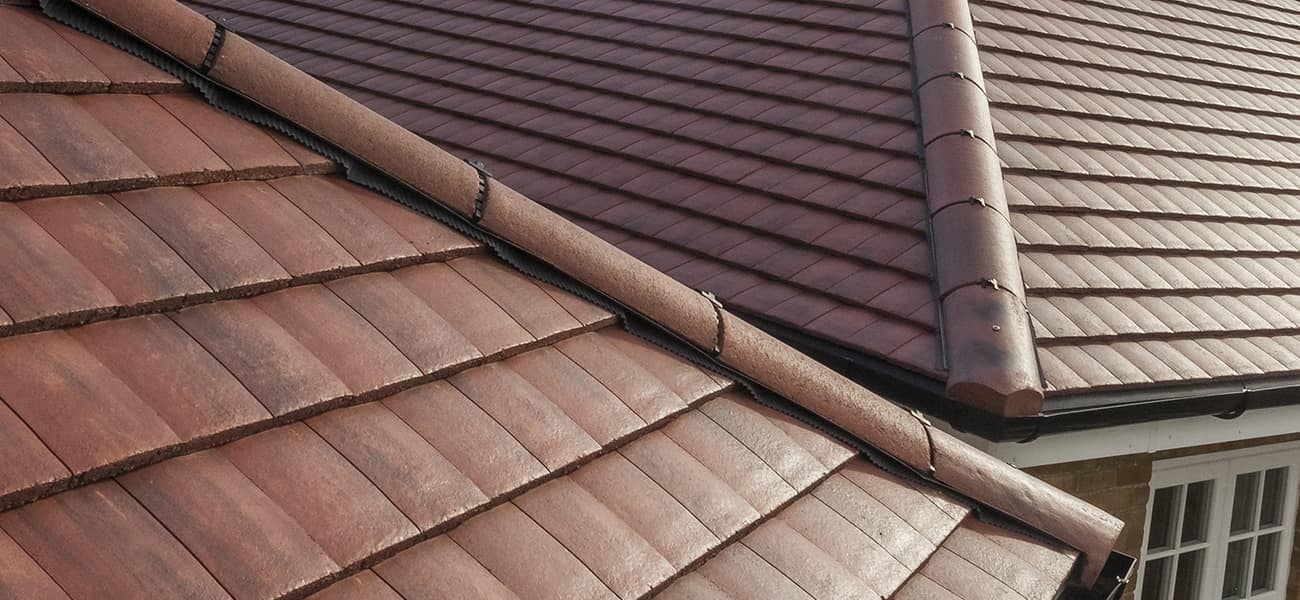 Increasing episodes of volatile weather, the recent extension of the Homes (Fitness for Human Habitation) Act and a need to ensure refurb and new build projects are completed efficiently and with tenant safety as a focus, means there are real benefits for social housing providers by choosing full pitched roof systems from a single source. Doing so can deliver advantages including product compatibility, system guarantees and access to immediate help if any performance issues arise, which explains why more housing associations and local authorities are specifying full roof systems to help them manage risk, minimise tenant disruption, reduce roofing claims and ensure compliance with British Standards.
While it seems like a long time ago and we're now tackling much bigger challenges, the start of 2020 was another reminder of just how increasingly volatile the UK weather has become, with storms - Dennis, Ciara and Jorge - hitting in a matter of weeks, wreaking havoc with high winds, heavy rainfall and widespread flooding. It has become apparent that what we used to call 'one in fifty-year weather events' are occurring far more frequently, due to the changing global climate.

The increasingly volatile weather is one of the reasons that standards for pitched roofing have become so much more stringent over the past six years in order to minimise roofing risk, with this area coming under greater scrutiny than ever before. As well as the revised 5534:2014+A2:2018, which brought in stricter fixing requirements, the BSI also introduced the first ever Dry Fix Standard, BS 8612, following concerns about quality inconsistencies between products.

This means that social housing providers must now meet stricter fixing and quality requirements for all elements of a pitched roof - from the battens and underlay, through to roof tiles and dry fix systems. At the same time, there is considerable pressure to increase the amount of affordable and social housing in the UK and, with so much focus on new build volumes, the potential gap between design and actual built performance continues to be a concern for all housebuilders.

When it comes to pitched roofing, until recently, housing associations have tended to specify the tiles but then leave the choice of other elements, such as dry fix systems and battens, to the supply chain. However, this can lead to product substitution or incompatibility further down the line, risking a gap between design and built quality and non-compliance with the more stringent Standards.

It is therefore easy to see why many housing associations and local authorities are looking to take more control over the whole roofing specification to ensure the quality, compatibility and compliance of the entire roof and not leave any elements to chance. That's why we're expecting to see a shift in the way pitched roofs are specified and that increasingly, we will see a full roof system from one manufacturer specified, to reduce risk.

For example, our full marley roof system is the most comprehensive on the market, including choice of roof tiles, battens, underlay, ventilation, dry fix and fittings - all backed up with technical support and a free 15 year system warranty. This gives housing associations peace of mind that the whole roof system will be compatible, durable and compliant with the latest British Standards. A complete tested roof system from one manufacturer also delivers clear levels of accountability and integration, giving greater protection to social housing providers, as it identifies a clear point of contact for rectification for many years to come.
So how do housing associations benefit from using a full pitched roof system?
Supply chain benefits
Getting the most comprehensive system from one single source and limiting how many suppliers they need to deal with, frees up valuable time and in addition, a roof system covering so many products gives maximum control of the supply chain. This minimises the risk of unmonitored product choice or substitution further down the line and makes any deviation from the specification easy to spot.
Reduced cost of call backs for repairs
Although the revised BS 5534 has significantly improved the security of pitched roofing in the UK, housing associations will inevitably still have cases where they are called to look at new or refurbished roofs because of leaks, condensation or damaged tiles. This takes time as it requires a site visit to ascertain the problem, identify the fault and then get contractors back to site to repair faults.

When our site services team are consulted following roof issues, there are some avoidable problems reported including; condensation caused by lack of ventilation, compatibility issues due to substitution of inferior or incompatible dry fix systems, issues caused by a change in specification from the design stage to roof works, or insufficient fixings for the level of exposure.

Using a full roof system minimises the risk of these call backs, providing reassurance of compatibility, compliance with British Standards and long-term performance. In addition, our roof system comes with the benefit of a 15 year system guarantee, giving housing associations peace of mind that should anything go wrong, or be challenged on-site, then there is only one supplier to deal with.
Guaranteed quality and compatibility
When it comes to the elements of a roof system, everything from our tiles, dry fix and ventilation, right through to battens and underlays, are all of the highest quality, designed and tested to British Standards with maximum performance and durability in mind. This gives assurance of the quality and performance of the entire system and its component parts.
More control over build quality
By taking greater control over the whole roof specification, housing associations can reduce the potential for gaps between design and built quality by minimising the risk of inferior products or substitution. Our roof system guarantees quality, compatibility and compliance with British Standards and helps to ensure that the roof specified by the housing association is the one that is built.
Technical support / bespoke specifications
Roof systems aren't just about the products. We also provide technical support, including site surveys for re-roofing schemes, online resources and an assured specification service to remove the hassle from producing bespoke roof system specifications for every project. This can help housing specifiers seeking to save time in the process and avoid the risky practice of reusing old specifications.
Time and cost saving
Our roof system is designed to help social housebuilders meet British Standards in the most efficient way, including our latest time-saving innovations, such as the Eden easy-to-fix pantile and SoloFix clip, that saves 30% on roof clipping time. It also enables housing associations to take control of the full roof specification, cutting the significant cost of roofing faults and claims, backed up by a free 15-year system guarantee.
Greater control of sustainability
As the whole housing industry works towards a net zero built environment, housing associations are at the forefront of sustainable construction. Specifying a full roof system means that when it comes to social housing roofing, housing associations aren't leaving sustainability to chance, they can ensure every element meets their environmental criteria. All of our roofing products have an 'Excellent' BES 6001 responsible sourcing accreditation and achieve an A+ rating in the BRE Green Guide. The timber in our JB Red battens is sourced from sustainable forests and carries the FSC or PEFC certification.