Roofing Guidance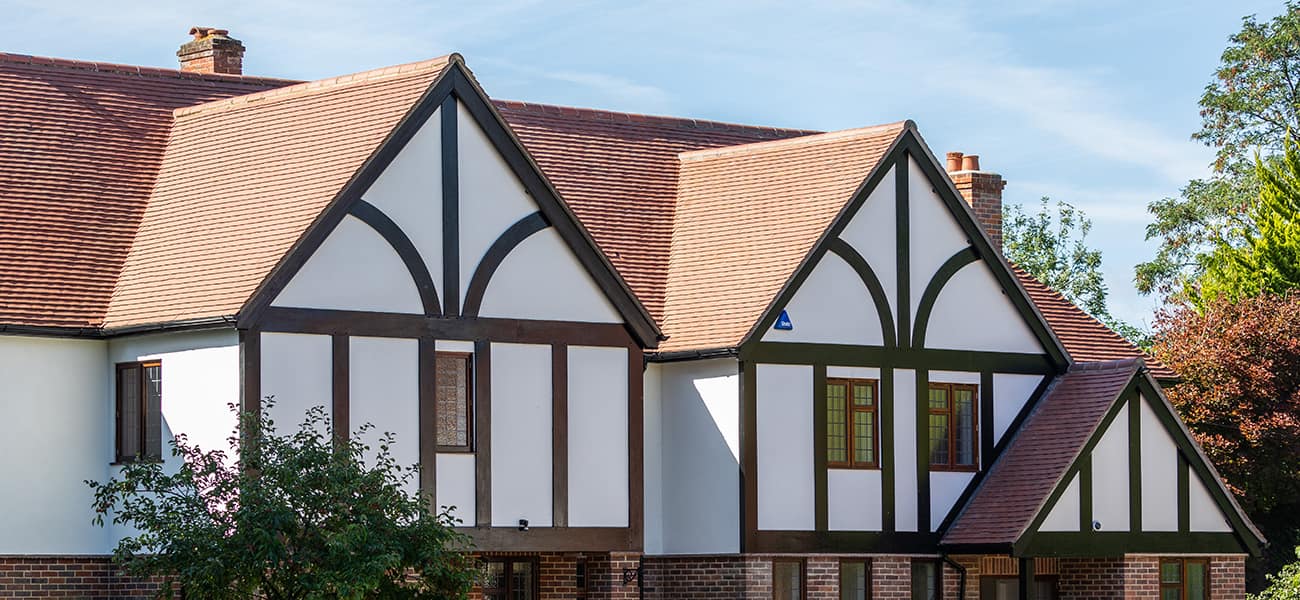 Marley's range of roofing products includes
clay tiles
and
concrete tiles
, as well as
cedar shingles and shakes
. These are used in a variety of projects, including new homes, in public sector applications such as schools and healthcare projects, and in roof replacements or refurbishments.
We always strive to ensure that quality guidance is available for roofing contractors, covering technical questions such as design and specification and fixing - and that information can be found throughout our website, as well as in our brochures, CPDs, and the other valuable resources that we offer. But to make things easier, here are answers to some of the things we are most frequently asked:
What products are suitable for use in conservation areas and restoration projects?
Roofing and cladding materials are an important part of many restoration projects, as they play a major role in establishing the character of a building and ensuring the finished project blends in with its surroundings. Therefore, careful attention must be paid to criteria such as colour and materials, while other considerations include managing costs, achieving planning consent and meeting the requirements of local authorities.
Here at Marley, a variety of our products have been successfully installed in traditional settings:
Western Red cedar shingles
- These were used to
re-roof the spire on All Saints Church
, a Grade II listed building in Yorkshire.
Acme single camber clay plain tiles
- Used to refurbish a public house in Grantham.
Lincoln clay pantiles
- The Rustic Red colourway was used on a
barn refurbishment in Teversal
.
Acme single camber clay plain tiles
- These were used to
refurbish a traditional home
set in idyllic country grounds.
We can provide technical support, feasibility studies, design advice, product samples, materials matching and site visits by our experts to help architects with a vast array of conservation and heritage projects.
What products can I use for vertical cladding?
Many roofing products are also suitable for use as vertical cladding, providing a distinctive and aesthetically pleasing finish that is also weather tight and easy to maintain. Products that are suitable for use on pitches up to 90 degrees include:
Clay
- Any of our non-profiled clay tiles are suitable for vertical cladding: Acme (double and single camber), Ashdown, Hawkins and Canterbury Handmade
Concrete
- All of our concrete tiles can be used for vertical applications.
Cedar
- Our Western Red cedar shingles and shakes are both suitable for vertical installation.
Does vertical cladding require an underlay?
If you are designing with clay or concrete tiles, or cedar shingles or shakes, in a vertical application, the need for an underlay, and the type of underlay, will depend on various factors. These can include the type of wall construction (masonry or framed) and the location of the insulation.
BS 5250 'Code of practice for control of condensation in buildings' is the best place to look for guidance on the relevant design considerations. BS 5534 confirms that a suitable underlay can be used to provide secondary weather resistance and vapour permeability where required. Read more about BS 5534.
Which roofing products are the most lightweight?
There are many benefits to building with lightweight products. For example, they have a lower impact on the overall building structure. They are are easier to transport, and therefore have less environmental impact.

They are also easier to move around on site - in the case of roofing materials, where they need to be hauled up to the top of a building, this is particularly important. This may also improve safety on site.

Our cedar shingles and shakes are by far the lightest roofing material that we offer, and they're also much lighter than other lightweight products on the market, such as fibre-cement tiles.
Marley Western Red Cedar Shingles
Maximum gauge
Covering m2 per bundle
Laid weight kg/m2 clean / treated / FRT
Battens per m2
75-90°
175mm
3.47
4.0 / 8.1 / 4.6
5.3m
22-74°
125mm
2.28
6.1 / 12.3 / 7.0
8m
14-21°
95mm
1.73
8.1 / 16.2 / 9.3
10.5m
Do I need a fixing specification?
All products should be fixed using their standard method to ensure they can withstand wind suction loadings.
We offer a variety of tools to help with the specification process, all of which can be found in our resources section.
What dry fix systems are available?
Marley offers a variety of dry fix systems. Products are compatible with our clay and concrete tiles, and they provide solutions for eaves, valleys, verges, vents, gutters, hips and ridges.

Each system is designed for a specific purpose, so the right choice will depend on the roofing product being used, as well as design criteria such as roof pitch. The systems are fixed in significantly different ways, so the appropriate guidelines and technical publications should be followed.
Where can I get more information?
If you have questions about any of our products, please download a brochure or contact us.