The benefits of a roof system approach to tiling and slating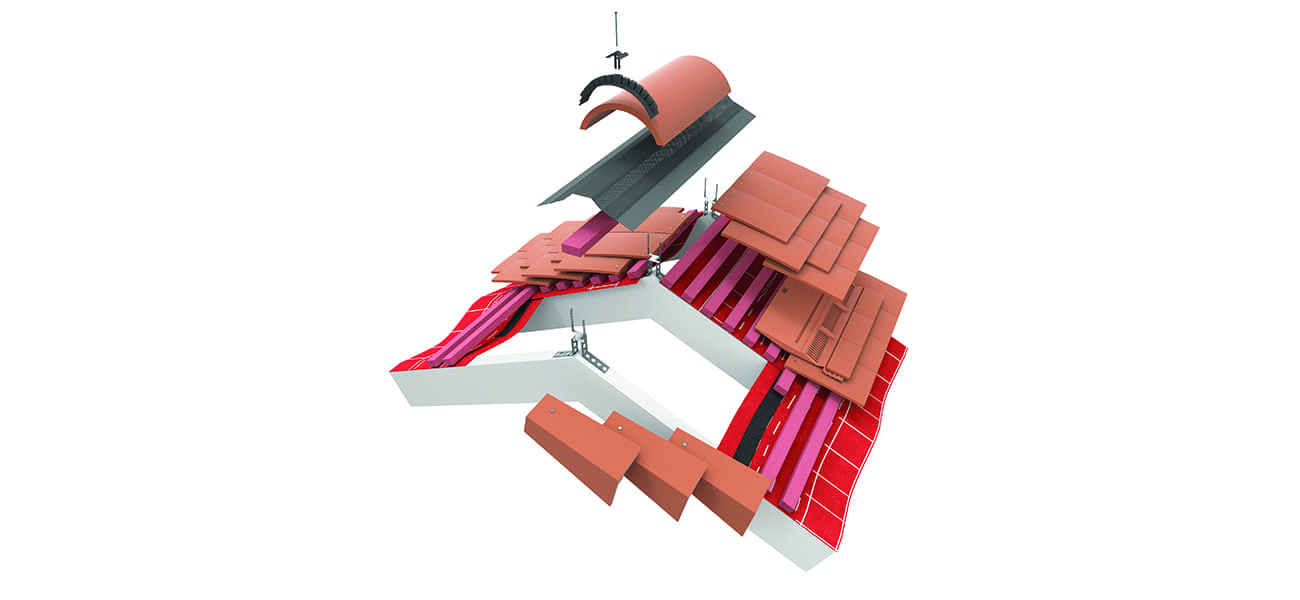 A complete roof system involves the specification and sourcing of all roofing components from a single manufacturer. This serves many benefits to both the specifier and contractor because all of the products are specifically designed and tested to work together.

A Marley roof system reduces the architects' design liability, as the components are underwritten by a 15-year guarantee, giving a longer-lasting, more reliable finished installation.
How do specifiers benefit from the whole roof approach?
1. Compatibility
Specifying from one source provides reliable performance as products are specifically designed and tested to work together.

Marley's universal dry verge, for example, is one of many accessories designed to be compatible with the rest of the roof system. It works with all of Marley's roof tile types, including large standard, medium format, and large format tiles with a thin leading edge, and also our Lincoln clay pantile.

Vapour permeable underlay, meanwhile, is designed to provide complementary ventilation in conjunction with Marley's low and high level ventilation products. It is a reliable approach that is the most effective way of meeting the requirements of BS 5250 (Control of Condensation in Buildings), as it avoids placing the burden of roof ventilation on one single roofing element.

2. Accountability
Another benefit is a single point of accountability. Marley issues a 15-year guarantee when specification of a whole-roof system is followed through to site with correct installation, providing peace of mind to the specifier.

3. Technical support
Technical support is provided from one place with a whole-roof system, and Marley's experts can help with a variety of design issues. Designs typically start with the roof covering, and the type of product selected can have a knock-on effect on the other components needed. For example, if a close-fitting slate is specified in conjunction with a vapour permeable underlay, counterbattens will be needed, which in turn provide added ventilation. Our technical experts can help with all of these considerations.
How do contractors benefit from a whole roof system approach?
A tighter specification should not mean restrictions for contractors, in fact, there are two key benefits for the installer when it comes to a whole roof system.
1. Quicker installation
Installation is quicker and more efficient with a whole suite of roof products, partly because they are designed to work together, but also because the innovations and efficiencies that have been built in can add up.
For example, Marley underlays are pre-marked with guide lines that make it easier to lay them straight, and avoid the need to work out lap sizes. Ridgefast has been designed to be easy to install due to the amount of stretch in the EPDM material used, which allows it to be laid and relaid until a perfect fit is achieved.
2. Meeting standards
BS 5534 – the code of practice for slating and tiling – includes new fixing requirements that address the increased risk of wind uplift that can affect underlays.
The guide lines printed on Marley underlays correspond with the different overlap lengths set out by
BS 5534
, while the integrated tape makes it easy to seal and secure the laps. These features make it easier for contractors to lay them consistently and straight to comply with the requirements. They also help to avoid the wastage associated with the larger laps that were traditionally used to ensure the lap sat over a naturally occurring batten course. The use of dangerous fly battens is also prevented.
Tiles and slates are also subject to new fixing requirements, which have been developed following updated wind load calculations. Read our blog post for more information.
Meanwhile,
Marley roof accessories
also include numerous other features that were developed in response to the BS Standard, such as the Dry Verge starter fixing kit, which provides a visible secure fit, a requirement of BS 5534.