Predictions of soaring demand for solar PV in new build housing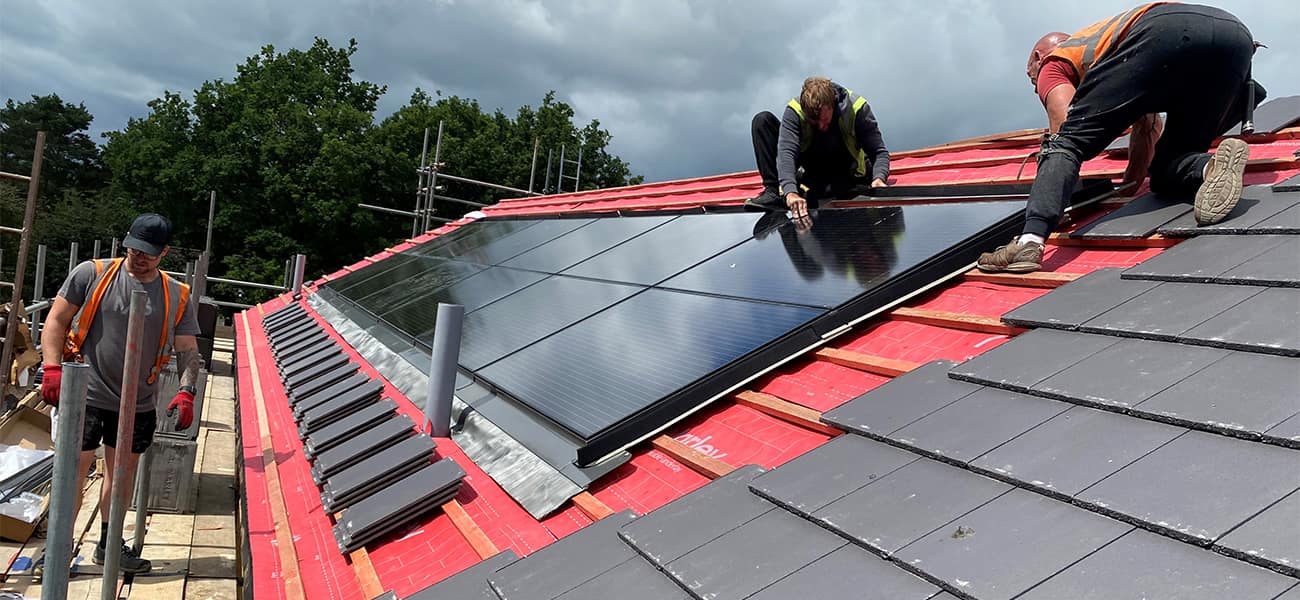 Calling for a 30% carbon reduction target, the updated Approved Document L is expected to lead to a significant increase in the number of new homes built with
solar roof tiles
. Indeed, the independent review of Net Zero, which was published in early 2023, suggests that the UK's solar capacity needs to increase five times by 2035 to reduce emissions adequately. So, how does this affect the UK's retrofit market?
Solar roof tiles and the retrofit market
Stuart Elmes, CEO of Viridian Solar, which is now part of Marley , explains that the retrofit market for solar was historically driven by the Feed-in-Tariff scheme, which produced successive boom-and-bust cycles as consumers rushed to install solar PV before the next drop in subsidy. "When the scheme finally ended in April 2019, it caused the retrofit market to scale back to a model based on home improvement and reducing energy use and carbon emissions," he explains.
Now we are seeing a new set of market drivers, this time driven by government regulation – such as the
Approved Document L
uplift – rather than government hand-outs. "This should create a more steady and sustainable retrofit market, without the highs and lows associated with some subsidy schemes," he explains.
Retrofitting social housing with solar roof tiles
In England and Wales, there are statutory minimum efficiency levels for private rented property and in Scotland, similar regulations are aimed at
social housing
. The required energy levels (EPC ratings) are readily achievable for all but the poorest-performing properties. However, the intention is that these regulations will become tougher over time to align with national environmental standards.
"Solar roof tiles provide a very convenient way to meet regulations because they cause minimal disruption to the property and residents," Stuart says, adding that the industry is seeing large contracts for retrofit solar PV on social housing in Scotland because of the Energy Efficiency in
Scottish Social Housing regulations
(EESSH).
"Indeed, social housing providers across the UK are increasingly referring to 'No Regrets Refurbishment', which means avoiding doing things and then having to come back and do more work to meet new energy efficiency targets," he says.
A classic example of this is roofing replacement. If a housing association is going to refurbish the roofs of properties and they need to engage tenants, appoint contractors, and incur the expense of scaffolding, then why wouldn't they install solar roof tiles at the same time? "We are seeing more and more social housing providers looking to combine low-carbon retrofits into their asset management programmes," he concludes.
Retrofitting private homes with solar roof tiles
Regarding private homeowners and occupiers, Marley director Stuart Nicholson says that many factors influencing new build buyers to choose properties with solar roof tiles are the same for those looking to
retrofit solar PV
.
"People have become much more conscious about reducing their own impacts on the environment, alongside the need to reduce high energy bills and this is a driver in the private retrofit market," he explains.
Solar roof tiles for EV charging
Another reason to consider retrofitting with solar roof tiles is the government's ban on all new diesel and petrol cars from 2030. "This influx of electric vehicles will represent a huge increase in demand for electricity for charging vehicles at home over the coming years," Stuart Nicholson explains.
The new
Approved Document S
provides guidance for new-build properties to include EV charging stations, but the existing housing stock will also require EV charging points. "Electricity is expensive, so on-site electricity generation will become increasingly appealing to homeowners, as well as social housing providers," he adds.
Retrofitting with solar roof tiles is becoming easier and more affordable
Over the past ten years, the cost of installing solar PV has reduced dramatically, making it much more affordable. And with the ever-increasing price of electricity, the potential savings and return on investment are very good.
"The price for solar roof tiles is now around 75% cheaper compared to 2010 and the cost of
solar battery storage
is also becoming much more affordable, due to the automotive sector creating volume demand for use in electric vehicles." Stuart Nicholson explains.
He adds that new roof-integrated systems, like the
Marley SolarTile®
, also make retrofitting very easy because they simply replace a section of roof tiles and have an easy push-together design.
"Previously, consumers may have been put off by bulky on-roof systems. However, the discreet, integrated roof solar tiles are incorporated into the roof surface, acting as a MCS 012 approved building material, and becoming a seamless part of the roof design," he points out. "This makes it easier to pass difficult planning conditions and they have even been approved for use on heritage sites and conservation projects."
The benefits of integrated solar roof tiles
Integrated solar roof tiles are becoming more widely used on retrofit projects, particularly among local authorities. This is expected to follow suit in the private homes market, as their many advantages are realised.
Stuart Nicholson explains: "As well as the aesthetic benefits,
integrated solar roof tiles offer some significant advantages
, including much easier maintenance. Unlike on-roof systems, the roof tiles and the solar tiles are installed together, which means there is no modification to the roof tiles, securing the manufacturer warranty and reducing the risk of breakages or cracks."
He adds: "Integrated solar roof tiles can also prevent bird infestations and they provide excellent weather-tightness, wind resistance and fire resistance."
To find out more about retrofitting with solar roof tiles, register for the Marley
Sustainability & Solar PV CPD
. You can also
contact a member of our team
to discuss your solar retrofit project in more detail.