A guide to different roof tile types - what's the best choice for a project?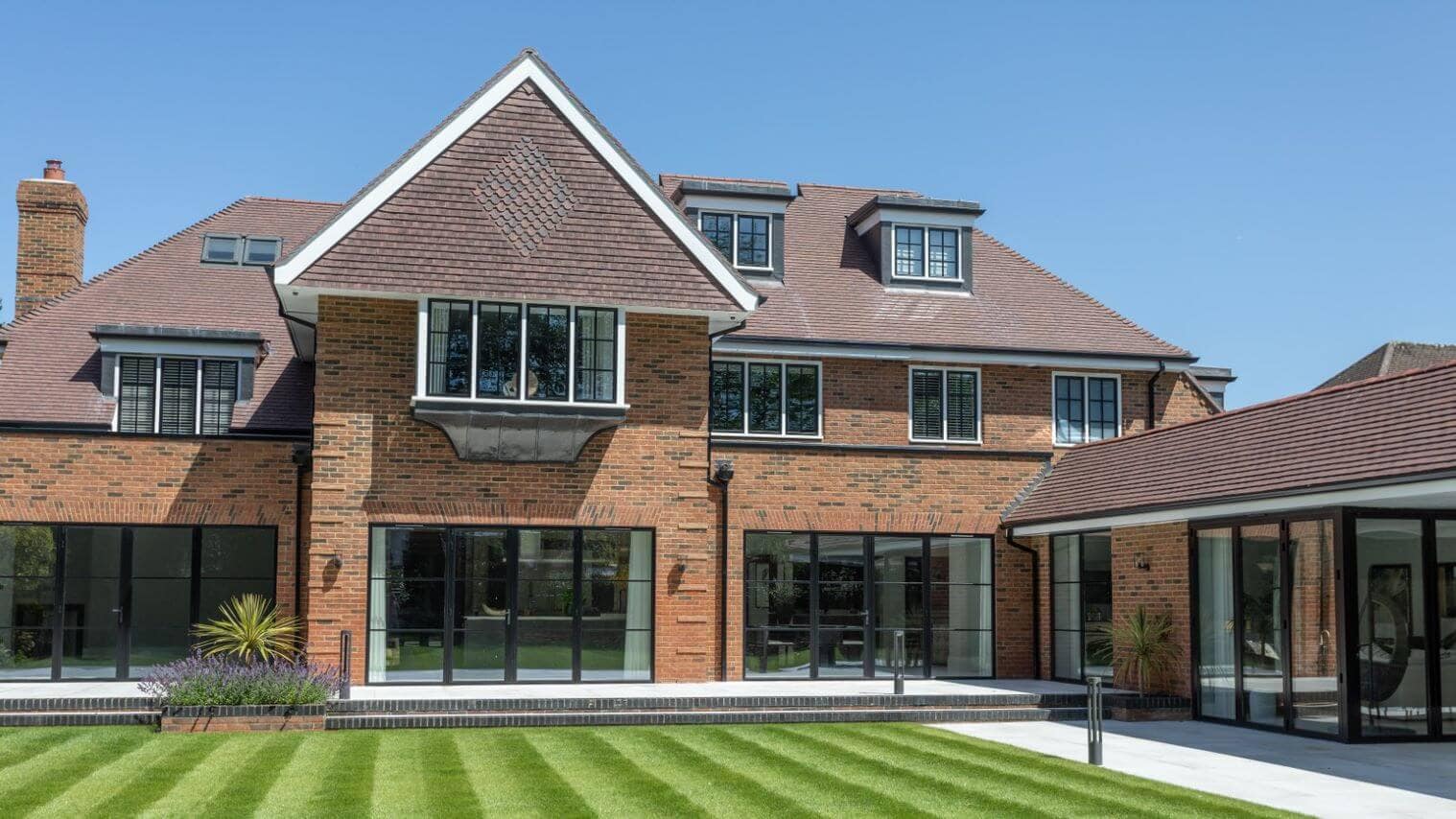 Selecting the right Roof Tile...
Our Guide to different Roof Tile types
When it comes to finishing a roof, there's an array of roof tile types to choose from, with options available in various materials, shapes, profiles and sizes. Choosing the right one often comes down to aesthetics, but other factors to consider will include the roof pitch, weight, weather resistance, sustainability and budget.

We've put together this guide to help ensure the best choice of roof tile for a project.
One of the first things to consider when making a choice is the material of the tiles. Roof tiles come in a wide range of materials, and here at Marley, we specialise in providing clay tiles, concrete tiles and cedar shingles and shakes. Other options may include natural stone and fibre cement.

When it comes to material, which roof tile type is best? The answer is: it depends on the project!

Since the material will play a big part in the overall appearance of the roof, think about what looks good. Also, look at what roof tile types other buildings in the area use. Do you want the roof to stand out or blend in?

Other considerations include the material's durability, longevity, wind resistance, weight, maintenance requirements, ease of installation and cost.
Concrete Roof Tiles
Concrete tiles often look very similar to clay. While the colour of clay and concrete does tend to fade over time, both have similar life spans and are low maintenance and fire resistant. Concrete tiles tend to be more cost-effective than other materials.
An alternative to clay or slate, Marley's concrete roof tiles offer excellent performance and can provide the appearance of other more 'natural' products. Colour options are similar to clay, with a range of reds, oranges, browns and greys.

When considering concrete roof tiles, options from Marley include EcoLogic Ludlow Major, Duo Modern interlocking and Edgemere interlocking slate.
Clay Roof Tiles
A traditional favourite, clay tiles have been used for thousands of years. Modern clay tiles are available in hand-crafted or machine-made formats, with the two types differing mainly in terms of look and price.

Clay roof tiles are strong and durable, and they are provided in shades of red, orange, brown and grey. Clay interlocking roof tiles usually weigh between 40 and 50kg per square metre. This means they are lighter than concrete and natural stone, but heavier than timber, natural slate and fibre-reinforced concrete.

Marley offers a variety of clay roof tile types, including Ashdowne handcrafted and Eden traditional clay pantiles. They are all made to conform to all modern building standards without losing that traditional look, and since they are compatible with our dry-fix roofing systems, installation is quick and easy.
Cedar Shingles and Shakes
For a truly natural appearance, cedar shingles and shakes might be the perfect solution. They're also one of the most sustainable roofing materials available. Since they are also very lightweight (weighing between 4.0 and 8.1kg per square metre), the carbon footprint of transporting them is minimal, and they're easy to move around on site.

Marley's Western Red cedar shingles and shakes come with full PEFC chain of custody and can be treated with a preservative coating for long-life. They also provide excellent thermal insulation and sound dampening.

The difference between shingles and shakes comes down to how they're sawn and shaped. Shingles are sawn on both sides and thinner at the butt, while shakes can be split on one or both sides.
Shape and Size
Another consideration when deciding on a roof tile type is their shape. Options include flat roof tiles, such as Duo Modern; as well as S-shaped pantiles (like Anglia) and Roman tiles like Double Roman, with alternating flat and curved sections.

Large-format tiles, such as Duo Edgemere, are another option to consider. These can be quicker and cheaper to install, as each tile covers more space, when compared to a clay or concrete plain tile, which also means fewer tiling battens would be required.
Plain vs Interlocking Tiles
The choice between plain tiles and interlocking roof tile types will depend on aesthetic preferences, as well as budget.

Plain roof tiles have a simple rectangular shape and are usually smaller than interlocking tiles. They must be laid double-lapped to ensure weather tightness, and they provide an attractive and traditional appearance. Options include Canterbury handmade clay plain roof tiles and Plain concrete roof tiles.

Interlocking roof tiles, such as Lincoln clay interlocking pantiles and Edgemere interlocking slate concrete tiles have a unique shape that allows them to fit together snugly and securely. Interlocking tiles still require fixing to the roofing battens, but their design means that only a single lap is needed, and they are usually larger than plain tiles - so fewer tiles are required to cover the roof. This makes installation of interlocking tiles quicker and more cost-effective than plain tiles.
Is the Type of Roof Tile Suitable for the Roof Pitch?
One of the first considerations when selecting the right roof tile type for a project is the pitch of the roof. Many roof tiles are suitable for vertical applications, and some can be installed on low-pitch roofs with a minimum pitch of just 15°. Our Mendip 12.5 concrete interlocking tile and Lincoln Clay Interlocking Pantile can be installed on a minimum pitch of just 12.5°. However, it's essential to check the tiles being considered to ensure roof pitch suitability.
Marley clay tiles - roof pitch suitability

Products
Minimum Roof Pitch*
Maximum Roof Pitch
Acme double camber clay plain roof tile
35
90
Acme single camber clay plain roof tile
30
90
Ashdowne handcrafted clay roof tile
35
90
Canterbury handmade clay roof tile
40
90
Eden traditional clay pantile
22.5
75
Hawkins clay plain roof tile
30
90
Lincoln clay interlocking pantile
12.5
70

*Minimum roof pitch may vary depending on texture and headlap
Marley concrete tiles - roof pitch suitability
Product
Minimum roof pitch*
Maximum roof pitch
Anglia interlocking roof tile
25
90
Ashmore interlocking double plain tile
22.5
90
Double Roman concrete roof tile
22.5
90
Duo Edgemere interlocking slate tile
17.5
90
Duo Modern interlocking roof tile
17.5
75
EcoLogic Ludlow Major tile
30
90
Edgemere interlocking slate concrete tile
17.5
90
Ludlow Major
22.5
90
Ludlow Plus interlocking tile
22.5
90

Mendip interlocking concrete roof tile

15

90

Mendip 12.5
12.5
15
Modern concrete interlocking roof tile
17.5
90
Plain roof tile
35
90
Riven Edgemere interlocking slate tile
17.5
90
Wessex interlocking roof tile
15
44
*Minimum roof pitch may vary depending on texture and headlap
Our Western Red Cedar shakes and shingles are suitable for roof pitches from 14° to 90° (Shingles) and 20° to 90° (Shakes).


Find the right roof tile type for your project:
With a product range of more than 20 roof tile types, Marley offers solution to suit any project.

Our roofing estimator tool can help you to get an idea of what your preferred roofing system will cost, and if you're still not sure about which roof tile type is right for your requirements, please don't hesitate to get in touch. Our technical support team is available to answer your questions or help you decide on the best solution for your needs.
Marley SolarTile®
is compatible with the entire range of Marley roof coverings, including clay and concrete tiles and cedar shingles and shakes, and it is suitable for installation on low-pitch roofs.