What Low-Pitch Roof Products Are Available?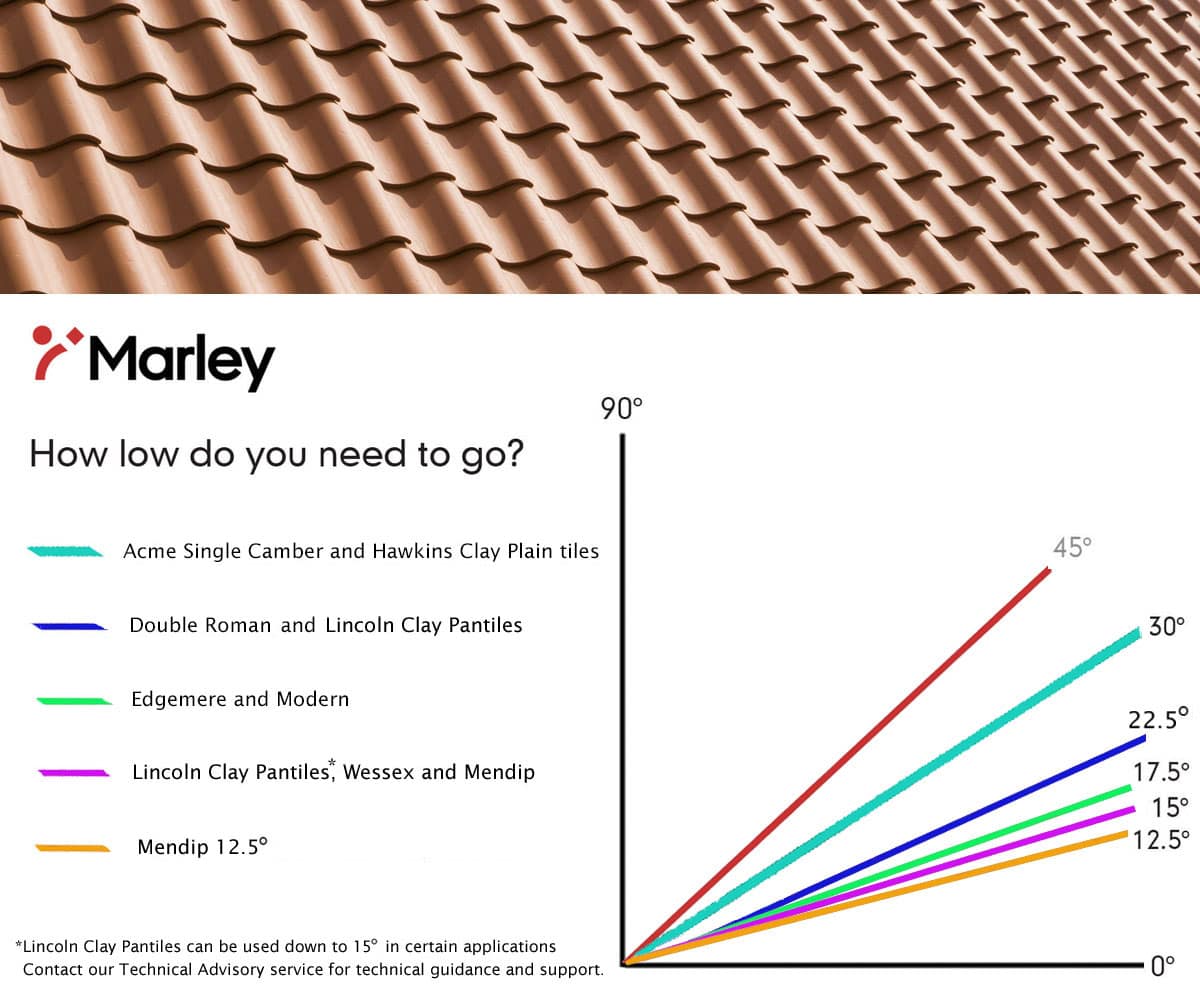 Due to the increase in domestic extensions with low pitch roofs, the demand for low-pitch roofing solutions is greater than ever.

There are several products on the market that are suitable for low-pitch roofs. Options available from Marley include clay and concrete tiles and cedar shingles and shakes.

Of course, the minimum pitch will depend on each type of roof tile - specifically on its design and materials. We've provided an overview of the low-pitch roofing products that we offer:

Concrete roof tiles
Edgemere interlocking tiles provide a cost-effective and aesthetically similar alternative to natural slate. These large-format concrete roof tiles can be supplied in a dark grey colour that mimics the look of slate perfectly, and the product's thin leading edge also helps to give it a slate-like appearance. It's also suitable for low-pitch roofs:
Down to 22.5° pitch (smooth), with a headlap of 75mm
Down to 17.5° pitch (smooth), with a headlap of 100mm
Mendip has an attractive double pan design and is provided in two versions. The original can be used on pitches down to 15°, while the Mendip 12.5 includes innovative features - such as anti-capillary channels and no nail holes - that enable it to be used at pitches as low as 12.5°.

As well as the Edgemere and Mendip ranges, we offer a variety of other concrete roof tiles that are suitable for low-pitch roofs, such as:

Clay roof tiles
Marley offers two clay pantiles that are suited to low-pitch roofing applications.
Lincoln Clay Pantiles have an open-gauge design that is easy to fit, while still offering the bold and beautiful curves of traditional pantiles. They can be installed to meet the latest fixing requirements of BS 5534 and the NHBC technical standards.
Down to 15° pitch at a 100mm headlap
Down to 22.5° pitch at a 75mm headlap
The Lincoln pantile can be used in certain applications down to 12.5°, contact our Technical Advisory service for technical guidance and support.
Eden Traditional Pantile has a fixed gauge design and can be used down to 22.5° pitch.
Cedar shingles and shakes
Our Blue Label Western Red Cedar shingles and shakes provide a unique and natural appearance. Their light weight makes them easy to transport, and they are also suitable for use on low-pitch roofs:
Other materials
Marley SolarTile® is a roof-integrated solar panel roof tile solution, enhancing roof system specification with design flexibility, sleek aesthetics, industry leading wind and fire performance, all covered by the Marley 15-year full roof system warranty. Our Solar panel goes down to 20°, making it a perfect low pitched solution to use alongside other tiles.
In addition to the products available from Marley, other low-pitch roofing options may include fibre cement tiles and natural slate.

Technical support
To find out more about any of the roofing options available from Marley, including minimum pitch information, you can download any of our brochures or request a free tile sample.
What is minimum pitch in roofing?
Minimum roof pitch is the lowest angle at which a roof can be designed so the roof covering remains watertight, check out our video to learn more!